Vikings @ Eagles

Final Score: Eagles 34, Vikings 28

Writer: Adam Sloate (@MrAdster99 on Twitter)
The Eagles made it two ugly wins in a row to open the season. The Vikings simply couldn't hold onto the ball in the first half, handing it to the Eagles three times in the first half and four times overall, and the Eagles didn't fully capitalize on those turnovers right away, so the game stayed close in the first half. In the second half, after falling behind by 20, the Vikings made a valiant comeback effort in the fourth quarter, scoring two touchdowns to narrow the Philadelphia lead to just 6. The Eagles were able to salt away all but 15 seconds of the game clock on their final drive and the Vikings just couldn't go 80+ yards in 9 seconds to even the score.
Three Up
D'Andre Swift – The main beneficiary of Kenneth Gainwell's injury, Swift toted the rock 28 times and racked up an obscene 175 yards and a TD, averaging 6.3 yards per carry.
DeVonta Smith – The Eagles didn't get the pass game going much, but when they did, it was via the long ball to Smith, who reeled in 4 catches for 131 yards.
T.J. Hockenson – Hock overpowered some weak Eagles defenders, breaking tackle after tackle en route to 7 catches, 66 yards, and 2 TDs.
Three Down
Alexander Mattison – Mattison got a fair amount of looks but couldn't find much momentum on the ground and must have had some oil on his fingers–he dropped a couple of wide-open passes.
Rashaad Penny – Despite Gainwell's absence, Penny was only briefly on the field, getting 3 carries for 9 yards, catching his only target, and taking an ugly holding penalty to stall an Eagles drive.
A.J. Brown – The player that has suffered the most from the Eagles' passing game woes, Brown didn't get the monster workload we've expected from him in weeks and years past. He narrowly missed a huge TD catch, as the ball was just over his outstretched fingers in the end zone–although he may have had a case for defensive pass interference.
Philadelphia Eagles

Quarterback
Jalen Hurts: 18/23, 193, Yards, TD, INT | 12 carries, 35 yards, 2 TDs
Hurts hasn't looked like the Hurts of 2022 just yet but I'm not pushing the panic button yet. For one thing, the Eagles are dealing with a new offensive coordinator who was unlikely to have fixed all the problems evident in Week 1 within a span of just 3 days. For another thing, Hurts and the Eagles' offensive starters played zero snaps together in the preseason, so the first few weeks are going to have more snafus than you'd like to see from a top-5 offense. Be patient with Hurts, as he should have earned a long leash given last year's fantasy success and the fact that you probably invested a ton of draft capital into him.
Notes
Hurts didn't look very comfortable in the pocket early on, and a large part of that was the defensive game plan in the first half. Brian Flores, a step up from Vikings coordinators of yore (Ed Donatell), put together a solid game plan that forced Hurts to sit back, survey the field, and pick apart the Vikings slowly. That didn't work very well last season but it seemed to do the trick here initially, as Hurts would wait just a little too long and let the pocket collapse in on him, turning what should've been throwaways into sacks and mediocre run gains.
Missed Opportunities
Ignore the caption on this Tweet and decide for yourself whether this was PI:
#Vikings get away with a PI on AJ Brown here…

Should've been a flag.
pic.twitter.com/GP9liUPcCB

— JPAFootball (@jasrifootball) September 15, 2023
Hurts has had a couple of plays in these first two weeks where it seems as though he's decided where and when he's throwing the ball, regardless of whether the receiver he's targeting is even open or in a good spot along the route. Last week, Hurts had a couple of near-miss interceptions on balls thrown into double coverages. This week, it came back to bite him on this play:
Jalen Hurts throws a bad interception over the middle pic.twitter.com/1HMfA55quC

— SPORTSRADIO 94WIP (@SportsRadioWIP) September 15, 2023
It's a bad interception, no doubt about it. However, Hurts has earned my trust thanks to his excellent work ethic and attitude. I think he figures out soon enough that he needs to do the hard thing and go through his reads correctly.
Running Back
D'Andre Swift: 28 carries, 175 yards, 1 TD | 3 targets, 3 receptions, 6 yards

After Week 1, Eagles Head Coach Nick Sirianni had this to say on D'Andre Swift: "We don't ever want to come out [of a game] with him only having 2 touches."
Well, Coach, I don't see how you can give him less than 10 in any game from now on. Swift looked aptly named behind the vaunted Eagles offensive line, as he showed excellent burst and playmaking ability with the ball. He routinely turned nothing plays into something plays, and I can't recall him having any negative plays in this game. He also looked patient behind the line, waiting for lanes to open up — and they sure did, as the Eagles' offensive line ate up this meager run defense — and pounced when they did.
Even if Kenneth Gainwell is back next week, I'd venture a guess that Swift will be taking a pretty significant share of the carries.
Notes
Rashaad Penny is droppable now. The Eagles don't seem to trust him much on the field and he hasn't flashed the talent that's made him tantalizing in years past in his minimal work for the birds.
Boston Scott is droppable in all but the deepest of leagues. This is pretty cleanly a two-man backfield, with Gainwell and Swift probably cannibalizing the other's workload a bit on days when they're both healthy, but behind this offensive line, Gainwell and Swift will have plenty of opportunities to take the ball and run with it.
Missed Opportunities
The big missed opportunities were the runs where Swift was taken down mere yards away from the end zone. There were multiple Swift rushes that ended inside the Vikings' 5-yard line and the subsequent TDs ended up being vultured by Jalen Hurts. Thankfully, Swift got his TD, but he could've had probably 2 more.
Wide Receiver/Tight End
A.J. Brown: 6 targets, 4 receptions, 29 yards
I cannot stress this enough–do not panic about A.J. Brown. If your league mates are panicking, buy low on Brown. He's too talented, as is the rest of this offense, not to regain much of his workload from last year. The Eagles have already been in some tight games that have required them to play hard down to the final minutes of the fourth, providing more opportunities for the offense to rack up points. That will continue, especially as the Eagles start to gel together and play a tough second-half schedule.
Notes
When he got the ball, AJB did AJB things–he racked up yards after the catch and looked dangerous in open space. The key for new OC Brian Johnson is to find him better looks and more often, as predecessor OC Shane Steichen was able to do.
Missed Opportunities
See above for the most notable missed opportunity.
DeVonta Smith: 5 targets, 4 receptions, 131 yards, TD
Skinny Batman torched and tortured the Vikings' secondary when it mattered most. On the opening drive, Hurts hit Smith for a nice 54-yard completion. Take a look at Smith's route:
Jalen Hurts & DeVonta Smith (54-yd reception)

The pass traveled 54.6 yards in the air, the longest completed pass of the season so far.

💡 Completion Probability: 29.6%#MINvsPHI | #FlyEaglesFly pic.twitter.com/HUk3C9Qike

— Next Gen Stats (@NextGenStats) September 15, 2023
Not a particularly complex route–it just so happens that Smith accelerates quickly and buries Theo Jackson early on in the route.
Smith followed the same type of route on his TD catch:
JALEN HURTS IS BACK

WHAT A DEEP BALL BY JALEN

AND WHAT A ROUTE AND CATCH BY DEVONTA SMITH

THE EAGLES ARE BACK!!!! pic.twitter.com/1VjXNySmBq

— Philly Sports Sufferer (@mccrystal_alex) September 15, 2023
Just a silly little go route that catches Akayleb Evans sleeping!
Notes
As we know from last season, there is a little bit of metaphorical tension between Brown and Smith, where each of them will have a big game that causes the other to quiet down a little. That doesn't mean you should bench either of them, as they're both going to get plenty of opportunities, but when the passing game isn't firing on all cylinders, they're probably not both going to have 20+ fantasy points in a single game.
Missed Opportunities
He didn't miss any opportunities, as he welcomed a daughter this week, as well as his first touchdown. He rocked the baby and helped be a key piece to this Eagles' offense, as we've found that this offense will run through their twin touchpoints of wide receivers. Hopefully, this won't cause much loss in value for the others, but the fact of the matter is we have to look at this offensive output as some form of a "Brushing the rust off" or if there's some sense of worry (They only scored less than the 25 points they scored this week 5 times last year, 2 of those times in weeks Hurts was out).
Dallas Goedert: 7 targets, 6 receptions, 22 yards
It's been a bit of an ugly start for Goedert, who now has 8 targets, 6 receptions, and 22 receiving yards across 2 games. However, given the current crop of tight ends, there's not much else fantasy managers can do anyway besides hold onto him and wait for the Goedert game we all know is coming soon. One thing contributing to Goedert's slow start is the lack of success on TE screens, which the Eagles used quite often last season. Minnesota seemed to sniff those out pretty quickly, hence Goedert's subpar yardage total. I think it's still too early to draw conclusions from Goedert's performances so far–as we know, the Philadelphia passing game has been lacking overall–and Coach Sirianni has mentioned wanting to get him the ball more anyway, so brighter days are hopefully ahead for DG.
Minnesota Vikings
Quarterback
Kirk Cousins: 31/44, 364 yards, 4 TDs | 1 fumble (lost)
Big Kirko didn't really wake up drippin' like this, as he didn't really come to play until the Eagles went up 27-7. To be fair to Cousins, he wasn't given a lot of time to throw in the first half, as the Eagles' defensive line bullied a Vikings offensive line that was missing starting center Garrett Bradbury and generally looked uninspired. And, if there's any group you want to avoid playing uninspired against, it's the group sporting Josh Sweat, Haason Reddick, Jalen Carter, and Jordan Davis, among others.
The Eagles got to Kirk in a hurry: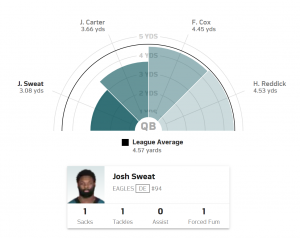 Notes
Unfortunately for Kirk, the offensive line has been offensive for two straight weeks. He's been sacked 4 times already in two games and was forced into several incompletions due to the pressure from some very large Philadelphia men.
Despite all that praise for the Eagles' defensive line, Kirk still scored an obscene amount of fantasy points in most formats, thanks to his passing yardage and four TDs. You can almost always count on Kirk to score a bunch of fantasy points, Vikings overall performance notwithstanding.
Missed Opportunities
Receivers ruined what could have been an even better day with some truly puzzling dropped passes. Here's one example:
Vikings WR KJ Osborn with a crucial drop. pic.twitter.com/EL6Nl8Tbil

— Arye Pulli (@AryePulli) September 15, 2023
Running Back
Alexander Mattison: 8 carries, 28 yards| 6 targets, 3 receptions, 11 yards
Notes:
Well, based on the opportunities allotted to Mattison against the opportunities allotted to other RBs, Mattison is the clear RB1.
Kirk looked his way a couple of times in the passing game!
Missed Opportunities:
He wasn't able to do much with the opportunities he received, since the Eagles' front swallowed him up fairly quickly. I wasn't impressed by Mattison's running ability but I think this game isn't one to really evaluate Mattison on given that the Vikings' offensive line was overmatched and Mattison didn't have many runs where he wasn't met immediately at the line of scrimmage. However, I'd still like to see Mattison run with a little more ferocity and break a few tackles before I can start him without holding my nose. I'm still starting him for now, though.
The game script heavily favored the passing game in the second half, Mattison wasn't able to get the opportunities to show what he could really do.
He certainly could've helped himself by reeling in a couple more of those targets Kirk tossed his way since they were all very catchable, low-quality dump-offs. He dropped a couple of them but I don't know that they would've amounted to much more than a point for the catch itself since it seemed like there were a couple of Eagles in his area each time. It seems like Mattison is squarely in game-dependent RB territory, so if the Vikings are entering a particularly unfavorable matchup, it may be wiser to look elsewhere if you can.
Wide Receiver/Tight End
Justin Jefferson: 13 targets, 11 receptions, 159 yards
This is remarkably close to Jefferson's performance from last week, except that Jefferson picked up a lot of these receptions/yards in the second half. He didn't find the end zone, but he picked up where he left off last year. He's probably the safest producer in fantasy football. No notes, no real big missed opportunities for JJettas today.
Jordan Addison: 5 targets, 3 receptions, 72 yards, TD
62 of Addison's 72 yards came on a long TD pass in the third quarter:
Jordan Addison fantasy managers are loving this 😍

(via @NFL)pic.twitter.com/mKKEGeyTvo

— ESPN Fantasy Sports (@ESPNFantasy) September 15, 2023
Aside from this catch, it was a pretty quiet day for Addison, who seemed to be fairly well covered by corner Josh Jobe. I'm interested to see whether Addison can grow into a more significant role in this offense because he looks to be a distant third option for Kirk Cousins. It's certainly possible that Addison can keep up this fantasy scoring pace, but it's not often that you'll see players regularly getting 40+-yard receiving TDs, so it might be worth shopping Addison around and seeing whether you can "sell high" on the youngster in redraft leagues. I'm not sold on the workload/production.
T.J. Hockenson: 8 targets, 7 receptions, 66 yards
Now this is why you drafted Hockenson early! Hockenson feasted in the intermediate level of the Eagles' defense, preying on Philadelphia's weak linebacking core for several nice chunk plays. He seemed to be wide open on several of the completions in the second half and also broke a couple of tackles when engaging with the first level of Eagles defenders. Just look at how he shakes off CB Mario Goodrich on this touchdown catch:
KIRK COUSINS ➡️ T.J. HOCKENSON FOR SIX!pic.twitter.com/g6XXzTl0pY

— DraftKings (@DraftKings) September 15, 2023
Perfection! Hockenson's the second option in this offense, and as we know from years past, Big Kirko is going to put up the empty yardage totals almost every week. He'll find Hockenson and Jefferson plenty often in between the red zones, but where Hockenson shines is as a big ol' red zone target, as we saw today. Start this man with confidence.
Photo by Kyle Ross/Icon Sportswire | Adapted by Justin Paradis (@JustParaDesigns on Twitter)