Raiders @ Chargers
Final Score: Chargers 24, Raiders 19
Writer: Adam Sloate and Dave Cherman (@MrAdster99 and @DaveCherman on Twitter)
In what wound up being a thrilling game between two division opponents, the Chargers kept the pressure on the Raiders all day long en route to the victory. Davante Adams showed up to introduce himself to his new fanbase, while Austin Ekeler was relatively ineffective and Keenan Allen went down with an injury.
Las Vegas Raiders
Quarterback
Derek Carr: 22/37, 295 Yards, 2 TD, 3 INT
When Carr wasn't under pressure, he was just throwing it out there to Davante Adams and hoping Adams would come down with it. Carr and Adams connected several times in tight situations, including this pass to put the Raiders within a score late in the fourth quarter:
Derek Carr and Davante Adams connect on their first TD as Raiders 👏

(via @Raiders)pic.twitter.com/G65Tof6VtN

— SportsCenter (@SportsCenter) September 11, 2022
Adams is indeed the target vacuum he was in Green Bay, but more on that below. Carr looked to Adams for 17 passes and to every other receiver combined for just 18.
Otherwise, Carr was…fine? He wasn't good, but his performance wasn't so bad that fantasy managers need to give up on him. I'm not sure what to make of his performance, given that he was under pressure constantly. The 5 sacks are just one part of the puzzle; here's another: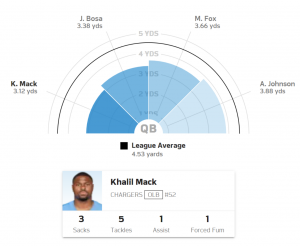 Essentially, the Chargers were all over Carr all day long, getting past the Raiders' offensive line with relative ease. Mack got one of his sacks in just 3.5 seconds. Sharp Football Analysis ranked the Raiders' offensive line group as the 8th-worst in the NFL heading into the season, and it looked like Warren Sharp absolutely nailed that one today.
Derek Carr thought he was Justin Herbert for a second. There's levels to this.

— Jason Reed (@EatYourReedies) September 11, 2022
Carr didn't look comfortable in the pocket – understandably so – and so when he tried to push the ball downfield, he looked rushed and couldn't make the connections with his receivers. One of the reasons Carr has been able to find greater success (and a second contract) is that he's pushed the ball downfield and opened up room for his receivers. Today, with no real downfield presence, the Chargers were able to contain him.
Carr had one of the highest "Average Intended Air Yards" scores in the league, meaning he was pushing the ball downfield at one of the highest rates, and yet one of the lowest passer ratings among any QB. Further corroborating that is his performance on the passing zone chart: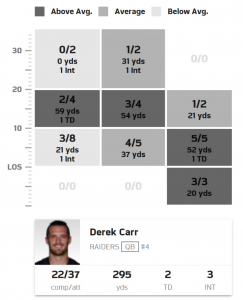 When he looked deep downfield, it just wasn't happening. His throws were underthrown and made for easy interceptions.
Carr will likely have an easier time next week with the Cardinals' secondary; their secondary is among the worst in the league and was just torched by Patrick and the Mahomies.
Running Back
Josh Jacobs: 10 Carries, 57 Yards | 1 Target, 1 Reception, 16 Yards
Brandon Bolden: 3 Carries, 7 Yards | 2 Targets, 2 Receptions, 21 Yards, TD
Jakob Johnson: 1 Target, 1 Reception, 1 Yard
Ameer Abdullah: 1 Target
The Josh Jacobs revival tour is off to an intriguing start. On the one hand, Jacobs looked good as a runner, averaging 5.7 yards per carry. He didn't get there solely with big runs, as his longest run of the day was 18 yards (still over 4 YPC once you take out the 18 yards, if you're into that sort of thing). On the other hand, he also didn't do a lot elsewhere. There wasn't a receiving game to speak of, and while he got a red zone look or two, he wasn't able to do much with it.
Jacobs got a red zone carry on the first possession of the game and then didn't see another look there again, although that can partly be attributed to the game script. Heading into the second half, the Chargers led 17-3, so the Raiders had a little more incentive to push the ball downfield and conserve some of the clock.
Bolden may have scored the touchdown today, but he's likely not worth a look in fantasy. If anything, Bolden may be another guy taking red zone chances away from Jacobs.
Wide Receiver/Tight End
Davante Adams: 17 Targets, 10 Receptions, 141 Yards, TD
Darren Waller: 6 Targets, 4 Receptions, 79 Yards
Hunter Renfrow: 6 Targets, 3 Receptions, 21 Yards, Fumble (Recovered)
Mack Hollins: 1 Target, 1 Reception, 16 Yards
This is reminiscent of last year's Green Bay offense. Aaron Rodgers looked to Davante Adams for first and second opportunities, and then finally looked elsewhere after Adams was clearly covered. It seemed quite similar today, as Adams vacuumed up a massive amount of targets:
Turns out no one told Davante Adams that he can't earn a monster target share playing with Darren Waller and Hunter Renfrow.

Adams crushed with a 45% target share and accounted for 52% of the Raiders' air yards against the Chargers.

3.62 YPRR 😤

— Dwain McFarland (@dwainmcfarland) September 12, 2022
Hunter Renfrow was downright invisible today, but it's hard to blame Carr for not looking Renfrow's way more often, given that Adams had better separation from his defender pretty regularly: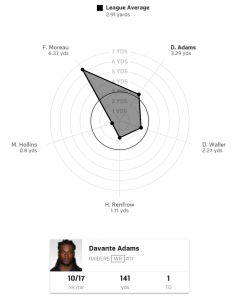 Darren Waller just became one of the highest-paid TEs in history, signing an extension that guarantees him $22 million, and all he got was one lousy red zone target. There weren't many of them to go around, but unsurprisingly, the red zone targets went to Adams.
I'm not ready to forecast doom and gloom just yet because Waller still looked good when he got the ball:
DEREK CARR TO DARREN WALLER FOR 30 YARDS https://t.co/TvIzzS9dZe

— Brian Y (@byysports) September 11, 2022
And, there weren't many red zone targets to go around today anyways, so Waller could still reel in plenty of TDs when they're not facing a secondary like the Chargers or when Carr has more than 0.1 seconds to throw the football.
It's not panic time yet for Waller/Renfrow owners. If this week is any indication, Carr is going to look Adams' way often when the going gets tough, but that doesn't mean the Raiders will never have opportunities for the two best non-Adams targets.
Los Angeles Chargers
Quarterback
Justin Herbert: 26/34, 279 Yards, 3 TD | 4 Carries, 1 Yard
There aren't enough superlatives for Justin Herbert. He moves well in the pocket and throws well on the run. He senses pressure and maintains his composure. His arm strength is among the elite passers in football. All of these traits were on display against the Raiders. In the first quarter, Maxx Crosby chased Herbert out of the pocket to his left. Herbert kept his eyes downfield and delivered a ball to Gerald Everett for a first down. It's easy to see Herbert's rushing line and be a little concerned. Last year, Herbert averaged close to 18 YPG on the ground- not spectacular, but not nothing. Against the Raiders today, Herbert ran often, but found open receivers before he crossed the line of scrimmage. In future weeks, if the coverage is tighter, Herbert will certainly pick up more yards on the ground.
Time and time again, Herbert delivered pristine balls in high-leverage situations. On 3rd and 7 in the first quarter, Maxx Crosby beat the right tackle and grabbed Herbert's ankle. While being dragged down, Herbert zipped a pass to an open Keenan Allen for a first down. In the second quarter, Herbert read the middle linebacker on a quick play action, allowing DeAndre Carter to get open over him for a first down. On the very next play, Herbert showed excellent touch, floating a deep ball to Carter across his body.
Justin Herbert, so clean pic.twitter.com/x8VZ8RRStA

— Jason McIntyre (@jasonrmcintyre) September 11, 2022
Herbert capped off a big first half with an unbelievable laser to Carter, who split the two deep safeties. The offensive line gave Herbert time, he waited until Carter cleared the LB and then found the open man to go up 14 into the break. That score ended up making a massive difference in the end result.
The second half was not as fantasy friendly, as the Chargers offense got a bit more conservative and they pulled their foot off the gas pedal. Thankfully, the defense bailed them out repeatedly. Make time on your calendar to watch Herbert take on Mahomes this Thursday. It's going to be a treat for all fans to watch.
Running Back
Austin Ekeler: 14 Carries, 36 Yards | 4 Targets, 4 Receptions, 36 Yards
Joshua Kelley: 4 Carries, 21 Yards | 2 Targets, 2 Receptions, 14 Yards
Sony Michel: 7 Carries, 12 Yards
Zander Horvath: 1 Carry, 2 Yards | 2 Targets, 2 Receptions, 6 Yards, 1 TD
Austin Ekeler continues to show elite patience and vision as a ball carrier, but that was about it today. After an offseason dedicated to rebuilding the offensive line and finding a strong backup for number 30, Ekeler really had nowhere to go for most of the game. His highlights included his first carry of the day where he carefully waited for the blocks to set up before he burst through a hole to pick up nine. Midway through the second, he bounced off his blockers to guide him to a smooth first down. Ultimately though, the interior trio of Matt Feiler, Corey Linsley, and Zion Johnson didn't create enough room for Ekeler to rumble. That will change in future weeks. Ekeler definitely didn't look toast. He had notable burst in the receiving game, with a strong first down on a screen in the third quarter.
The bigger story was a very strong game for Joshua Kelley. The 3rd year back only had six touches, but he made the most of them, showing strength in the running game and greatly improved awareness in the passing game. In the third quarter, Kelley found a hole in the right side of the line with impressive burst. A few defenders tried to get their hands on him, but he broke two arm tackles before a Raiders defender actually got a hold of him.
Surprisingly, Sony Michel out-touched Kelly 7-6. That's a situation to watch, but Kelley's performance demonstrated clearly that he should be the primary ballcarrier in the event of an Ekeler absence. Last, but not least, you'll see Zander Horvath listed as a TE, but he's a FB, who was used in short-yardage situations in the run game and as a pass-catcher. Although he got into the endzone in this one, he wasn't utilized heavily as an offensive weapon. His usage on a few plays in this one won't come as a surprise to anyone following the Chargers' camp reports, where he was getting carries under center at times with the first team, but he isn't in the mix to get regular touches. All in all, this entire unit was disappointing today against what was supposed to be a lackluster run-stuffing unit. When the team needed their backs to run out the clock, the production wasn't there. Granted, the line didn't give their backs must to work with, but it was concerning.
Isaiah Spiller sat with an ankle injury. He's questionable for Week 2.
Wide Receiver/Tight End
Keenan Allen: 4 Targets, 4 Receptions, 66 Yards
Mike Williams: 4 Targets, 2 Receptions, 10 Yards
Joshua Palmer: 4 Targets, 3 Receptions, 5 Yards | 1 Carry, 4 Yards
DeAndre Carter: 4 Targets, 3 Receptions, 64 Yards, TD
Gerald Everett: 4 Targets, 3 Receptions, 54 Yards, TD
The debate coming into this season regarding the WR corps was a simple one: who is the WR1 in LA? Keenan Allen or Mike Williams? The answer? DeAndre Carter. All jokes aside, the Chargers were dealt a big blow in the second quarter when Allen left with a left hamstring injury and did not return. He's questionable for Thursday, but the Chargers will need him. The elder statesman in this skill position group still had his trademark route running on display, getting open several times, and demonstrating good YAC ability in space. In the first, the Chargers play broke down and Allen fought back to the ball, catching it as he hit the ground. He may not be elite in any physical traits, but Keenan Allen is still an elite WR, and the tape showed that today. After the game, he said the injury is not serious.
With Allen down, one might expect that Mike Williams stepped up and had an incredible performance, and you'd be very wrong. Williams was completely missing in action until the fourth quarter. Fantasy managers are panicking. What is wrong with Mike Will? Is he hurt? Well, it didn't appear that way. Per Tristan Cockroft, through three quarters, Mike Williams played 89.4% of the Chargers' offensive snaps and ran a team-high 24 routes, so he's still healthy. He still showed physicality on his routes and shiftiness when the ball was in his hands. In truth, Nate Hobbs looked excellent in coverage and kept Williams pretty locked down. He'll have much bigger days ahead.
The other receiver you'd expect to have stepped up in Allen's absence is second-year man Joshua Palmer. Throughout the offseason, much was made of Palmer's growth and his attempts to model his game after Keenan Allen. With the team's cap situation getting scarier next offseason, there's even some speculation that Palmer could replace Keenan Allen in the offense next year. So, with Allen departing, this was an excellent opportunity to see what Palmer could do and….. nothing. Not only was he not getting very open, but Herbert rarely seemed to be looking his way. I'll chalk this up to gameplan a bit, but there are a lot of mouths to feed in this offense.
And I didn't expect DeAndre Carter to be one of them. The dimension the Chargers offense has always seemed to lack is a speedster who can regularly stretch the defense. Since 2020, that has been Jalen Guyton's role. In years before that, it was Travis Benjamin's. In 2022, it might be DeAndre Carter.
Justin Herbert Throws A DART to DeAndre Carter 🎯

Chargers lead, 17-3!#LVvsLAC #BoltUp
pic.twitter.com/q6ObzWJ7J4

— SportsGrid (@SportsGrid) September 11, 2022
The veteran got open repeatedly, as seen above, playing well ahead of Guyton consistently after Allen exited. He played in most three WR sets with Palmer and Williams.
Last but not least, we got our first look at Herbert's third starting tight end in three years, Gerald Everett. Everett's athleticism was on full display, showing body control and strength that Jared Cook from last year simply did not possess. However, there are so many pass-catching options in this offense that he just didn't have many opportunities. He'll have big weeks throughout the year, but good luck predicting when they'll be.