Broncos @ Ravens
Final Score: Ravens 10, Broncos 9
Writer: Brett Ford (@fadethatman on Twitter)
You would be hard-pressed to find a more depressing Week 13 game from a fantasy football standpoint than the Broncos at the Ravens.
Whether it was the ineptitude of the Broncos' offense or the injury to Lamar Jackson, fantasy managers were more than likely impacted negatively by any players they started in this contest, with exception of perhaps the defense and special teams.
Let's dig in.
Denver Broncos
Quarterback
Russell Wilson: 17/22, 189 Yards | 2 Carries, 21 Yards
Russell Wilson's performance today was what many would describe him as: bland, mediocre, average. The Denver quarterback was accurate for the most part, but just isn't the same guy he was in Seattle. I think by this point of the season, fantasy managers have figured that out.
With only three victories this season, the Broncos have already fallen out of playoff contention. At what point do they either turn to Brett Rypien to see what they have (and protect their $124 million asset)?
I think it's only a matter of time until Denver shuts Russ down for the season. Broncos Country, Let's… hope the Avalanche repeat as Stanley Cup Champions.
Running Back
Latavius Murray: 17 Carries, 47 Yards | 4 Targets, 4 Receptions, 14 Yards
Mike Boone: 6 Carries, 18 Yards | 1 Target, 1 Reception, 8 Yards
Marlon Mack: 2 Carries, 3 Yards | 1 Target, 1 Reception, 6 Yards
Montrell Washington: 1 Carry, -1 Yard | 1 Target
Who would have ever guessed that on an opening-day backfield that consisted of Melvin Gordon and Javonte Williams, Latavius Murray would be the leading rusher in Week 13? Well, here we are. Murray rushed 17 times for 47 yards against a tough Ravens front, and also caught four passes out of the backfield. With matchups against the Chiefs and Cardinals on the horizon, Murray could be a low-end RB2 with breakout potential in the fantasy playoffs if he maintains this kind of bellcow workload.
Mike Boone returned from the injured reserve to rush six times and catch one pass while Marlon Mack got three opportunities out of the backfield as well.
Wide Receiver/Tight End
Greg Dulcich: 8 Targets, 6 Receptions, 85 Yards
Jerry Jeudy: 4 Targets, 4 Receptions, 65 Yards
Kendall Hinton: 1 Target, 1 Reception, 11 Yards
Courtland Sutton: 1 Target

Courtland Sutton fantasy managers, I have no words. After he left in the first half, he was questionable to return, and was shown dressed on the sideline during the second half but never came back in. No idea how serious the injury is, but if you haven't already benched him, today should have been the final straw.
Jerry Jeudy was back in action after leaving the game three weeks ago. He caught all four of his targets for 65 yards, including a 40-yard completion deep down the middle of the field. It was the longest offensive play from the scrimmage for the Broncos on the day and led to a field goal later in the drive.
Welcome back, @jerryjeudy!

📺: CBS pic.twitter.com/70pODsj9w2

— Denver Broncos (@Broncos) December 4, 2022
Remember that Week 1 primetime game where Russell Wilson threw almost about 17 passes with each one to a different Broncos' tight end? Okay, that's a slight exaggeration. In Week 1, FOUR Denver tight ends (Beck, Okwuegbunam, Saubert & Tomlinson) combined for 11 targets, catching seven passes for 89 yards in a touchdown. Greg Dulcich nearly matched that total on Sunday by himself. Dulcich was targeted a team-high eight times, catching four balls for 85 yards. He might look like James Franco in Pineapple Express, but he could be a huge pickup off the waiver wire just in time for the fantasy playoffs, especially as weak and unpredictable as tight end has been this season.
Baltimore Ravens
Quarterback
Tyler Huntley: 27/32, 187 Yards, INT | 10 Carries, 41 Yards, TD
Lamar Jackson: 3/4, 11 Yards | 1 Carry, 9 Yards
This was the moment that ended playoff hopes and dreams for Lamar Jackson fantasy managers in need of a win this week.
Lamar Jackson is injured pic.twitter.com/VfhDs8qvxU

— alex (@highlghtheaven) December 4, 2022
The good news is that he isn't necessarily ruled out for next week, and according to Head Coach John Harbaugh is "day-to-day, week-to-week," so he could come back to ruin your fantasy lineups again in the playoffs if you somehow backed into the postseason!
In his place, Tyler Huntley was a dink-and-dunk specialist, with his longest completion going for 22 yards (and only seven of those coming after the catch). Huntley completed 27 passes of his 32 attempts for 187 yards, averaging 5.8 yards per completion – not exactly a pillar of efficiency.
In true Ravens fashion, Huntley ran the ball 10 times, more carries than any of the running backs had, for 41 yards. Huntley did rush for the game-winning touchdown late in the fourth quarter, the only touchdown in this terrible, terrible game. For fantasy managers, it was more relevant who DIDN'T rush in the touchdown than who did.
D-O-DOUBLE G❗️

Tune in on cbs! pic.twitter.com/x2x4mEYALs

— Baltimore Ravens (@Ravens) December 4, 2022
If the Ravens go with Huntley again next week, the entire offense should be downgraded in your ranks, especially against the division-rival Steelers.
Running Back
Kenyan Drake: 7 Carries, 29 Yards | 3 Targets, 2 Receptions, 17 Yards
Devin Duvernay: 2 Carries, 9 Yards | 6 Targets, 6 Receptions, 34 Yards
Justice Hill: 1 Carry, 2 Yards | 2 Targets, 2 Receptions, 4 Yards
Gus Edwards: 6 Carries, 12 Yards
Kenyan Drake was the lead back if you can call it that, in this offense that was still without J.K. Dobbins. Drake (34) doubled both Gus Edwards and Justice Hill (17 each) in snap count and ran 17 routes with three targets while Edwards and Hill combined for 19 routes and just two looks in the passing game. Drake also toted the ball seven times while Edwards took six carries and Hill finished with one. Leave this backfield alone.
Wide Receiver/Tight End
Mark Andrews: 1 Carry, 1 Yard | 7 Targets, 4 Receptions, 53 Yards
Demarcus Robinson: 8 Targets, 7 Receptions, 41 Yards
Isaiah Likely: 4 Targets, 4 Receptions, 30 Yards
DeSean Jackson: 3 Targets, 2 Receptions, 10 Yards
James Proche II: 2 Targets, 2 Receptions, 9 Yards
Patrick Ricard: 1 Target, 1 Reception
Devin Duvernay: 2 Carries, 9 Yards | 6 Targets, 6 Receptions, 34 Yards
The only person in the entire Ravens' organization to potentially benefit from a Lamar Jackson injury (other than front office staff – we won't get into that) is Mark Andrews. In six games with Tyler Huntley at quarterback a year ago, Andrews averaged over 10 targets and over 100 receiving yards per game. Certainly, something to keep an eye on.
DeMarcus Robinson has emerged as the WR1 in the Ravens' offense, having nearly matched Andrews in target share in two of the last three weeks. However, if I were to roster a Ravens wide receiver, it would likely be Devin Duvernay.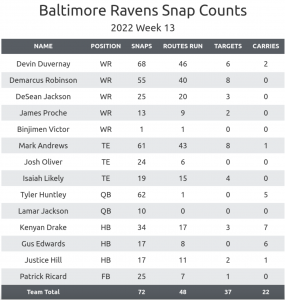 According to Nathan Jahnke (PFF), Duvernay matched Robinson in opportunities (targets + carries) while running more routes on a larger snap share. Many forget, just because of how wildly ineffective he has been, but Duvernay was regarded as the Ravens' best explosive playmaker for the first few weeks of the season and posted a 54-yard, two-TD performance in week one.