Packers @ Saints
With the two best receivers in fantasy football before the season, Michael Thomas and Davante Adams, out this week the big question was how these offenses would overcome these losses. For the Packers, we saw an emergence for Allen Lazard and strong use of the tight end position from Aaron Rodgers this week, while for the Saints it was another edition of the Alvin Kamara show being heavily used in the passing game for one of the best fantasy performances of the season.
Green Bay Packers
Quarterback
Aaron Rodgers: 21/32, 283 yards, 3 TD's, 0 INT's, 1 Sack | 2 carries, 12 yards
Even without Davante Adams, Aaron Rodgers delivered a vintage Aaron Rodgers performance on Sunday night throwing for three touchdown passes, all coming off play action. While two of the three touchdown passes were from the goal line leading his receiver, the middle touchdown pass was a beautifully thrown ball putting it only where Marcedes Lewis could get it, along with a few more deep balls downfield. It is clear that Rodgers is starting to get comfortable in the Matt LeFleur offense and getting back to that matchup-proof QB1 he used to be.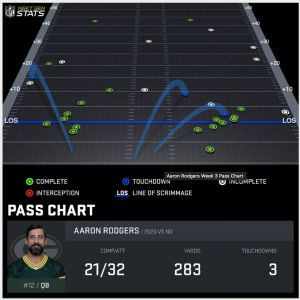 Running Backs
Aaron Jones: 16 carries, 69 yards, 1 TD | 4 targets, 2 receptions, 17 yards
Jamaal Williams: 6 carries, 14 yards | 1 target, 1 reception, 3 yards
It was clear early in this game that the gameplan was to use the run early to set up the play-action and let Rodgers take over this game. In the work he got, Aaron Jones looked like his usual self including taking a run in from the goalline. Though Green bay did throw a bit more from the goal line than we expected, that was mainly on third down as Jones still got his work throughout, providing production with the majority of his touches, only coming out to be spelled by Jamaal Williams for a brief period of time. Jones will have better days, as the Saints run defense has looked solid in 2020.
Wide Receivers/Tight Ends
Allen Lazard: 8 targets, 6 receptions, 146 yards, 1 TD
Robert Tonyan: 5 targets, 5 receptions, 50 yards, 1 TD
Jace Sternberger: 3 targets, 3 reception, 36 yards
Marcedes Lewis.: 2 targets, 1 reception, 18 yards, 1 TD
Marquez Valdes-Scantling: 4 targets, 1 reception, 5 yards
With the loss of Davante Adams for this game, the question remained as to how the Packers would work out their passing attack. The main beneficiary of this loss was Allen Lazard, as Rodgers clearly made him his primary target while looking to him at key moments. The Saints defense made an effort to keep Marquez Valdes-Scantling under wraps, which they successfully did, only allowing one reception, a point which Rodgers mentioned in his postgame interview. Lazard was targetted both on short routes and also deep downfield in key moments. An interesting development from this game was the use of the tight end position, with Rodgers getting all three tight ends involved, including a perfectly thrown ball for a nice leaping touchdown grab for Marcedes Lewis. Rodgers looked to both Robert Tonyan, including his touchdown reception, and Jace Sternberger off play action, as he dumped the ball off to them on these plays to help moves the chains. It will be curious to see if this will be a continued trend or just the result of the loss of Davante Adams.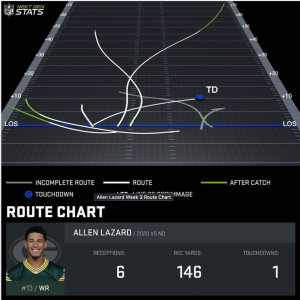 New Orleans Saints
Quarterback
Drew Brees: 29/36, 288 yards, 3 TD's, 0 INT, 2 Sacks 
If you look at just the stat line, you would see this game and think that Drew Brees had himself a vintage Drew Brees performance. You would be partially correct, as what we saw Monday night with Brees taking fewer shots downfield continued in this game, relying mainly on the short passes to Alvin Kamara. The first touchdown pass he threw was a short pass to Kamara from about the 10 where he turned and drove his way into the endzone, with the second being on a screen where Kamara did all the work taking it 52 yards through defenders for a touchdown. Sandwiched between those two touchdowns was a nice 10-yard strike to Emmanuel Sanders. Though the trend of shorter passes are a bit concerning, Sunday night was a good example of the quarterback Drew Brees is, in making smart passes and getting volume to still be the fantasy option you drafted.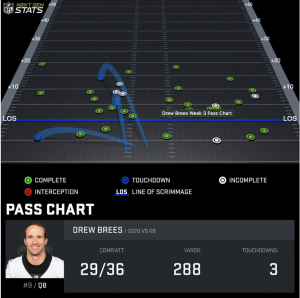 Running Backs
Alvin Kamara: 6 carries, 58 yards | 14 targets, 13 receptions, 139 yards, 2 TD's
Latavius Murray: 12 carries, 58 yards | 1 target, 1 reception, 7 yards
With the loss of Michael Thomas, there is no question who the main weapon in this New Orleans offense is. Alvin Kamara has become much more involved in the passing game due to this loss, and even with the vast majority (49 of 58 ) of his rushing yards coming on one play, the passing volume he receives comes in all situations, with Brees looking to throw his way throughout the game. Latavius Murray also had a nice game with the work he got on the ground, demonstrating his importance in the backfield to keep Kamara fresh, and showing his skill/value if something were to happen to Kamara.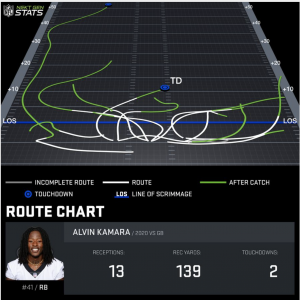 Wide Receivers/Tight Ends
Emmanuel Sanders: 5 targets, 4 receptions, 56 yards, 1 TD
Tre'Quan Smith: 6 targets, 4 receptions, 42 yards
Jared Cook: 3 targets, 2 receptions, 21 yards
Adam Trautman: 2 targets, 2 receptions, 17 yards
Sunday's game did not provide much clarity as to whether Emmanuel Sanders or Tre'Quan Smith is the best receiving option with no Michael Thomas in New Orleans. While Sanders caught the touchdown, two of his targets were late in the game with the Saints down by 10 and throwing to try and catch up. Smith got more targets, but both were looked to as the Saints attempted to convert on third down, the few times those plays did not go to Kamara. Jared Cook was used in similar situations to Sanders and Smith, just less often before leaving with a groin injury. When Cook was out, rookie Adam Trautman was used similarly to how they would use Cook earlier in the game, seeming to cede the majority of tight end targets to Kamara.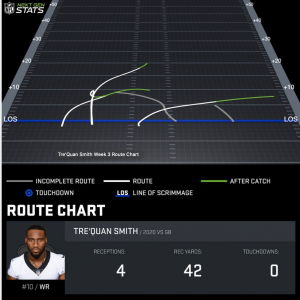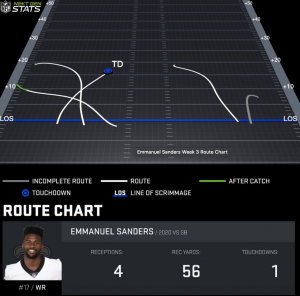 -Callen Elslager (@callen_elslager on Twitter and Reddit)