Fantasy football enthusiasts tend to be optimistic about their own players values and possibilities, and unshakable in their predictions about how the players they like will perform. And that's great. Why not bask in the endless possibilities at this time of the year when anything could happen? It's easy to be blinded by the light with coaches speaking about running backs who have 'never looked better' or who arrived into camp feeling like they were 'in the best shape in their life'. Most players won't break out and all that coach speak will be forgotten until next summer when it is washed, rinsed and repeated.
The sad reality is that with every draft pick, there comes inherent risk that he is the guy who regresses not just to the mean but back again and into the abyss. It's up to you, and us as fantasy football writers, to help guide you so as not to eliminate risk–that's clearly impossible–but to mitigate risk and make you aware of the ones you're taking; we strive to give you helpful nuggets on information to go with your already well-formed gut feeling so you can get an edge.
Or maybe a better way of putting it is shifting the risk. Take a certainty at one position so you can be more flexible with risk when it comes to another.
One area of interest when it comes to risk and reward is in the first round of the draft. You don't want to go messing around early because a miss could derail a season. Likewise, grabbing a player with uncertainty surrounding him could win you a championship.
So, that's what we will discuss in this article. Everyone loves sure things but what about players coming back from injuries, whose positions and status on a team is not guaranteed or who are in situations that are unforeseeable? The talent might be there but the circumstances are hard to read, have changed drastically or are brand new.
We take a look at three players who might be worth a slight reach early on at the running back positions. Specifically, we will look at a few backs with higher projected points as to where they are being drafted and look at why.
Here is a graph of the top 25 running backs, their average draft positions and their projected points: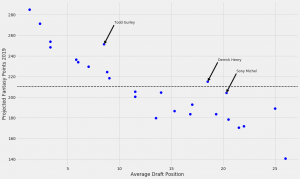 Todd Gurley
It's an indication of just how good Todd Gurley is–and can be–that people are willing to take him so high even though we have heard the word arthritis being thrown around. "We will see at training camp," was his answer when asked about how his knee was. That can be read in two ways. Either he doesn't have a clue or he is confident it's fine and wants to wait until training camp to show people that it's fine. He was asked recently how he was feeling after getting testy over the reports of arthritis and he said: "What? That I'm feeling good, I'm working out and doing good. Can't complain."
Here is a look at Gurley's four years in the NFL. His first was clearly spotty with some explosive weeks and plenty more below average weeks. His second year was more consistent, but he wasn't yet the explosive running back we would come to know. The last two seasons, he has been almost as likely to get over 100 yards on any given week than not. This chart would lead us to believe Gurley is absolutely fine. It's an interesting path with a first year what was all boom or bust, to a second year with more consistency but less upside, to the last two years and their consistent excellence.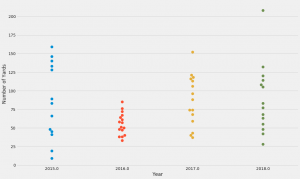 That was before the knee started troubling Gurley. He obviously missed the last two games of the season last year and then when he came back, he shared carries with CJ Anderson. But ProFootballFocus thinks he will have a 71% share of the carries, and they have predicted that he gets 14 touchdowns on the ground and another three receiving. That first number (14) is higher than anyone. And if he isn't healthy, holding him back just for red zone carries and in dangerous positions doesn't hurt his fantasy value, it improves it.
Here is a look at his attempts and yard per carry before and after the injury last season. It's too small a sample to really know, but he was still as good as ever at times even post-injury.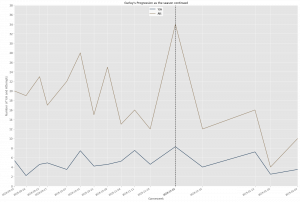 As you can see in this graph, Gurley's number of carries dropped significantly after his injury (the vertical dotted line). Here's the thing: if his load is managed, he gets enough goalline carries, and is fresh enough to take advantage of those carries when they come, then Gurley is definitely worth grabbing as the fourth or fifth running back off the board–and even as high as the third–instead of ninth (or lower) where he is currently going. That all depends on the guys who go ahead of him and how solid a choice you believe them to be.
I love Todd Gurley as a value this year, and if he falls into the second round, and he is healthy, then you're getting a first round talent much later than expected. You have to trust, of course, that he has a good training camp and a lot of your future depends on whether or not Sean McVay and his coaches can use Gurley properly; if they do he is still a dangerous and elusive runner. If Gurley drops, which it looks like he is starting to, then be happy to grab him at a discount.
Derrick Henry
According to ProFootballFocus' Fantasy Playbook, Derrick Henry is set for a year of red zone touches. He is ranked behind just Gurley and Saquon Barkley in their projected touches in that area and he is expected to have 10 touchdowns. That's elite production.
Here is PFF's take on him from that playbook:
If only the Titans figured out that feeding Henry the ball works earlier in the season last
year. Over the first 12 games, Tennessee gave him more than a dozen carries just two
times, and he was the No. 39 fantasy running back. Henry had at least 16 carries in
each of his final four games of the regular season and he was the No. 1 fantasy running
back over that span. It's tough to say whether this volume will continue, but it obviously
worked as Henry posted seven scores and an average of 6.7 yards per carry over the
final month of the season. It's a huge stretch to expect that level of efficiency, but
Henry has the potential to finally break out if the Titans continue to feed him.
This is where the risk comes in. Can Tennessee feed him the ball enough in order for you, the drafter, to have faith in the risk paying off? Henry should get a workload fit for a first round pick with the likes of Melvin Gordon, Sony Michel (injury) and others looking like much more of a gamble. Henry has missed just one game through injury during his career and that was a slight calf injury. He is durable, and while Dion Lewis will continue to see some action, he is 28 and has a history of injuries; Henry is only 25 and ready to break out. He will also have the benefit of a top 5-ranked offensive line along with the addition of Roger Salford at left guard to sit in between Taylor Lewan and Ben Jones.
When they fed Henry the ball more than 15 times in the last four games of the season, he had over 500 of his 1,059 yards on the ground for the season and added seven touchdowns. It's a small sample but the correlation is there; give him the ball and he will swallow up yards.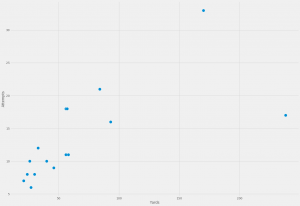 Other considerations.
Christian McCaffrey is in line for an MVP-type year and you should feel comfortable taking him at any position, including first overall. Something to consider when picking in the early rounds is how explosive a player is and how many touches he needs to provide value. Jordan Howard, for example, needs a lot more touches than Christian McCaffrey does to create a touchdown. And too many carries obviously leads to injury and a depreciation of value over the course of the season. (Not that anyone is confusing Howard with McCaffrey but just to illustrate the point.)
As far as being involved, McCaffrey is going to be everywhere. We are looking at a 15 touchdown season and 2,000 yards from scrimmage. Cam Newton is looking better by the day and the Panthers will be contenders even if Newton isn't 100%. That should help McCaffrey as Newton looks to him for short to medium length throws.
Below is a graph of projected targets for the 2019 season.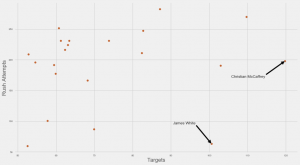 Saying McCaffrey is good, though, isn't really anything new. James White might be an alternative, later-round running back to consider assuming you can't snag McCaffrey.
White might not see as much of his team's carries as McCaffrey. He is locked in a position battle with Sony Michel, who is coming back from an injury, and Damien Harris, the Patriots rookie selection. Tom Brady needs a new go-to guy with Rob Gronkowksi out of the picture, for now, and a host of other wide receivers either gone or not available (Cordarelle Patterson and Chris Hogan left on the offseason and Josh Gordon's availability is perpetually uncertain). White had 1.53 yards per touch last season but he will be available in the later rounds due to the competition in the backfield for New England. If he is available, you take him and don't look back because while everyone believes in Michel, a late-round flyer on White could eventually see you nabbing a first or second round output in the fourth round or later.
There are some other players who don't need as much of the ball to get touchdowns and massive chunks of yards and can be the most exciting running backs to draft. Reaching for any of these five, some of who are considered tier two and three running backs would not be a bad thing either.
(Photo by Rich Graessle/Icon Sportswire)