Drafting for a Guillotine League is nothing like drafting for your regular fantasy football league.
Okay, that might have been a bit dramatic. Some things are still the same. You still want to draft guys like Christian McCaffrey and Saquon Barkley. You still want to get solid production from every position. But there's a lot of differences in drafting for a Guillotine League as well. Typical Guillotine Leagues can run upwards of 17 teams, making it a deeper draft than most of us are used to. The waiver wire is much more bountiful each week, as teams get eliminated and their players hit the pool of available talent. The goal for most of the season is no longer to "win your matchup" as much as it is to "not be last." All these changes to the league structure mean you need to change the way you draft, even if all the scoring categories and roster settings remain the same. Here are my top tips for dominating your Guillotine draft.
All images in this article are courtesy of www.GuillotineLeagues.com, the best site to play in your own Guillotine Leagues.
Avoid Early Bye Weeks
No matter what players you target, you will have to deal with their bye weeks at some point. Normally, this isn't a big deal, as losing a week because all your players had Week 10 byes will only hurt you in the loss column once. In the Guillotine Leagues though, you can't afford to lose a week, and your stud players can only help you if you are actually still in the league. Last year, the 49ers had an early bye week, getting the day off during Week 4. George Kittle hit the waiver wire that week, and you bet the team that drafted him wished they could have had his production that week. Kittle was a fantastic pick-up for the team that got him, especially since he had no more bye weeks ahead of him. Don't draft guys with early bye weeks, instead, pick them up after they are inevitably sent to the waiver wire after their bye week. Teams with early byes this year include the Green Bay Packers and Detroit Lions in Week 5, and the New Orleans Saints, Las Vegas Raiders, Seattle Seahawks, and New England Patriots in Week 6. That puts the following early-round studs on my personal do not draft list:
Green Bay: Davante Adams, Aaron Jones
Detroit: Kenny Golladay
New Orleans: Michael Thomas, Alvin Kamara
Las Vegas: Josh Jacobs, Darren Waller
Seattle: Chris Carson, DK Metcalf, Tyler Lockett
New England: Julian Edelman
Keep a close eye on that bye week column as you are drafting in a Guillotine League!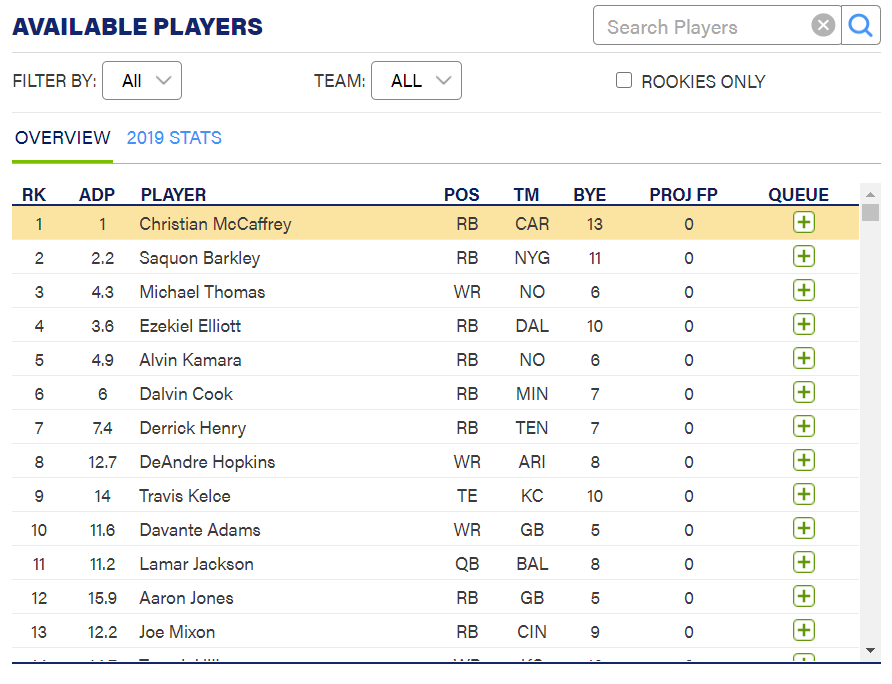 Draft for High Floor, not High Ceiling
This might be the most boring tip in this article because everyone loves chasing ceilings. We want to draft the players who have the chance to be the #1 overall player at their position, who can dominate on the field and make us look great for drafting them when everyone else passed them up. But that's a risky play, and the easiest way to lose early in a Guillotine League is by taking risks. Antonio Brown was seen as a huge boom/bust play last season, as everyone knew he still had the talent to be the best wide receiver in football, but he was being Mr. Basket Case and no one was certain what would happen with him. Two of the first three teams to be eliminated had chosen to start Antonio Brown that week because there was a shot that he could be a top scorer, and they paid the price for their mistake. Even if they are the boring choice, draft the player that you feel confident will get you some points every week, even if they will never be the top player.
Some guys that I will definitely be avoiding because of this include wide receivers like Amari Cooper and Mike Evans, who are undoubtedly talented but also are in offenses with a lot of mouths to feed and could find themselves taking a back seat due to game plan. Running backs like Aaron Jones, who always has a few big games but then seems to disappear for games at a time, or Todd Gurley, who's going to rely on the Falcons being ahead in the game to give him the proper game script to get carries are similarly off my radar. On the flip side, I want the boring players that aren't being drafted high because they lack the upside, but won't ever give me goose eggs. Melvin Gordon, Jordan Howard, and Sterling Shepard are some players I'll be targeting, as they will get plenty of opportunities and always produce something.
Look at Early Schedules
During the draft, you really should only be worried about the first few weeks of the season. Why? Because every week, more and more strong players will find themselves on the waiver wire, and you'll be able to plug holes throughout the season using your FAAB. However, the first few weeks are when the waiver wire is at its barest, and you're competing with the most teams and the most FAAB for those players. So you want to make sure you have your first few weeks locked down, and that means targeting players on teams that have cake schedules to start the year. Here are some of the teams with the easiest first four weeks.
Buffalo Bills: New York Jets (Week 1), Miami Dolphins (2), Las Vegas Raiders (4)
Chicago Bears: Detroit Lions (1), New York Giants (2), Atlanta Falcons (3)
Los Angeles Chargers: Cincinnati Bengals (1), Kansas City Chiefs (2), Carolina Panthers (3)
Arizona Cardinals: Washington Football Team (2), Detroit Lions (3), Carolina Panthers (4)
San Francisco 49ers: New York Jets (2), New York Giants (3)
Indianapolis Colts: Jacksonville Jaguars (1), New York Jets (3)
On the other hand, you definitely want to avoid teams that are facing top defensive units to begin the year. These teams won't have it easy, as they face two or more top 10 units in their first four weeks:
New York Giants: Pittsburgh Steelers (Week 1), San Francisco 49ers (3), Los Angeles Rams (4)
New York Jets: San Francisco 49ers (2), Denver Broncos (4)
Tennessee Titans: Denver Broncos (1), Pittsburgh Steelers (4)
Houston Texans: Baltimore Ravens (2), Pittsburgh Steelers (3)
Don't go completely go out of your way to draft players from teams on the first list or avoid players from teams on the second list, but it is something that you should consider when drafting. The Ravens have one of the best secondaries in the league, but that shouldn't affect Patrick Mahomes too much in Week 3. Meanwhile, Atlanta may have one of the worst secondaries in the league, but who knows if Mitch Trubisky can even take advantage of that. This is just another part of the puzzle when it comes to drafting.
Don't Invest Too Heavily in Handcuffs
Normally, handcuffs are good. Especially if you are handcuffing your own players, and honestly, you might still want to do that. However, keep in mind that you have to be better than last every single week, and in order to do that, you need to score points. That means if you have a player that gets ruled out on Sunday morning, you better have someone you can slot in his place, and if your bench is full of handcuffs, you may not have great options to replace that player with. Also, consider the fact that your draft will likely have 15+ teams in it. Do you really want to use a 7th round pick to grab Alexander Mattison, when you certainly won't have all your starting offensive positions filled by that point? If you are going to get a handcuff, make sure it's for someone on your team, as that is the only time the opportunity cost during the draft will likely make sense. Either that or make sure you are taking a handcuff as a late flyer. It may seem like a good idea to grab someone like Mattison, figuring it's only a matter of time until Dalvin Cook hurts himself, but if you are eliminated in the first couple of weeks because you lack actual depth, Mattison won't make a darn difference to you.
There's a flip side to this too. There are of running backs around the league that are projected to be the starter for now but have a top prospect nipping at their heel. Marlon Mack is supposedly the starter in Indianapolis, but you wouldn't know it from draft ADP considering where he's going vs. Jonathan Taylor. The same can be said for Kerryon Johnson and D'Andre Swift, or Mark Ingram and J.K. Dobbins. If Mack does end up being benched in favor of Taylor, it likely won't happen right away, and you'll be able to get a few good weeks of production out of him (and stay alive), and then find a replacement RB on the waiver wire. Plenty of new running back options arise during the season in normal leagues, and then factor in that the week you need to replace Mack, you may find guys like Chris Carson, or James Conner, or even Alvin Kamara, on the waiver wire. You'll be glad you got the production you did, and then happily swap him out for someone better.

Cherish Every Moment
This is the one league where you need to absolutely stop and smell the roses. You have no clue how long your season will last. Anything can happen on any given Sunday, and that thing might be you getting eliminated from the league, and having to go on the rest of the football season with one fewer fantasy football team. So enjoy it. Draft the players you believe in, talk trash, sweat from anxiety more than you ever have on any Sunday before, and have a great time. These leagues are meant to be enjoyed, so do it while you can.
Good luck!
Featured Image by Justin Paradis (@freshmeatcomm on Twitter)