We asked our QBList writers and some fantasy friends from around the interwebs to team up for one final Superflex rookie mock draft; that is, before we know where these prospects will call home. The right (or wrong) team can impact the potential for fantasy relevance in 2022 and beyond, so consider this mock draft in a vacuum. We'll publish a new mock draft after the NFL draft, with updates we see for each rookie and how their destination impacts their potential.
Format: 12-team, 0.5 PPR, Superflex (additional flex position that can be a QB)
Round 1
1.01 Malik Willis, QB (Liberty)
Erik Smith (@eriksmithQBL)- QB List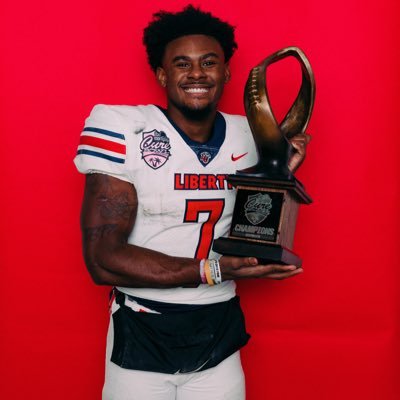 It's harder to justify taking an RB at #1 prior to the NFL draft since the landing spot will determine so much about their fantasy profiles. While I don't love taking a QB with as much risk as Willis has, his rushing ability should give him enough upside to hold his value for a couple of years. If you're not sold on a QB, you should look to trade out of this pick.
1.02 Breece Hall, RB (Iowa State)
Kyle Borgognoni (@kyle_borg)- The Fantasy Footballers
While landing spot is arguably the biggest question mark with Hall, there are relatively few concerns regarding his film. He's a do-it-all back with monster production and solid combine measurables to back it up. I'm more than willing to get a player who will produce right away than play the guessing game of which WR produces first. Situations tend to clear up by Year 2 so even if I have to wait, Hall can be a top-10 fantasy RB as soon as 2023 which is a rare thing to find even if RB longevity is not nearly the same as WRs.
1.03 Chris Olave, WR (Ohio State)
Mike Miklius (@SIRL0INofBEEF)- QB List
My first selection truly came down to two options: Breece Hall or my top wide receiver. I'm not a fan of this quarterback class–especially not knowing where any of them are going. With Hall going right before me, I was left to grab my top WR off the board: Chris Olave. He is a skilled route runner, an excellent tracker of the ball in space, and he ran a sub 4.4 in his 40. Sure, he's not a big dude. He should be able to play any position at the next level, though, and I'm happy to add him to my team here. If I could have traded down, my ideal move would have been moving back 4-5 spots where I think I could still grab him.
1.04 Treylon Burks, WR (Arkansas)
Marc Salazar (@oldsnake77)- QB List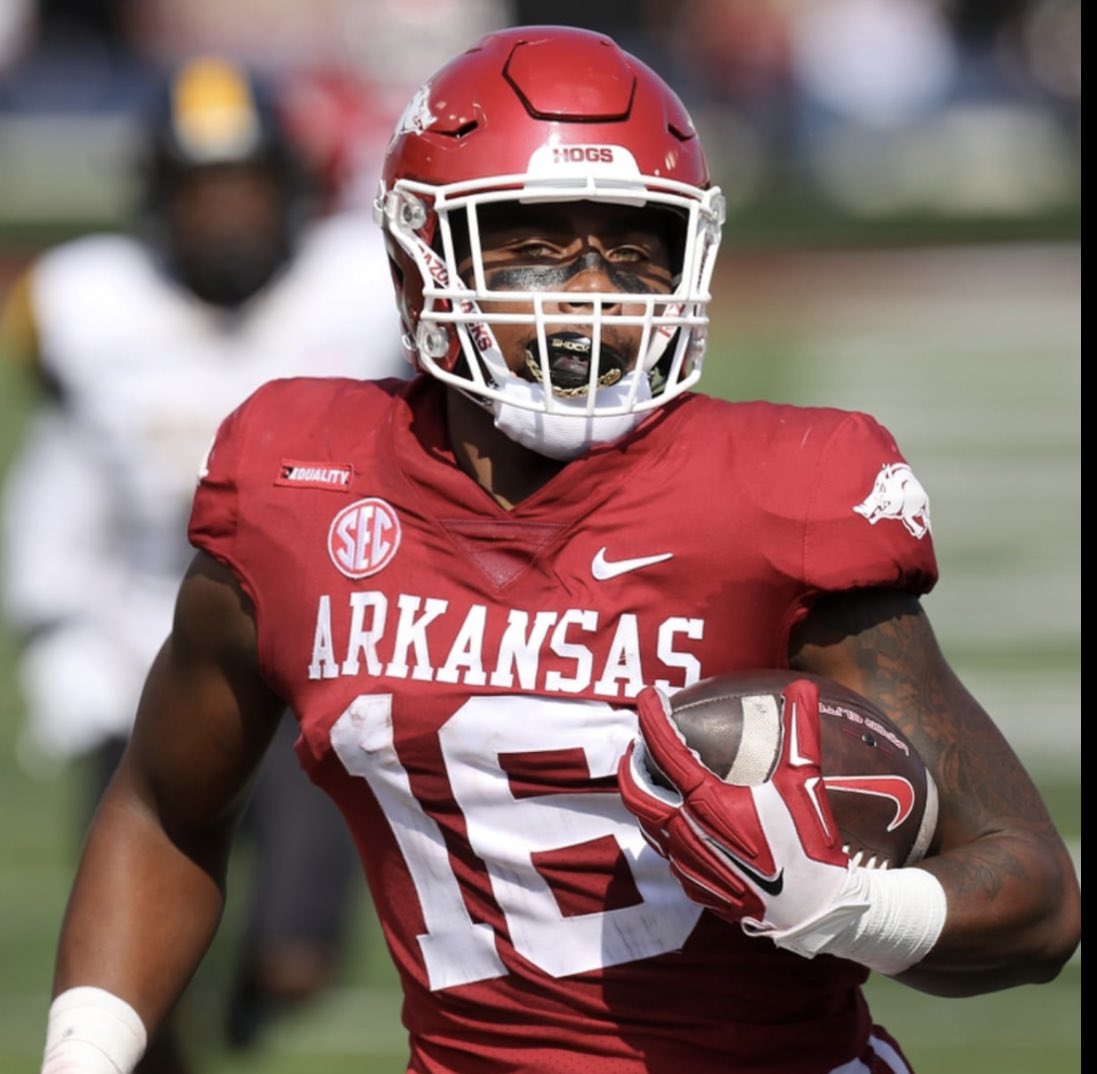 Burks dominated at the college level, with a near-perfect production profile that comp him to Mike Evans and Julio Jones. That's before you get to the measurables and film. The most predictive thing we have to project NFL fantasy production is collegiate production. He's also dropping in mocks, which means he is going to go to a better team and that's a plus. Scouts may be off of him but trust the production, he's going to dominate.
1.05 Drake London, WR (USC)
Jack Miller (@JackMiller02)- Establish the Run
London is a threat to post top-10 draft capital and had gaudy numbers in his final season at USC. A big-bodied tank at 6'5″ and 219 pounds, the Southern Cal product is the best contested-catch wideout in the 2022 class. He should be a Year 1 contributor and I'm happy to spend a top-five rookie pick on him here.
1.06 Garrett Wilson, WR (Ohio State)
Luke Sawhook (@lukesawhook)- FanSided
I'm SPRINTING to the podium with my draft card here for Garrett Wilson WR from OSU. Wilson is the total package, and reminds me of a Justin Jefferson type WR who's a dynamic playmaker at every level of the field. He has true WR 1 potential, and I LOVE this value of getting my Number 2 WR in my rankings as the 4th WR off the board.
1.07 Jameson Williams, WR (Alabama)
AJ Passman (@ajpassman)- QB List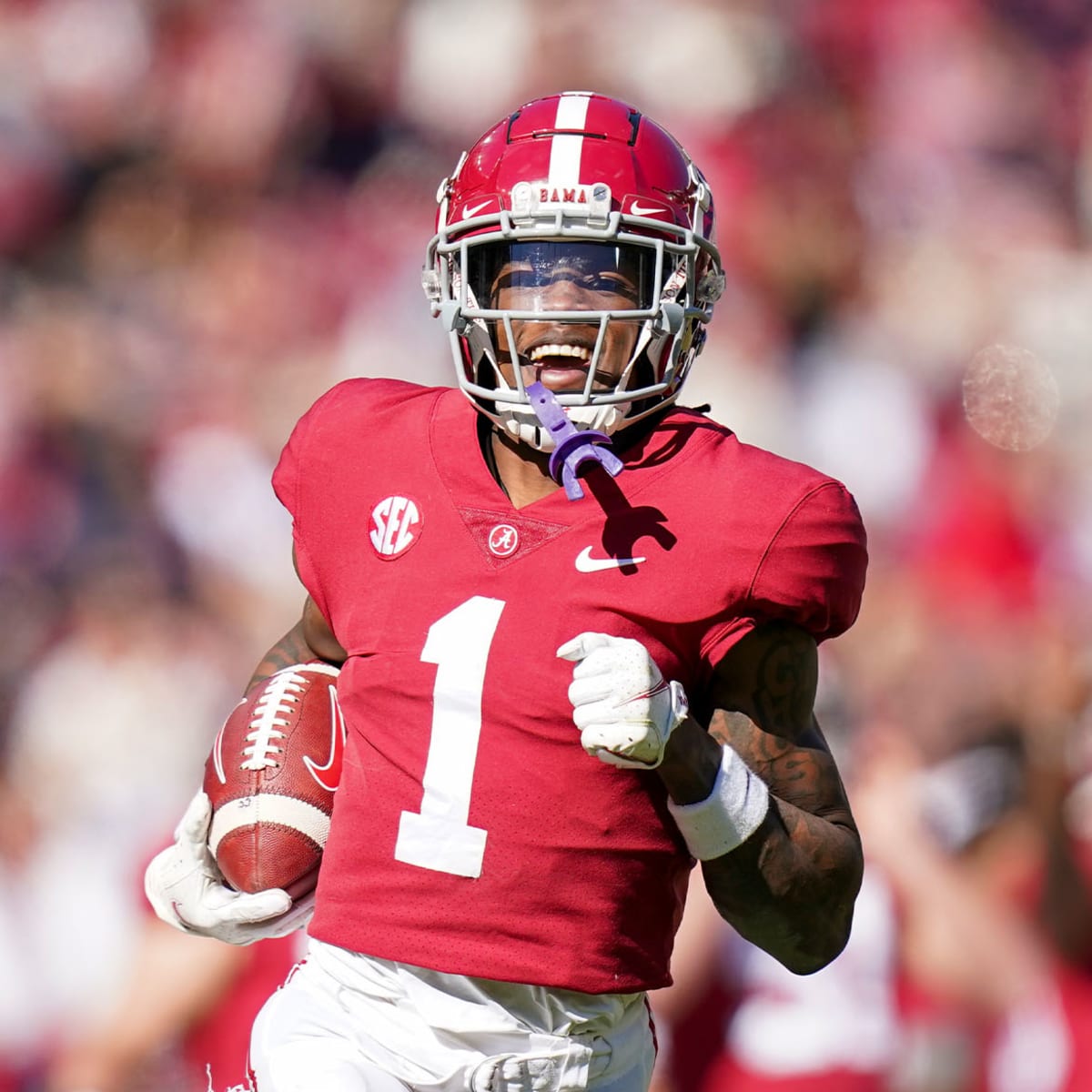 Simply, Jameson Williams might be the best receiver in this class. After transferring up to Alabama for his junior season, Williams and his blistering speed dominated in college football's best conference, averaging 19.9 yards per reception on his way to a 79/1572/15 season. An ACL tear in the National Championship will limit Williams' immediate fantasy impact, but it's not scaring NFL GMs away, and reports suggest he may be ready as early as training camp. Williams is still projected to go in the first round, and if he is selected by the Packers, Chiefs, or Chargers, he'd jump to a top 3 pick in my rookie rankings.
1.08 Kenneth Walker III, RB (Michigan St.)
Ryan Heath (@QBLRyan)- QB List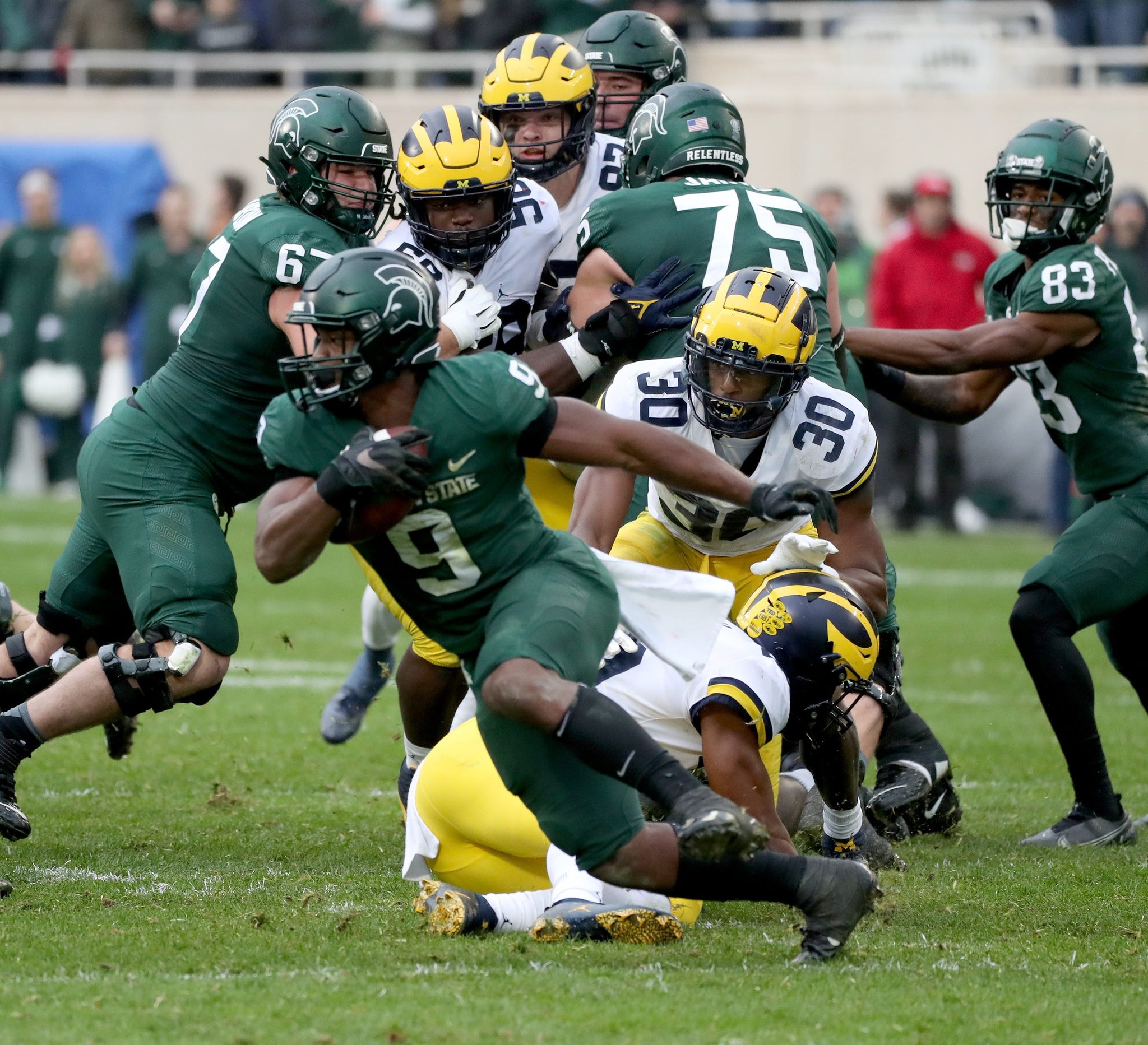 There's no reason to believe Walker will command targets above and beyond what his offensive scheme and quarterback will passively give him, but a likely Day 2 pick at fantasy football's most important position deserves consideration in the mid 1st of rookie drafts regardless. Add on Walker's blazing speed and gushing reports about his ability as a "pure runner" and you have a player with great value insulation for this deep into the 1st round.
1.09 George Pickens, WR (Georgia)
Ryan McDowell (@RyanMc23)- Dynasty League Football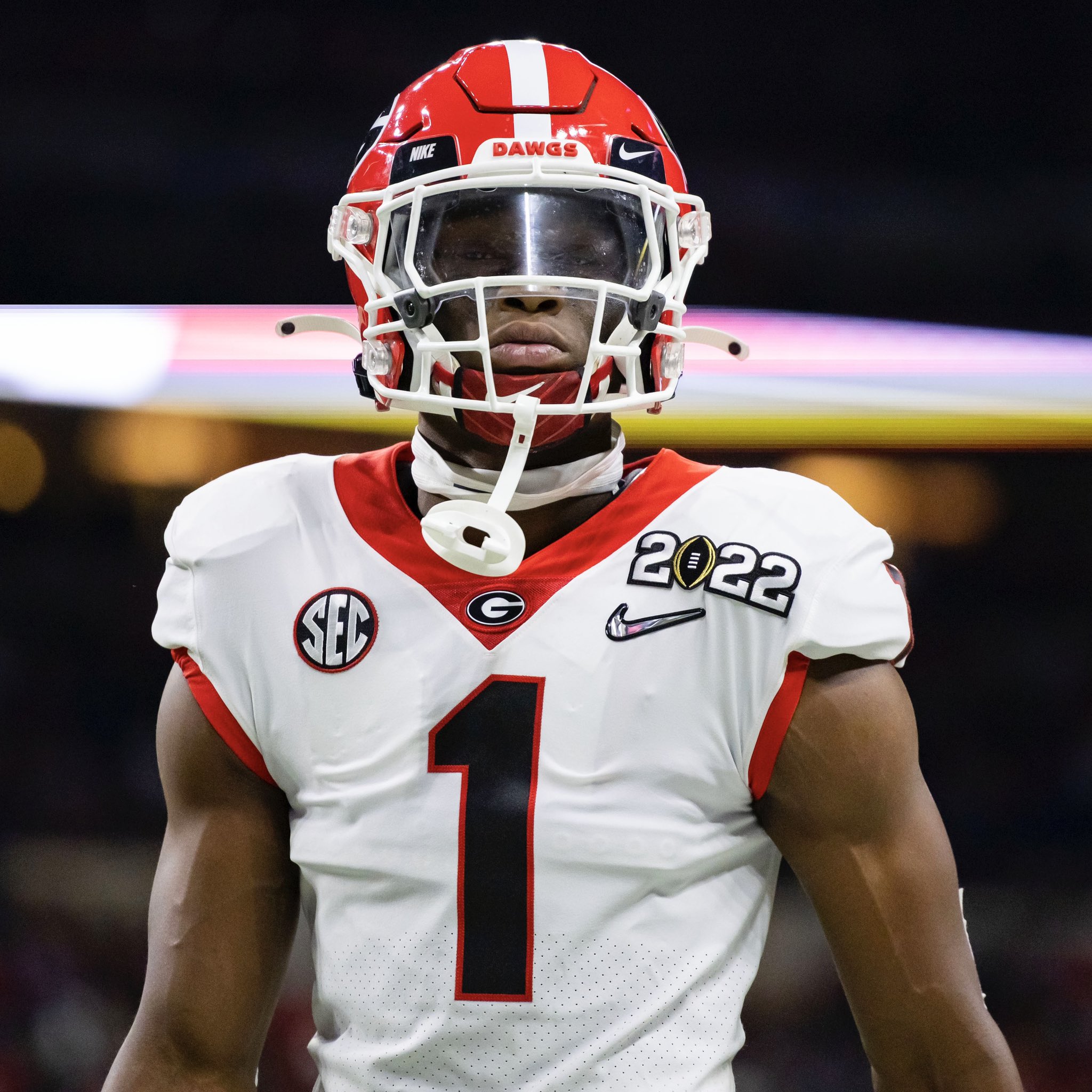 This spot represents a pretty clear tier drop, at least pre-NFL Draft. Once we know the landing spots and draft capital, this could certainly be a spot where it makes sense to grab a QB. Instead, I opted for Pickens, who has as much upside as any WR in the class. In fact, following his freshman season two years ago, Pickens looked like he could be the WR1 in this class before injuries ended that dream. Pickens has elite hands and a lengthy frame that we like to see with alpha WRs. He also has a concerning injury history and needs to add some bulk to that frame. Ultimately, Pickens would need to be drafted late in Round One or early in Round Two to be the pick here.
1.10 Christian Watson, WR (North Dakota St.)
Drew DeLuca (@DrewDeLaware)- QB List
I was hoping one of the Top 5 WR, Malik Willis, or Kenneth Walker III would slide here, but alas. I thought about a QB, but the next 3-4 on the board are all the same to me. Watson's size (6'4″) and speed (sub-4.4) combo was too hard to pass up here.
1.11 Isaiah Spiller, RB (Texas A&M)
Dustin Ludke (@theDunit13)- QB List
I thought about a QB here. In Superflex that would be great. My issue is that I have all of them pretty evenly rated and none of them have a huge rushing upside like Willis has. I'm not sure any of them will be starting in 2022. I think Spiller is a good back who will fall to a good team in the NFL draft which should provide him lots of opportunities to score. He's not the breakaway running back that you want early in the draft but if he goes to a team with a solid O-line he will have the blocks to allow him to get the yards and score. Spiller is the end of this tier of RB for me and there are multiple QBs in the next tier that I can gamble on one falling to me in the 2nd.
1.12 Matt Corral, QB (Ole Miss)
Alex Korff (@PeakedInHS_FF)- The Athletic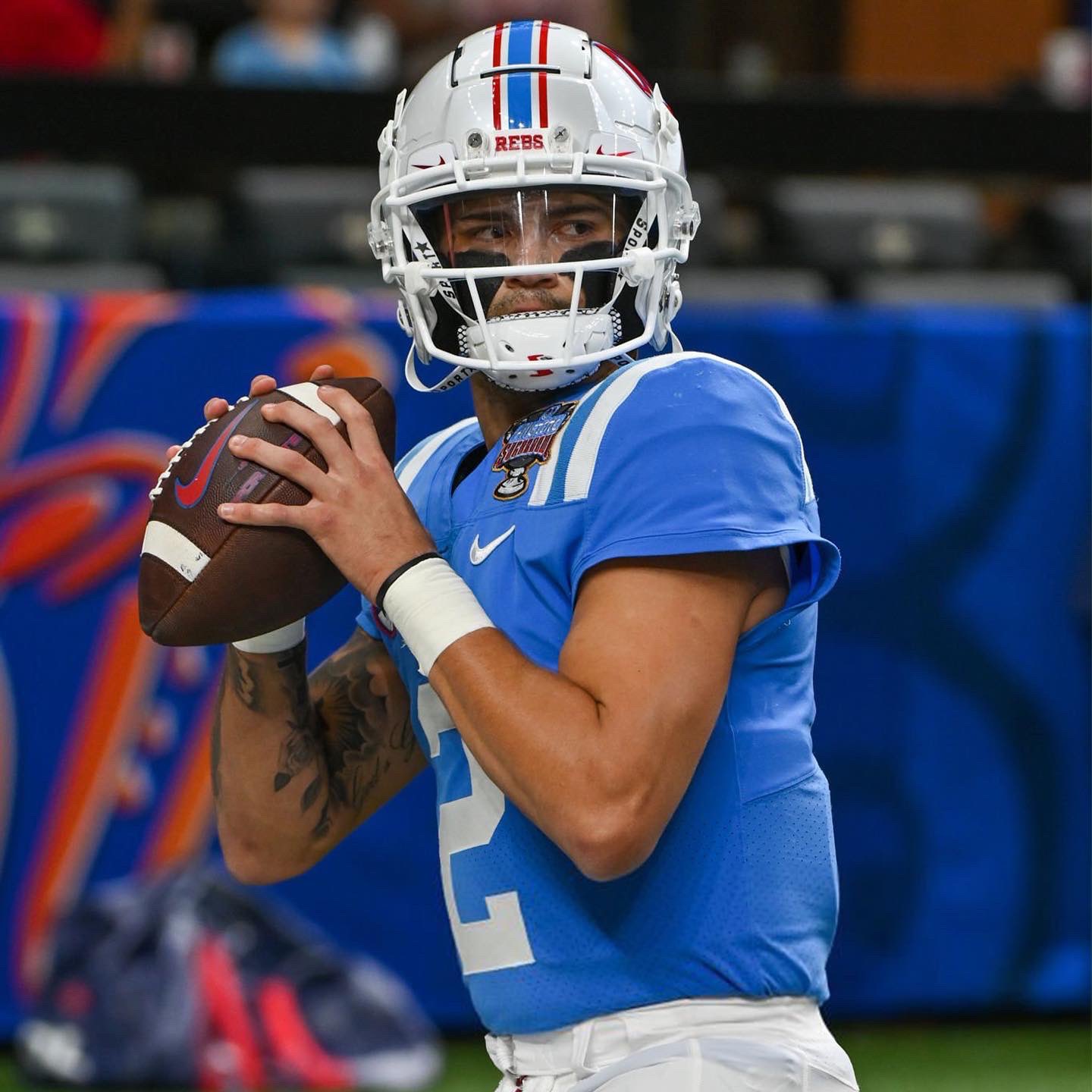 My one rule when drafting is to never draft a player with smaller hands than me (I know we all measured). The top RBs were all gone and all the tier 1 WRs were off the board. I closed my eyes, held my nose, and selected Matt Corral. I have him at the top of the tier 2 QBs in a group with Pickett and Howell. This is a Superflex league and sometimes you have to take dart throws on these QB prospects. I think an argument could be made for any of those QBs at the pick 1.12.
Round 2
2.01 Jahan Dotson, WR (Penn St.)
Erik Smith (@eriksmithQBL)- QB List
The QB run that I expected never happened, making Willis at 1.01 less than ideal. I like the idea of zigging when everyone else zags, so I considered doubling up on quarterback here, but I ultimately did not want to tie my whole draft to this subpar QB class. Dotson is a borderline first-round talent, so he's a nice consolation prize after passing on RB/WR at the top of the draft. With some high-powered passing offenses looking for WR help (KC, GB, etc), it's worth getting into the WR sweepstakes here.
2.02 Kenny Pickett, QB (Pitt)
Kyle Borgognoni (@kyle_borg)- The Fantasy Footballers
I was shocked Pickett fell this far in a SuperFlex draft. If he's a starter for at least 4-5 years, this is a steal. I comped him to Derek Carr "with wheels" in my evaluation with the Senior year stats (42:7) to show he's ready to lead an NFL offense.
2.03 Brian Robinson Jr., RB (Alabama)
Mike Miklius (@SIRL0INofBEEF)- QB List
My top 3 QBs were off the board and that's already stretching it a bit in a weak year for the position. So, I went with Alabama running back Brian Robinson Jr. Robinson played on the biggest stage, and showed plenty of promise–despite a system that didn't always play to his strengths. Given a good team fit, Robinson could be a steal here.
2.04 Skyy Moore, WR (Western Mich.)
Marc Salazar (@oldsnake77)- QB List
Moore led the nation in averaging 7.0 catches per game, and he accounted for 40% of his team's touchdowns. More than a third of his team's yards were generated by Moore. When you're a small school player you should dominate the competition, and that he did. So much so that he was an early declare non-Power 5 player. While rare, this list recently includes Gabriel Davis, Courtland Sutton, Diontae Jordan, and Davante Adams.
2.05 Desmond Ridder, QB (Cincinnati)
Jack Miller (@JackMiller02)- Establish the Run
Ridder has been gaining steam as a first-round pick after crushing the pre-draft process. Numerous reports indicate he could be in play for multiple teams late in Round 1. This isn't a great QB class, but I'm happy to take any first-round QB in the middle of the second round of a Superflex rookie draft.
2.06 Sam Howell, QB (North Carolina)
Luke Sawhook (@lukesawhook)- FanSided
I did a double-take to see that Sam Howell was seriously still available this late in a Superflex league rookie draft! Howell is my QB 3 overall and I think he could be a successful starting QB for a long time in the NFL given good draft capital. He runs well enough to be a good fantasy QB and he has a very nice arm, I'm all in here this late in the draft!
2.07 Trey McBride, TE (Colorado St.)
AJ Passman (@ajpassman)- QB List
Kyle Pitts, Harrison Bryant, T.J. Hockenson, and Mark Andrews. Ever heard of 'em? They were all recipients of the John Mackey Award, given to the best tight end in college football. Ok, Ok, I'm not saying Trey McBride is any of those guys. But at this point in the draft, I'm going with the top tight end. Projected as a reliable two-way tight end already, McBride may end up sneaking into the end of the first round due to a strong-for-a-tight-end 40-yd dash at his pro day (4.56 seconds). The early draft capital and strong blocking skills should translate into playing time sooner rather than later. Underwhelmed? Yeah, me too, but have you seen the TE landscape lately?
2.08 David Bell, WR (Purdue)
Ryan Heath (@QBLRyan)- QB List
David Bell has by far the best analytical profile of any receiver left on the board. Productive since his freshman year, an early declare and experienced with a variety of routes, this is the type of player that the dynasty world has just figured out better than the NFL has. If Bell drops to Day 3 based on athletic testing (doubtful) but still ends up in a situation where he'll see early opportunity a la Amon-Ra St. Brown, I won't make the mistake of deferring to the NFL scouting brain trust again.
2.09 Jalen Tolbert, WR (S. Alabama)
Ryan McDowell (@RyanMc23)- Dynasty League Football
Many were not familiar with Tolbert coming out of South Alabama but he has put himself on the radar for all fantasy players and looks to be locked into a Day Two draft position. Tolbert has massive hands and was a deep play specialist, hauling in 16 deep balls for 646 yards. This is a bit early for Tolbert based on pre-Draft ADP but I think he ultimately lands in this range.
2.10 Justyn Ross, WR (Clemson)
Drew DeLuca (@DrewDeLaware)- QB List
I passed on Corral and Ridder so I could take Sam Howell here at a point where he would've represented great value, as he seems to be overlooked by consensus right now. Sadly, others in this draft had the same idea. This time around, I'm going to take one of "my guys" before someone else does. Ross, like Howell, broke out as a freshman before his stock slipped. Unfortunately, a career-threatening injury caused Ross to tumble down boards. However, he's now fully healthy, yet some remain scared off by a dip in production without grasping the context: subpar QB play capped Ross's ceiling (D.J. Uiagalelei struggled and was a far cry from Trevor Lawrence), issues that were exacerbated by a down year for the offensive line. In any case, those looking to give David Bell a pass for his disappointing workout numbers need to ensure they likewise give this talented, high-ceiling Clemson WR his due.
2.11 John Metchie, WR (Alabama)
Dustin Ludke (@theDunit13)- QB List
You win some, you lose some. I gambled that a quarterback would fall to me, and while Carson Strong did, I'd rather take the last of the WR in that tier for me. I prefer to punt the QB position and cobble together this year and then go hard for QB next year in what projects to be a better QB class. Metchie will put up points this year, while with Strong I have to hope he gets a starting job which is not a given at this point.
2.12 Jerome Ford, RB (North Carolina)
Alex Korff (@PeakedInHS_FF)- The Athletic
Ford feels like one of the last RB prospects this year to have a chance at a large backfield share. I know his combine performance was lackluster, but his tape and college production are making him a target for me this year. His height and weight combo are solid for a bigger back. I was very happy to get him at pick 24. I expect I will walk away from most of my drafts with him this year.
Round 3
3.01 James Cook, RB (Georgia)
Erik Smith (@eriksmithQBL)- QB List
After the first two running backs are off the board, it's anyone's guess as to which ones land in a fantasy-friendly situation. There were other RBs with more three-down upside, but I'll take a shot on Cook as a pass-catching pro out of a big-time school. This may not be the highest upside pick I could have made, but I feel confident Cook will be able to contribute to a fantasy roster in the near future in the receiving game. If you can load up at QB and WR in a Superflex league, you just need contributors at the RB position, and Cook should be able to post respectable PPR production.
3.02 Rachaad White, RB (Arizona St.)
Kyle Borgognoni (@kyle_borg)- The Fantasy Footballers
I'm surprised White fell this far in the draft. I don't love the fact that he was a junior college transfer, but his insane pass-catching work gives him a leg up on other running backs in this range.
3.03 Alec Pierce, WR (Cincinatti)
Mike Miklius (@SIRL0INofBEEF)- QB List
Alec Pierce excelled at Cincinnati, has the size at 6'3, and the speed with a sub-4.4 40. I think he was a steal here, and I love the upside if he lands somewhere he can start.
3.04 Pierre Strong Jr., RB (South Dakota St.)
Marc Salazar (@oldsnake77)- QB List
The third round feels like a good place to take a chance on backs. Two of my favorites went at the top of the round, so I'll take Strong. He has explosive playmaking ability, 12% of his career carries went for 15+ yards. He's a one-cut N/S runner with little power. He could even find his way as a pass-catcher. Think Tevin Coleman with hands. In a good scheme, he could be a solid RB3.
3.05 Tyler Allgeier, RB (BYU)
Jack Miller (@JackMiller02)- Establish the Run
Allgeier had two extremely strong seasons in his final two years at BYU, including a 1,800-total-yard campaign in 2021, including 28 receptions for 199 yards. Draft capital will be a big factor for him, but I'll take a shot in the third round.
3.06 Zamir White, RB (Georgia)
Luke Sawhook (@lukesawhook)- FanSided
While White isn't my favorite rookie RB of the bunch, I think he has a shot to get decent draft capital, and that matters especially in the 3rd round of a rookie draft!
3.07 Dameon Pierce, RB (Florida)
AJ Passman (@ajpassman)- QB List
"It would be cool if he was good." That's a 3rd-round vibe if there ever was one. At 5'10", 218 lbs, Pearce is the ideal height and weight for a three-down back in the NFL. He shows good burst and instincts, but he doesn't have much of a production profile to hang your hat on.  It wouldn't be the first time a college coach (who was, perhaps not coincidentally, just shown the door at Florida) failed to capitalize on one of his players, so I'll take my shot on Pearce dropping into an ambiguous backfield and getting a chance to earn playing time in 2022 or 2023.
3.08 Khalil Shakir, WR (Boise St.)
Ryan Heath (@QBLRyan)- QB List
I'm a sucker for productive small-school wide receivers. Running back has dried up with White and Pierce off the board, so this is where I default.
3.09 Wan'dale Robinson, WR (Kent St.)
Ryan McDowell (@RyanMc23)- Dynasty League Football
Robinson's draft stock (therefore fantasy value) was hurt by his Combine measurements when we learned he was just 5'8″. The player is still the same one who tore up defenses in both the Big Ten and SEC during his college career. We know teams are in search of versatile weapons following the Deebo Samuel breakout. While Robinson is not in Deebo's class, he can play running back or wide receiver. An ideal slot man and elusive enough to load up on yards after the catch, Robinson likely won't be available this late once he is drafted on Day Two.
3.10 Carson Strong, QB (Nevada)
Drew DeLuca (@DrewDeLaware)- QB List
If medical science can work wonders with Strong's infamous knee, he will be a starting-caliber QB in the NFL. Strong posted a 70 percent completion rate his last two seasons at Nevada and arguably throws the nicest, most accurate deep ball in the entire class. He is a cerebral QB who makes sound decisions with the football and did not wear a knee brace when playing in the Senior Bowl. He's a perfect scratch-off ticket in the late 3rd of Superflex formats.
3.11 Isaiah Likely, TE (Coastal Carolina)
Dustin Ludke (@theDunit13)- QB List
Super happy that Isaiah Likely fell to me. If someone came back in time from 5 years in the future and told me he was a stud and one of the best players in this draft I wouldn't be surprised at all. I think in a few years we will be talking about the multi-year TE group of Pitts, Mcbride, and Likely.
3.12 Romeo Doubs, WR (Nevada)
Alex Korff (@PeakedInHS_FF)- The Athletic
I figured it was time to grab a WR and I was on the fence between Romeo Doubs and Calvin Austin. Austin was electric on the field, but it is hard to have faith in someone that size. Doubs is a bigger WR with comparisons to Kenny Golladay. He seemed to have the highest chance to be a contributor as the 36th pick in this draft.
Draft Summary  
Round 1
Pick
Player
Pos
School
1.01
Malik Willis
QB
LIB
1.02
Breece Hall
RB
ISU
1.03
Chris Olave
WR
OSU
1.04
Treylon Burks
WR
ARK
1.05
Drake London
WR
USC
1.06
Garrett Wilson
WR
OSU
1.07
Jameson Williams
WR
BAMA
1.08
Kenneth Walker III
RB
MSU
1.09
George Pickens
WR
UGA
1.10
Christian Watson
WR
NDSU
1.11
Isaiah Spiller
RB
TAMU
1.12
Matt Corral
QB
MISS
Round 2
2.01
Jahan Dotson
WR
PSU
2.02
Kenny Pickett
QB
PITT
2.03
Brian Robinson Jr.
RB
BAMA
2.04
Skyy Moore
WR
WMU
2.05
Desmond Ridder
QB
CINC
2.06
Sam Howell
QB
UNC
2.07
Trey McBride
TE
CSU
2.08
David Bell
WR
PUR
2.09
Jalen Tolbert
WR
SBAM
2.10
Justyn Ross
WR
CLEM
2.11
John Metchie
WR
BAMA
2.12
Jerome Ford
RB
CINC
Round 3
3.01
James Cook
RB
UGA
3.02
Rachaad White
RB
ASU
3.03
Alec Pierce
WR
CINC
3.04
Pierre Strong Jr.
RB
SDST
3.05
Tyler Allgeier
RB
BYU
3.06
Zamir White
RB
UGA
3.07
Dameon Pierce
RB
UF
3.08
Khalil Shakir
WR
BOIS
3.09
Wan'dale Robinson
WR
KENT
3.10
Carson Strong
QB
NEV
3.11
Isaiah Likely
TE
COAS
3.12
Romeo Doubs
WR
NEV
(Photo by David Rosenblum/Icon Sportswire)