Ryan Heath's WR Rankings 
While it was a chalky opening to the season at the top of the rankings, there are many receivers further down who posted disappointing performances in Week 1. Before panicking on any individual player, I would advise focusing on playing time and usage rather than fantasy results.
We finally saw CeeDee Lamb command real target volume in Week 1, posting a 30.6% target share. Of course, we had little time to celebrate before Dak Prescott was knocked out of the game with an injury likely to cost him at least a month. Lamb's upside is capped while Cooper Rush is under center, but volume alone should make him playable as a low-end WR2. Unless Dallas seriously struggles to function as an offense against the Bengals this week, D.K. Metcalf seems like a decent comparison.
Mike Williams and Josh Palmer are ranked as if Keenan Allen will be unable to suit up Thursday. Williams and Palmer ran by far the most routes on the team and should be the primary beneficiaries of Allen's absence. I'm not buying DeAndre Carter as a legitimate option in managed leagues, even if he maintains slot work.
Adam Thielen ran the same number of routes as Justin Jefferson, while K.J. Osborn ran just five less. Both will be inconsistent all year, but I'm willing to go back to Thielen as a flex play in a likely shootout against the Eagles sporting a 50.5-point over/under. I feel the same about Devonta Smith, who similarly took a backseat to A.J. Brown while running just as many routes. Defenses will have to adjust to the target hogs eventually, right?
Julio Jones ranked top-12 in air yards among all wide receivers last week. He's a legit flex play as long as Chris Godwin remains out. If I need a big week out of my Flex or WR3, I'd consider playing him over an option like Hunter Renfrow, whose targets mysteriously disappeared when Davante Adams came to town. The Weekly Range of Outcomes Tool provides a good visualization.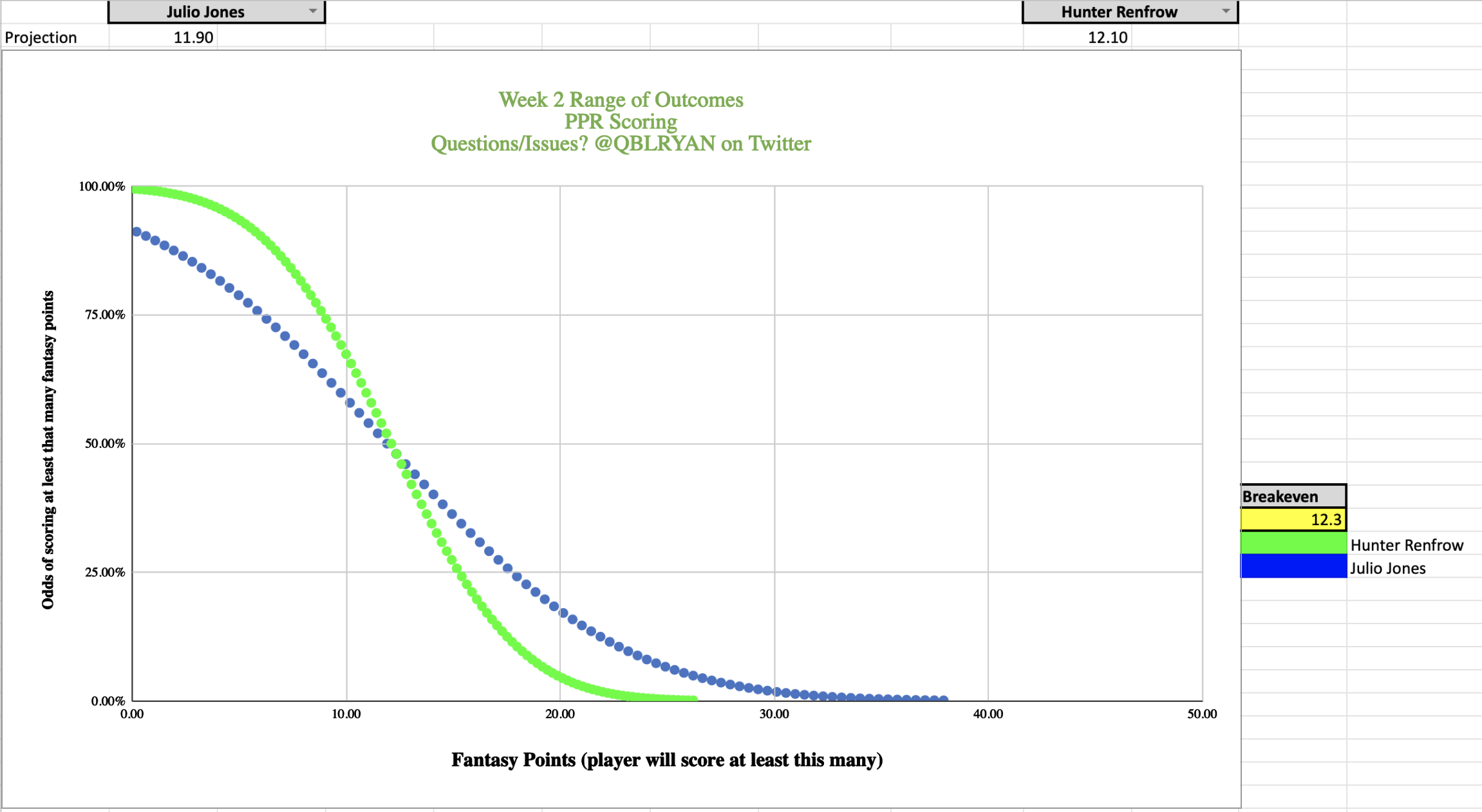 Finally, D.J. Chark might be legit. Ranking top-5 in air yards and posting a 21.6% target share is no joke on a Lions offense that showed signs of life. He ran more routes and saw more targets than both T.J. Hockenson and D'Andre Swift.
Green=Strong Starter, Yellow=Solid Starter, Red=Look for Better Options