The Guillotine League is a battle royale, free-for-all, elimination fantasy football league. There are no matchups, and at the end of each NFL week, the team with the lowest point total is eliminated, and all their players are dropped into the waiver pool. It is cutthroat and it is unforgiving, and you don't ever want to see yourself getting near the Guillotine. The Guillotine cares not for what you've been through, what injuries you've had, or what your projected point total was. All it cares about is eliminating the team with the lowest point total each week. The Guillotine demands sacrifice.
Week 10 Recap
For those of you who have been following along with us, you'll know that last week I very smugly bragged about my great FAAB strategy and the excellent player I was able to obtain using it. That's right, I had Saquon Barkley, ready to dominate the pathetic Jets defense, and was ready to rub everyone else's nose in it. I was untouchable. It took all of about 30 minutes on Sunday for that smile to get wiped clean off my face.
"Hey Justin Paradis," I called out to our graphic designer who had just been eliminated one week prior. "I think you sold me a defective Saquon."
Barkley would go on to rush for one yard. One freaking yard, on 13 attempts. He did catch 5 passes for 30 yards, and in a PPR league that's not nothing, but boy was it a far cry from what I was hoping for from the consensus #1 pick in fantasy this year. I was clearly going to pay for my hubris. But thankfully, oh so thankfully, Tyreek Hill, Derrick Henry, and the Baltimore defense combined to score 90 points and provided me the safety net I needed to not get Guillotined. Fear not, loyal readers, the Guillotine League commissioner and humble writer of this column will remain alive for another week. And will learn how to shut his mouth and not be so smug before the week even begins.
But that begs the question as to who will be eliminated. And in a 7-team league, there is no truly safe score. Mike Miklius, who blew all of his FAAB by Week 2, said he already made it farther than he thought he would. Matt Thomas was biting his nails when Aaron Rodgers only scored 10 points against the Panthers. As the day went on though, two teams separated themselves from the pack, at the bottom, and those were Nathan Mills, and of course, who else but Rich Holman. For the fourth time this season, Holman headed into MNF with his life on the line. Three times he has prayed to the Guillotine Gods for mercy on Monday, three times he has been spared. Last week he survived by a miracle and hung on to win by two points as Saquon scored far below his projections and sent Paradis home. He was going to need something similar here.
Holman had but a 7 point lead over Mills and Mills had one player left, San Francisco 49ers newest acquisition, Emmanuel Sanders. Mills needed just 7 points, in a PPR league no less, a number which he had surpassed in each of the previous three weeks. Then, about midway through the first half, Sanders went down. And the accusations started flying.
"What kind of voodoo magic does Rich Holman possess?"
"He's a witch! Burn the witch!"
"He poisoned our water supply, burned our crops, and delivered a plague on to our houses!"
Sanders scored just 4.4 points, and just like all others who dare stand in the way of the dark magician Rich Holman, Nathan Mills was executed.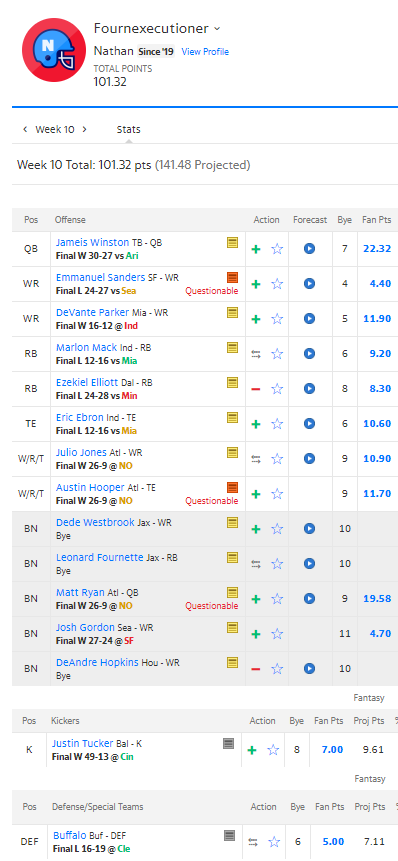 The Aftermath
After learning my lesson this week, I've decided to not be so braggadocious about my FAAB winnings. So sure, I'm happy that I won Ezekiel Elliott for $57 and DeAndre Hopkins for $1 (seriously? Did we all forget about Nuk?), but who knows what that means for my winning chances. I mean, it's a 6-team league now. The lowest projected point total for the week is still above 150. You can have all the stars in the NFL and still go home. Matt Thomas, the only person who had more FAAB than me this week, used that to his advantage and got his first choice in Julio Jones, also for $57. And actually, that's a sign of a really smart manager. Thomas had $150 FAAB left, more than my $143 remaining, and could have gotten any player he wanted for $144. However, he knew that I would be looking to the next highest FAAB and making sure I could beat out that team for any amount, and instead of dropping all of his FAAB, he played his cards smart and saved over $80.
Other players added this week included the running back pair of Marlon Mack and Leonard Fournette to Rich Holman, for a total of $0. Holman's entirely out of FAAB, and so just threw waiver claims on every stud left, hoping one would slide to him (he also tried to get Zeke, Jones, and Nuk for $0). At this point in the game, if you aren't a top-5 player at your position, you're probably going to go for free on the waiver wire. Case in point, the following players completely cleared waivers and were picked up as free agents: Adam Thielen, Drew Brees, Courtland Sutton, Damien Williams, Deebo Samuel, and Brian Hill. I dropped Tyler Boyd and Devonta Freeman to get Zeke and Nuk, and they are still out there as free agents. There's just no room to mess around anymore.
It's getting down to the wire now, only five weeks separate us from where we are now and the championship. Three teams still have any FAAB left at all, but no one has over $100. Every team has three-plus total fantasy studs on their roster, so our rosters are just getting more and more stacked by the day. There's truly no way to predict what will happen next.