The Guillotine League is a battle royale, free-for-all, elimination fantasy football league. There are no matchups, and at the end of each NFL week, the team with the lowest point total is eliminated, and all their players are dropped into the waiver pool. It is cutthroat and it is unforgiving, and you don't ever want to see yourself getting near the Guillotine. The Guillotine cares not for what you've been through, what injuries you've had, or what your projected point total was. All it cares about is eliminating the team with the lowest point total each week. The Guillotine demands sacrifice.
Week 7 Recap
"4th down and 1. Now Mahomes… He's injured." These were definitely not the words that Matthew Bevins wanted to hear on Thursday night, as he had been counting on Patrick Mahomes week in and week out to keep him out of the Guillotine's way. And there he was, laying on the bottom of the pile, barely into the 2nd quarter and only 9 fantasy points to his name, coming out of the game with a right knee injury.
"Was nice playing with you guys," Bevins said in our Guillotine League Discord channel. Obviously, he wasn't out just yet, but this was going to be the toughest Thursday performance to overcome. Not just only receiving 9 points from your quarterback, but from Patrick Mahomes, a 2nd round pick, no less. And then Sunday happened, and players started going down left and right. Nathan Mills lost his quarterback Matt Ryan to injury. David Fenko lost Adam Thielen to a hamstring injury. David Fenko lost Kerryon Johnson to a knee injury. David Fenko lost Matt Breida to a concussion… wait hold on. Fenko already was down Davante Adams, and had been stashing AJ Green all season. Was this a glimmer of light for Matthew Bevins?
If we're being perfectly honest, all of us were already salivating Friday morning at the thought of potentially having Patrick Mahomes available on the waiver wire. But that just wasn't meant to be. David Fenko took the dive of the season, scoring a mere 76.32 points on the week. This total was so low, he would have been Guillotined during any week of the season with this point total. We start 10 players in our league (one extra flex spot), and only 2 of Fenko's starters eclipsed 10 points, one of whom was his quarterback. Even his players who didn't get injured didn't show up to play, like Evan Engram and David Montgomery, who combined to score 3.5 points. Yeah, they combined for that total. In a PPR league. This was Murphy's law in action, as everything that could have gone wrong for Fenko did indeed go very wrong.
"I'm going to miss this league" were Fenko's final words, as his team succumbed to their own ineffectualness. Even his team name reflected the change, from "Heads Will Roll" to "Heads Rolled."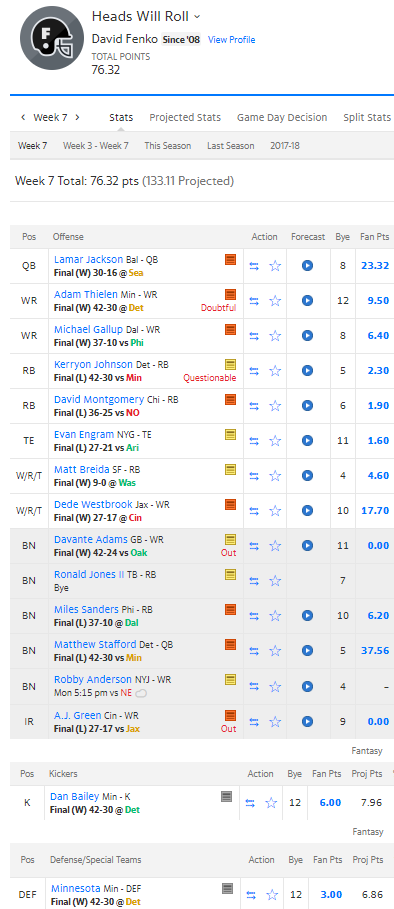 The Aftermath
This league started with 16 teams, and is now officially in the single digits of teams left standing. Considering we are just a 9-team league now, there is far less room for error, and also a far higher replacement level than before. Teams aren't as desperate for talent as we once were, and also Fenko didn't really have a ton of talent that looks good moving forward. His best players either have injury concerns (Adams, Thielen) or are just done for the season (Johnson). You know it's a sad state of affairs when Fenko said he was most looking forward to seeing how much FAAB AJ Green would go for (hint: not a lot). There just wasn't much in the way of players we were looking forward to adding to our roster.
Davante Adams received the high bid of the week, garnering a $201 price tag, which might be the lowest high point of the season. It looks like he's still not ready to come back and play just yet, so hopefully Ryan Kruse will still be alive to use him whenever he returns. Chase Edmonds actually got the second-highest bid at $189, making him the richest player who didn't come from a Guillotined team. I was able to get Evan Engram for just $101, about $50 less than his first Guillotine price tag in Week 1. I needed him badly, as Delanie Walker had started to decline and is now out with an ankle injury, leaving me with no TE. Engram had a really bad Week 7, but he still got 5 targets and should be involved in the passing game moving forward. Lamar Jackson went for $61, and Michael Gallup came to me for $21. In retrospect, I'm not really sure what I was thinking there, but he's an upside play with some good matchups after the bye. That's where things got interesting.
Adam Thielen, who entered this week as the #12 WR in PPR leagues, went for just $11. Eleven bucks. What on Earth were we all thinking?! Well, I know I was worried about the hamstring injury, and I didn't want to pay up for a player who wouldn't help me right away (says the guy who paid for a player on a bye, but let's not talk about that). We were also concerned about the Vikings offense, their approach, and Kirk Cousins ability to keep both Diggs and Thielen productive, especially with Dalvin Cook exploding the way he has, but even with all those concerns, the #12 WR in fantasy should not have gone for $11. All we can hope for is that Justin Paradis, the lucky winner of Thielen, loses, so we can all rectify our mistake next week.
Other notable players from David's team included David Montgomery, AJ Green, Dede Westbrook, and Matthew Stafford, and they all went for free. What can I say, it's a 9 team league at this point. We don't have space for underperforming and injured guys like these. Stafford had an excellent Week 7, but again, it's a shallow league, and a lot of us have QBs we like now. Things seem to be getting more and more unpredictable as the league continues to shrink, and I really have no clue what to expect next week. I just hope that I'm around to see it.