The Guillotine League is a battle royale, free-for-all, elimination fantasy football league. There are no matchups, and at the end of each NFL week, the team with the lowest point total is eliminated, and all their players are dropped into the waiver pool. It is cutthroat and it is unforgiving, and you don't ever want to see yourself getting near the Guillotine. The Guillotine cares not for what you've been through, what injuries you've had, or what your projected point total was. All it cares about is eliminating the team with the lowest point total each week. The Guillotine demands sacrifice.
Last week, we bid a not-so-sad au revoir to Alex Tran, who unfortunately had put his faith in Antonio Brown, and had to watch as his other top picks, James Conner and Sony Michel, essentially carried him directly to the Guillotine. We had no choice but to continue on without him, hoping to avoid the same fate, and just for good measure, looting his team for our benefit. Some teams were more aggressive than others, with Mike Miklius adding Conner ($401 FAAB bid) and Michel ($201), and Colin Weatherwax making the huge leap of faith and winning the services of Antonio Brown for the outrageous amount of $488.
Week 2 Recap
With one week in the books, we all had a better idea of the flow of the week and when to worry about our impending eliminations. Thankfully, two managers jumped out to incredibly poor starts thanks to terrible TNF performances. Kenny Hyttenhove could only watch in horror as Cam Newton somehow managed to look worse in Week 2 than he did in Week 1 (he scored more points but it was definitely much uglier on the field), and Matthew Bevins couldn't have had a worse performance as OJ Howard laid a big ole goose egg. They were behind the eight ball and we had barely even started the week. As Sunday's games got underway though, it was clear that Bevins wouldn't be going anywhere, behind outstanding efforts from Patrick Mahomes, Dalvin Cook, and DJ Chark. On the other end, Kenny watched his week go from bad to worse, as Dion Lewis, Robert Woods, and Duke Johnson were complete nonfactors in their respective games.
Then something beautiful (to Kenny) happened. Drew Brees and Donte Moncrief combined for just .52 points for Josh Gleason's team, and between Alvin Kamara, Jared Cook, and the Denver defense, he wasn't looking too hot either. Kenny wasn't alone at the bottom anymore, and if he could just get some more production from Michael Thomas and Wil Lutz, his best players on the week, he could survive. However, you've already read the title of this article and so you know as well as we do now, it just wasn't meant to be for Kenny. Perhaps if he took some time to huddle up before the week started, he could have made some smarter decisions, but his No Huddle ways caught up to him.
Before we dropped the Guillotine, we asked Kenny if he had any last words or reflections on his team.
"Never take a guy that's holding out in this format with so many teams. When I drafted Melvin Gordon, I essentially never picked in the 4th round and couldn't fill the talent void because the draft was too deep. No values were going to fall back to me."
That's two weeks in a row where the team eliminated had spent a high draft pick on a player with off the field issues (Antonio Brown, Melvin Gordon). Perhaps something to learn there for next year's Guillotine draft prep. Not even Kenny's bench could have saved him.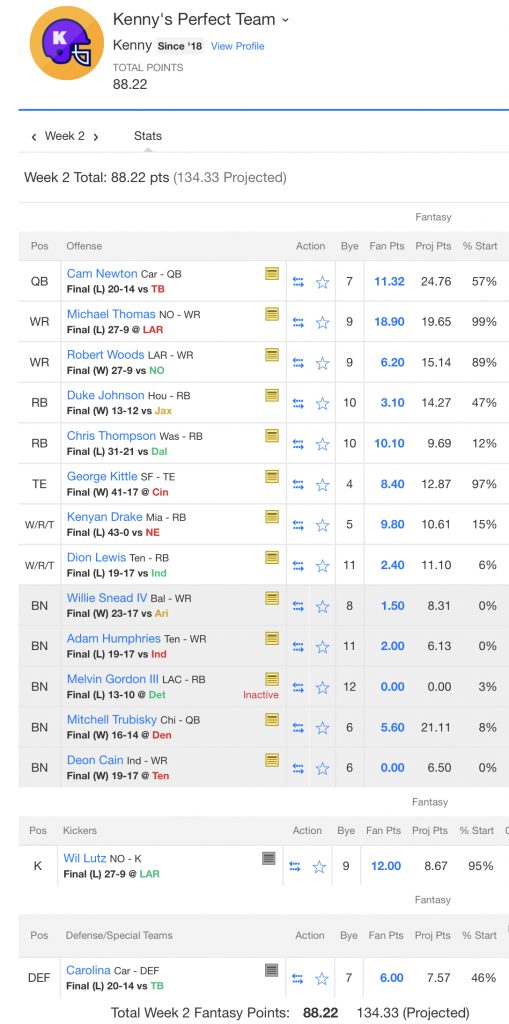 The Aftermath
And yet, we press on. Not because we want to, but because we have to. Well, also because we want to. I'd say we'll miss Kenny, but that's one less competitor and one step closer to the championship. To be honest, we didn't even wait for the body to go cold before we started scavenging. It's a dog eat dog world after all, and there were talented players to be had. George Kittle was a consensus top-3 TE before the season, Michael Thomas should be a must-start WR even without Brees, and between Robert Woods, Wil Lutz, Duke Johnson, and the rest of the roster, there was still plenty of value to salvage from this fallen roster.
The highest bid of the week went to Michael Thomas, no surprise there. Matthew Bevins did not like how close to elimination he came and decided to drop $445 on the star wide receiver. He was heavily contested too, as three other teams eclipsed the $400 mark and the next closest bid fell just $13 short. The next highest bid player was George Kittle, who went for $434 to Colin Weatherwax, the same Colin Weatherwax who spent $488 on Antonio Brown just last week. In fact, between these two players and the $78 Tarik Cohen that he picked up last week, Colin is now down to $0 in FAAB… and it's just Week 2. Colin is clearly very confident that his roster can take him the distance now and that he can still make enough $0 additions that he doesn't need any of the big names anymore. That's not even the craziest thing though. The craziest thing is, he's not alone with $0 FAAB. Mike Miklius also spent the rest of his FAAB this week, spending $398 on Robert Woods. So in the last two weeks, Weatherwax acquired Brown, Kittle, and Cohen, and Miklius acquired Conner, Michel, and Woods, for the entirety of their FAAB. They fully understand that next week is never promised in the Guillotine League.
Then again, I'm playing as if next week is promised. I only won one FAAB bid, and it was a $31 bid for Melvin Gordon. To be honest, I'm a bit terrified that now I'm going to fall to the curse of players holding out eliminating their teams. But for 3% of my FAAB, I don't think I can pass up on someone who can definitely be an RB1. Then again, Yahoo projects my team to have the lowest point total for the week. Am I smart for getting such a value on Gordon, or am I dumb for not making sure that I'll survive the week? You tell me.
By the way, our league is publicly viewable. Feel free to follow our journey all season long.