The Guillotine League is a battle royale, free-for-all, elimination fantasy football league. There are no matchups, and at the end of each NFL week, the team with the lowest point total is eliminated, and all their players are dropped into the waiver pool. It is cutthroat and it is unforgiving, and you don't ever want to see yourself getting near the Guillotine. The Guillotine cares not for what you've been through, what injuries you've had, or what your projected point total was. All it cares about is eliminating the team with the lowest point total each week. The Guillotine demands sacrifice.
Week 12 Recap
So, I'm really confused. I was eliminated already, why are we still going? Oh, we go until every team has been eliminated? The league doesn't revolve around me? I disagree, but I suppose it's not entirely up to me. The world still turns after all.
By this point, we've well established that the team that goes home isn't getting eliminated due to lack of talent. In a 5-team league, every team is full of studs at every position. I want to say that at this point it's about picking the right matchups, but it's also about luck. A lot of luck. Rich Holman, he who usually finds himself near the chopping block come Monday, was our highest scorer of the week with a whopping 211 points. Who would have thought that in a lineup featuring Deshaun Watson, Leonard Fournette, Derrick Henry, and Zach Ertz, his highest-scoring player would be Jarvis Landry?
While most of the teams left got big performances from multiple players, one team only had one of their players show up. Chris Godwin had one of the best performances of the week, scoring 37 points via 184 yards and 2 touchdowns, but it's not enough to have one great player anymore. No one else on Matt Thomas's roster showed up, and that did him in. While he'll be sending plenty of talented players to other squads, the most notable part of him losing is that he was the last team with any FAAB left. At this point, it's just a regular waiver wire for all intents and purposes.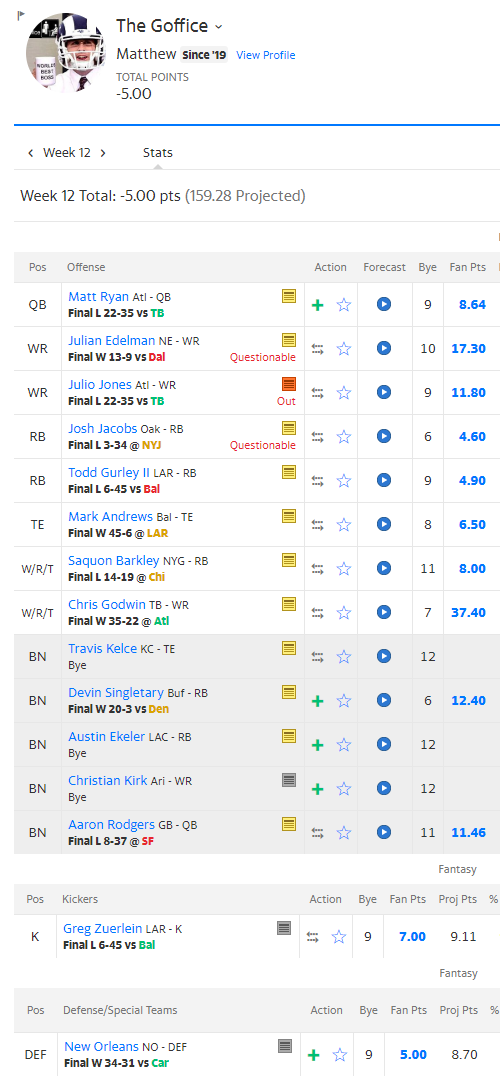 The Aftermath
As I said above, no teams have any FAAB left. So every team pretty much got their fair share of Matt's roster, with 10 of the players eliminated picked up via waivers (everyone except for the kicker/defense, Kirk, Ryan, and Singletary). So rather than run through who got picked up in what order, I thought I'd show what the remaining four teams are starting this week, since I'm pretty sure most of us don't normally play in four-team leagues.
Guillotine League Final Four
| | Mike Miklius | Matthew Bevins | Ryan Kruse | Rich Holman |
| --- | --- | --- | --- | --- |
| QB | Russell Wilson | Patrick Mahomes | Lamar Jackson | Aaron Rodgers |
| WR | Mike Evans | DJ Chark Jr | Amari Cooper | Keenan Allen |
| WR | Michael Thomas | DeAndre Hopkins | Davante Adams | John Brown |
| RB | Le'Veon Bell | Nick Chubb | Christian McCaffrey | Alvin Kamara |
| RB | Josh Jacobs | Dalvin Cook | Aaron Jones | Leonard Fournette |
| TE | Mark Andrews | Travis Kelce | George Kittle | Zach Ertz |
| FLEX | Julian Edelman | Ezekiel Elliott | Cooper Kupp | Derrick Henry |
| FLEX | Stefon Diggs | Chris Godwin | DJ Moore | Saquon Barkley |
Who's your pick to go home this week? Who's going to win? Follow along here!