The Guillotine League is a battle royale, free-for-all, elimination fantasy football league. There are no matchups, and at the end of each NFL week, the team with the lowest point total is eliminated, and all their players are dropped into the waiver pool. It is cutthroat and it is unforgiving, and you don't ever want to see yourself getting near the Guillotine. The Guillotine cares not for what you've been through, what injuries you've had, or what your projected point total was. All it cares about is eliminating the team with the lowest point total each week. The Guillotine demands sacrifice.
16 of our best and bravest (and possibly most insane) QB List writers and supporters volunteered ourselves as tributes, hoping to be the one team left standing at the end. Because that is the only way to be crowned champion of the Guillotine League, to avoid its cold grasp week after week, and be the last team standing. That essentially places our "Championship" in Week 15, as only two teams will be left when that week begins.
We've each been given $1000 in FAAB to last us through the season, which provides its own interesting and unique set of questions. Do you spend big early, in the hopes of being a top team from the start and making it each week? Or do you ration out your FAAB, making sure you have more than everyone else when studs are still hitting the waiver wire later in the season? Do you spend every last dime of your FAAB if Saquon Barkley or Christian McCaffrey is suddenly available, or do you spread it out for a pupu platter of second-tier stars? Each week provides a new set of circumstances and a new set of questions for each owner.
Week 1 Recap
None of us knew quite what to expect heading into our first weekend of football. After all, this was the first Guillotine League for all of us, so we were all on the same playing field, the blind trying to lead the blind. One thing quickly became very clear: this was the league we were all watching our live score updates for, constantly and anxiously checking to see where we stood in the league. Heading into the Monday Night Football games, there were three of us who were far and away at the bottom, Josh Gleason, Kenny Hyttenhove, and myself. We all had a lot of MNF players represented, so we had a chance, but it was terrifying seeing our names at the bottom. Josh was relying on Brees and Kamara to pull him out of the hole, and at halftime it wasn't looking good for him, even saying a premature good-bye to us all. But they woke up in the second half, and he stormed to the edge of 15th place and safety.
In the end, it wasn't any of the three of us who fell prey to the Guillotine, as our Texans and Saints pulled us to safety on Monday. Instead, it was one of our Patreon supporters, Alex Tran, who found himself strapped in as Week 1 came to a close. In fact, he wasn't just strapped in as much as he was carried there by Antonio Brown, who Alex took the risk on with the 24th pick of the draft. When asked if he had any last words, Alex simply said, "God speed to the other teams out there. And Antonio Brown is a psycho."
A moment of silence for Alex and his team. He finished a mere 7 points behind 15th place, so seeing Beasley there on his bench must have hurt. Probably not as much as Brown hurt him though.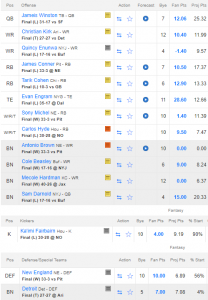 The Aftermath
So what becomes of James Conner, Antonio Brown, Evan Engram, Sony Michel? Men without a team, without a leader, without purpose. Luckily, they've all found new homes already as there was no shortage of suitors on the waiver wire. But how much to spend? None of these players were without question. Brown has been the wildest roller coaster of 2019, Conner and Michel were disappointments on Sunday. Do you spend big hoping for these guys potential to materialize, or do you hold off for next week and the next round of eliminated players? And if you decide to hold off, how can you be certain that you won't be the next team eliminated?
James Conner was the most heavily contested player, as 11 teams bid on him with the winning bid of $401 going to Mike Miklius. Most teams were in the $250-300 range, as we were both concerned about Conner's performance on Sunday as well as wanting to make sure we had funds for the next stud player to hit the wire. Mike also scored on Sony Michel, snagging him with a $201 bid, only $27 more than the next highest bidder at $174. Michel should have a better Week 2, and Mike believes in his talent, stating he was happy to get a couple of RB1s moving forward. Evan Engram went for $154 to David Fenko's team, just barely beating out Dan Adams' bid of $150. Engram had a big performance on Sunday and in a PPR league, he'll be a top-6 TE week in and week out. With all of the top talent being highly sought after, some other popular waiver-wire adds went under the radar, as Raheem Mostert went for just $25 (2.5% of our overall budget) and Mecole Hardman went for $6 (to me!). Both are significant underpays considering that it's a 15 team league at this point.
None of this held a candle to the biggest FAAB acquisition though, as Colin Weatherwax blew us all out of the water. The thrill-seeking manager dropped $488 on Antonio Brown, over $400 more than the next highest bidder. If Colin hadn't put in a bid, then Brown would have gone to Rich Holman for $53. I think I can speak for all of the managers in our league when I say we all believe in his talent and upside, but none of us want the headache. The latest news on Brown is horrendous and we hope that it is handled properly, but if it does end up to be a false allegation and Brown is allowed to play, maybe Colin can get some return on his investment in the NFL's biggest sideshow.
What will happen in Week 2 of our Guillotine League? At this point, Week 1 no longer matters. It doesn't matter how many points you scored, it doesn't matter which players got injured, all that matters is not scoring the least amount of points in Week 2. Because we all know what happens if you do. The Guillotine must be fed. Check back next week to see what happens next.