Eagles

 @

Falcons
Final Score: Eagles 32, Falcons 6
Writer: Adam Sloate (@MrAdster99 on Twitter)
The Falcons absolutely had their chances in this game but penalties wiped out several big gains and put Atlanta behind the sticks quite often. The Eagles were able to capitalize on those mistakes, getting stops on second and third-and-longs while putting their offense in excellent field position.
Atlanta cruised up the field on the first drive, thanks to an up-tempo offense, but the Eagles were able to hold the line and keep Atlanta for a field goal. Philadelphia followed Atlanta's opening drive with an up-tempo run of their own, except they finished their drive off with a touchdown, making it 7-3. The Eagles would not trail again, piling on the points as the game progressed.
QB Jalen Hurts, who struggled with ball protection last year, was able to not only take care of the ball but also had some chances to be creative and make some magic with his rushing ability. Because the Falcons were constantly behind the sticks, Philadelphia was able to dial up the pressure against a mediocre offensive line, leading to a handful of sacks on Atlanta QB Matt Ryan by DTs Hassan Ridgeway and Javon Hargrave. 
Philadelphia Eagles
Quarterback
Jalen Hurts: 27/35, 264 yards, 3 TD | 7 carries, 62 yards
This is as good of a fantasy performance as Jalen Hurts investors could have hoped for. Hurts' passing performance would have been enough for most fantasy managers, and then he tacked on 62 rushing yards. This was in no small part due to the excellent protection Hurts had throughout the game. He took only one sack and was otherwise unbothered in the pocket, allowing him to pick apart the Falcons' defense from behind the line of scrimmage. Of course, he took the ball out from behind the line every so often, recognizing when it was time to leave the pocket and extending plays when faced with pressure from the Falcons upfront. In fact, one of Hurts' best plays came from outside the pocket, finding TE Dallas Goedert for an excellent TD:
Jalen Hurts is on fire and breakout Dallas Goedert is a GROWN man 🔥pic.twitter.com/aRLXWvKKXn

— Shelfy (@RealShelfy) September 12, 2021
The other concern with Hurts heading into the season was his accuracy, as he and former Philadelphia QB Carson Wentz both struggled to hit their receivers at a respectable clip in 2020. However, Hurts looked much improved as a passer, finding his receivers at a 77% clip. It looked like HC Nick Sirianni did his best to give Hurts some very easy completions in the first quarter, getting receivers open shortly beyond the line of scrimmage. And, it doesn't hurt that Hurts now has his Alabama teammate Devonta Smith getting open for him:
Philadelphia has been waiting for a playmaker like DeVonta Smith.#FantasyFootball | #FlyEaglesFly pic.twitter.com/Exclp9IieK

— QB List (@TheQBlist) September 12, 2021
That was a great pass and a great look by Devonta Smith. Those two are going to be a fun connection to watch this year.
Hurts also had some easy passes batted down at the line of scrimmage, passes that looked like rookie mistakes. Of course, Hurts is effectively a rookie, with a whole 4 starts under his belt, but that's something he will need to work on as the season progresses.
Finally, I didn't realize this upon watching the game, but it seems like Hurts didn't use much of the middle of the field. Take a look at his passing chart from the game: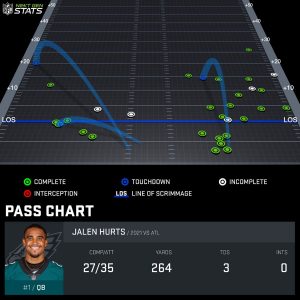 It's very much clustered in a couple of places. In order for me to fully buy into the Hurts hype, I think I'd like to see him attack a little bit of each part of the field because teams can defend players better when they have tendencies like this chart seems to indicate.
Running Back
Miles Sanders: 15 carries, 74 yards | 5 targets, 4 receptions, 39 yards
Kenneth Gainwell: 9 carries, 37 yards | 3 targets, 2 receptions, 6 yards
One of Philadelphia's bright spots last season was Miles Sanders, who was able to rip off big gains on the ground, even when his offensive line couldn't open up too many holes. Sanders was able to carry that rushing prowess over to this game, averaging 4.9 yards per carry. Sanders looked crisp and agile today, making quick cuts when necessary and even finding ways to power through tackles.
Big gain for Miles Sanders‼️ pic.twitter.com/RneVSGSqyP

— Joel's Muscles (@jolsmuscles) September 12, 2021
Look at those sweet moves!
Speaking of sweet, check out this block from Sanders:
Miles Sanders with the major block!#Eagles #FlyEaglesFly pic.twitter.com/Un3lnHno8h

— Brodes Media (@BrodesMedia) September 12, 2021
If Sanders doesn't give Sirianni any reason to take him off the field (ie he picks up blockers, reels in passes, etc.), he should continue to put up fringe RB1 numbers. Hopefully, he gets a TD or two each week to help boost his fantasy scoring. Speaking of Sanders' pass-catching, that is one area that he supposedly focused on in camp, and that work looked like it paid off today, as Sanders reeled in the catchable balls thrown his way from Hurts.
The other Eagles rusher, Kenneth Gainwell, had a larger share of the RB duties than I think many fantasy managers anticipated. Sirianni and Co. went to Gainwell on a 4th down run (which he failed to convert) and in the red zone, which Gainwell converted for a TD:
Kenneth Gainwell joins the Eagles youth movement! pic.twitter.com/NAZ9enDs8H

— NBC Sports Philadelphia (@NBCSPhilly) September 12, 2021
Not a bad run at all from the RB2.
If the Eagles play it like they did today, Gainwell may subtract some of Sanders' most lucrative work, but it certainly isn't an RBBC. Sanders is the clear No.1 back in the offense.
Wide Receiver/Tight End
Devonta Smith: 8 targets, 6 receptions, 71 yards, TD
Jalen Reagor: 6 targets, 6 receptions, 49 yards, TD
Dallas Goedert: 5 targets, 4 receptions, 42 yards, TD
Zach Ertz: 2 targets, 2 receptions, 34 yards
Quez Watkins: 3 targets, 3 receptions, 23 yards
As you can tell, Hurts spread the ball around fairly well. It sure didn't feel that way early on, as Hurts looked to Devonta Smith often to carry the freight. Smith and Hurts appeared to have a strong connection right off the bat, as Smith was able to get some separation and find open looks for Hurts.
This is a bit of a broken play, but Smith is absolutely wide open for Hurts here:
Hurts rolls to his right and hits DeVonta Smith for 19 yards!#Eagles #FlyEaglesFly pic.twitter.com/y9wr6wyBE9

— Brodes Media (@BrodesMedia) September 12, 2021
Smith was consistently finding open looks like this one. Granted, this was against the Falcons, so it's not the cream of the crop defensively, but it's still encouraging to see Smith making an early impact.
Jalen Reagor was relatively quiet in the first half but once Hurts started looking away from Devonta Smith, Reagor showed flashes of his potential. One prominent example was Reagor's TD reception in the fourth quarter:
.@jalenreagor FOR SIX#PHIvsATL | #FlyEaglesFly

📺: FOX pic.twitter.com/L01UT7wLZW

— Philadelphia Eagles (@Eagles) September 12, 2021
Reagor had a similar look like this earlier in the game on a 3rd-and-long, but someone missed a block (looked like JJ Arcega-Whiteside, but was unclear) and Reagor was tackled for no gain. It looked like the plan for Reagor was to get the ball to him quickly and let him use his speed to get upfield. The same went for Quez Watkins. If you refer back to Hurts' passing chart, Reagor and Watkins composed several of those green completions behind the line of scrimmage, so they had to rely on blockers and confusion to really get upfield. It's just something to keep an eye on moving forward.
Atlanta Falcons
Quarterback
Matt Ryan: 21/35, 164 yards | 2 carries, 8 yards
I have to say, as a Matt Ryan investor, this was… underwhelming. The Eagles have some talent on their defense, but there's no reason that Ryan couldn't have gotten a ball into the end zone. Stop me if you've heard this one before, but the Falcons had numerous opportunities in the red zone and had to settle for field goals and couldn't convert those chances into touchdowns. The Falcons had two different red zone opportunities in the first half (their only two of the game, actually) and were literally yards away from scoring touchdowns. Their first drive of the game ended with a 21-yard chip shot field goal by Younghoe Koo. And, their second drive ended with another chip shot field goal from 27 yards out. But, that was as close as the Falcons would come to scoring; they punted on 6 straight possessions following the second field goal.
It seems silly that Ryan couldn't have found the end zone after plays like this:
That is Eric Wilson, the Eagles best LB, getting juked out of his shorts by 36 year old Matt Ryan. pic.twitter.com/YPRswGOHNG

— Shane Haff (@HAFFnHAFF_TPL) September 12, 2021
Come on, man!
Of course, it doesn't help when you're constantly facing pressure, as Ryan did. The Eagles finished up with 3 sacks, although it felt like as the game went on they were getting to Ryan on nearly every play. That pressure led to moments like this:
*Record Scratch*

*Freeze Frame*

Yup, that's me, the Falcons quarterback Matt Ryan, you're probably wondering how I got here…. pic.twitter.com/x7R9vSCEDN

— In My Mind (@MeAloneInMyMind) September 12, 2021
The Falcons will desperately need to improve their offensive line play if they want Matt Ryan to have the time and space to pick apart defenses. All of the receiving talent in the world can't help him if he's running away from defensive linemen every other play.
Running Back
Mike Davis: 15 carries, 49 yards | 6 targets, 3 receptions, 23 yards
Cordarelle Patterson: 7 carries, 54 yards | 2 targets, 2 receptions, 13 yards
This game cannot be very inspiring for Mike Davis owners. He churned up yardage when he needed to, but Cordarelle Patterson looked like the more explosive runner out of the backfield and it clearly showed in the final stat lines. It will be interesting to see if Patterson earns more playing time and steals some carries out from under Mike Davis but it's too early to draw conclusions. Don't go and blow all your FAAB on him. Besides, given how atrocious the offensive line play was, this may end up being a very mediocre rushing group for fantasy purposes, regardless of the share of carries allocated to each player. For Davis investors, you had better hope plays like these are not an every week occurrence:
Football is officially back. Mike Davis can take a hit though.pic.twitter.com/ejux92jDaj

— Dov Kleiman (@NFL_DovKleiman) September 12, 2021
It was nice to see Davis involved in the passing game, but he wasn't able to get much going with those targets, as most of them came close to Ryan or behind the line of scrimmage.
Wide Receiver/Tight End
Calvin Ridley: 8 targets, 5 receptions, 51 yards
Kyle Pitts: 8 targets, 4 receptions, 31 yards
Hayden Hurst: 4 targets, 4 receptions, 28 yards
Keith Smith: 3 targets, 3 receptions, 18 yards | 2 carries, 13 yards
Russell Gage: 2 targets
For the first two drives, it looked like the Falcons were every bit justified on investing in another few years of Matt Ryan. Calvin Ridley was getting open with ease, Kyle Pitts had a catch or two, and Ryan was involving Hurst as a safety valve option. Of course, that all fell apart very quickly.
Unfortunately, three of Ridley's five receptions came on the very first drive of the game. He would not record another reception until the second half but that certainly wasn't due to some fantastic coverage by Darius Slay II. To be honest, I'm not really sure what the Falcons were thinking following that second drive because those targets that went to Ridley suddenly started going right to Mike Davis and Cordarelle Patterson. Here are the Falcons' play calls from that opening drive once they reached the red zone:
1st and 5 at PHI 11: Mike Davis run for -2 yards
2nd and 7 at PHI 13: Matt Ryan pass to Hayden Hurst for 7 yards
1st and goal at PHI 6: Mike Davis run for 3 yards
2nd and goal at PHI 3: Matt Ryan pass to Russell Gage incomplete
3rd and goal at PHI 3: Matt Ryan pass to Mike Davis incomplete
4th and goal at PHI 3: Younghoe Koo FG is good from 21 yards.
Have you noticed who's missing from this list? Maybe some fellas named Pitts or Ridley? "Okay, Adam, let's see if they got any targets on the following red zone possession," you say, waiting for the inevitable pass to someone not named Mike Davis. Here are the Falcons' play calls from their second drive in the red zone:
1st and 10 at PHI 23: Mike Davis run for 7 yards
2nd and 3 at PHI 16: Mike Davis run for 12 yards
1st and goal at PHI 4: Mike Davis run for -1 yard, negated by PHI Defensive Holding
1st and goal at PHI 2: Matt Ryan incomplete pass. ATL penalty for Illegal Formation
1st and goal at PHI 7: False start on ATL
1st and goal at PHI 12: Matt Ryan pass incomplete to Kyle Pitts (Look, here it is!)
2nd and goal at PHI 12: Cordarelle Patterson run for 3 yards
3rd and goal at PHI 9: Matt Ryan pass incomplete to Mike Davis
4th and goal at PHI 9: Younghoe Koo FG is good from 27 yards.
Notice something off here? How about one combined target between Pitts and Calvin Ridley? I mean, I'm no Offensive Coordinator here, but it sure seems like it would behoove the Falcons to throw in Ridley's direction and not hand the ball off to Davis a million times.
Alright, enough ramblings from a frustrated Matt Ryan investor.
— Adam Sloate (@MrAdster99 on Twitter)