49ers

@

Eagles
Final Score: 49ers 17, Eagles 11
Writer: Adam Sloate (@MrAdster99 on Twitter)
This was a surprisingly entertaining game despite the final score. Both teams struggled a little bit with execution, as the Eagles had eight goal-line plays in a row on a drive in the second quarter and still managed to turn the ball over on downs. The Niners had a pair of fumbles that luckily were recovered by alert teammates. The Eagles had a field goal blocked on a different drive. Both teams left a lot of points off the board. The 49ers, who struggled to run the ball much against a stout Eagles' front, were able to reel off enough big plays from their guys who weren't in Kyle Shanahan's ever-growing doghouse. The Eagles opted to take away George Kittle for much of the game and instead were burned by Deebo Samuel, who led all Niners in yards from scrimmage. On the other side, the Eagles got a big play from Quez Watkins and had to rely on Jalen Hurts to generate most of their offense.
To sum it all up, this game felt like Kyle Shanahan's ideal game: grind it out, rely on the defense, and run the ball down the opposing team's throat. And, it worked! The Niners improved to 2-0 and the Eagles fell to 1-1.
San Francisco 49ers
Quarterback
Jimmy Garoppolo: 22/30, 189 yards, TD | 11 carries, 20 yards, TD
Bit of a snoozer from Garoppolo today.
Just like Chris Sanzo eloquently put it last week, Garoppolo was "efficient with his work." He completed the easy throws and took care of the ball otherwise. The big play of the game, a long play from Deebo Samuel, was all about the YAC and not really any sort of spectacular play from Garoppolo:
The Deebo Samuel Breakout is happening pic.twitter.com/oMKQJvVhVW

— Joe O'Leary (@TheHQNerd) September 19, 2021
In a departure from last week, Garoppolo was able to spread his targets around the offense. Samuel took up nearly half of all targets in last week's win over the Lions. This week, some of those targets went to George Kittle, Jauan Jennings, and Kyle Juzczyk. They weren't able to tack on too much YAC with those targets, which would have helped add to Garoppolo's fantasy stat line. But, the 49ers were just fine with those short targets (and probably weren't expecting big gains on those plays, anyways), as the offense was able to move down the field when necessary. The next thing we would need to see from Garoppolo to become more than a bench option would be to push the ball downfield, but we haven't seen any real inclination to do that from Garoppolo or the offense.
If you needed a desperation QB stream, this probably didn't turn out too poorly for you. Garoppolo should remain a bench option in standard-sized leagues and a starter in only deeper 2QB leagues.
The notable omission from the 49ers' QB stats this week was Trey Lance, who was partially involved in the 49ers' offense last week (1/1 with a TD pass and 3 carries). While I can't imagine people were expecting Lance to play much if at all, the FOX halftime reporter still asked Shanahan whether Lance would be participating in the game and he said: "probably not." Don't get your hopes up for Lance anytime soon.
Running Back
Elijah Mitchell: 17 carries, 42 yards | 2 targets, 2 receptions, 11 yards
JaMycal Hasty: 5 carries, 38 yards | 5 targets, 4 receptions, 21 yards
Trey Sermon: 1 carry, 8 yards
Kyle Juzczyk: 1 carry, 2 yards | 3 targets, 2 receptions, 15 yards
Trenton Cannon: 1 carry, -1 yard
The 49ers rely heavily on their running backs each week, and yet this was still a disappointing look from every running back in Shanahan's stable. Now, that's because each of these backs was out due to injury at some point during the game. Mitchell was pulled due to a shoulder injury with 11 minutes remaining. He was able to return with about 5 minutes remaining in the game and the hope is that his injury was just a 'stinger.' Hasty was pulled with an ankle injury and didn't return to the game. He was the most explosive of the bunch, evidenced by his yards per carry mark, and looked great when given the opportunity. Sermon took a big hit and was lucky not to have fumbled the ball away on said hit. Sermon was ruled out with a concussion and did not return to the game.
TW: This is a brutal hit and I had to look away from the replay after seeing it live on TV. I would not be at all surprised if Sermon sat out for an extended period of time for the injuries stemming from this:
Trey Sermon first play, takes huge head to head contact snd loses ball pic.twitter.com/rCfvl1fsdZ

— Matt Waldman (@MattWaldman) September 19, 2021
Shanahan turned to RB Trenton Cannon after Hasty, Mitchell, and Sermon had left the game. If all of these guys are out next week, Cannon would probably be the main beneficiary, although it seems like Mitchell might be back next week.
Wide Receivers/Tight Ends
Deebo Samuel: 8 targets, 6 receptions, 93 yards | 2 carries, 8 yards
Jauan Jennings: 2 targets, 2 receptions, 17 yards
George Kittle: 4 targets, 4 receptions, 17 yards
Trent Sherfield: 3 targets, 1 reception, 9 yards
Brandon Aiyuk: 2 targets, 1 reception, 6 yards
Mohamed Sanu Sr.: 1 target
Even though the targets were a little more spread around this week, it really was the Deebo Samuel show again. Samuel was the only player in the receiving corps to put together a fantasy-relevant day. Even George Kittle, who is usually a key part of this offense, was very quiet. Just because there really wasn't much else to see from this group besides Deebo, let's see his catch-and-run once more:
The Deebo Samuel Breakout is happening pic.twitter.com/oMKQJvVhVW

— Joe O'Leary (@TheHQNerd) September 19, 2021
Beautiful play.
Speaking of beautiful, when will we see Brandon Aiyuk freed? Aiyuk has been languishing in Shanahan's weird limbo where he's active but not featured enough to be more than waiver-wire fodder thus far. I'm not saying he is waiver-wire fodder, but he certainly isn't getting enough attention to be fantasy-relevant.
Philadelphia Eagles
Quarterback
Jalen Hurts: 12/23, 190 yards | 10 carries, 82 yards, TD
Greg Ward: 0/1
This is an ugly stat line for those of you hoping for an improved completion percentage from Hurts, but I really don't think it's too big of a concern. A significant number of Hurts' deep throws were on the money and were well-defended by the Niners, like this one:
Hurts airs it out to DeVonta Smith in double coverage. Doesn't mean it wasn't close…#Eagles #FlyEaglesFly pic.twitter.com/QfisSAgQ7p

— Brodes Media (@BrodesMedia) September 19, 2021
Take a look at Hurts' pass chart from today's game: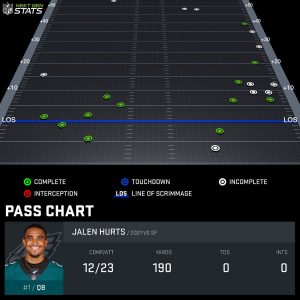 Some of those deep throws were very near misses to Devonta Smith, as well as this unfortunate incompletion to Jalen Reagor:
Jalen Reagor's foot goes out of bounds pic.twitter.com/FybnGyGQUm

— Jeff Skversky (@JeffSkversky) September 19, 2021
A bit of a rookie mistake by Reagor, but by no means is that one on Hurts.
There were a couple of awkward throws, of course, but for the most part, the completion percentage is what it is because Hurts wasn't asked to throw much and when he did, he wasn't able to complete some of those throws downfield. And, even if Hurts' passing day wasn't the best it could have been, he still tacked on plenty of rushing yardage and even added a rushing TD (which counts for more than a passing TD in standard ESPN leagues!). So, it wasn't a bad day for fantasy managers with Hurts shares. He's going to be a very solid fantasy QB option going forward.
Greg Ward's throw was on the final of those eight goal-line plays. HC Nick Sirianni ran the Philly Special, giving the passing duty to Ward on the play. Unfortunately, this rendition of the Philly Special failed, prompting a reaction from a certain someone from the original Philly Special:
😑 @Eagles

— Trey Burton (@TreyBurton8) September 19, 2021
Sorry, Trey, they'll do better next time.
Running Back
Miles Sanders: 13 carries, 55 yards | 1 target
Kenneth Gainwell: 6 carries, 14 yards | 3 targets, 2 receptions, 18 yards
This is a pair of stat-lines that makes nobody happy (except Niners fans and fantasy managers facing Miles Sanders on the opposing team). Sanders didn't get a ton of carries and really didn't do much with them. Sure, he averaged 4.2 yards per carry, but Sanders really didn't see too many carries in good fantasy situations. He got one goal-line carry and was stuffed on that one opportunity. Forget those carries, though, because Sanders is probably going to be fine as a runner.
What is more worrying is that Sanders saw one target. The word out of camp this offseason was that Sanders was working hard to fix his catching struggles, and it appeared that he had done some of that last week against the Falcons. This week was quite the opposite, as Gainwell was the one getting the targets (all three of them!) from Hurts. Let's hope that last week was the rule and today was the exception. Otherwise, Sanders is going to have some really big fantasy duds (is Sanders just Mike Davis? My column:).
Gainwell once again had a larger share of RB duties than I was expecting, although, after last week's strong performance, I probably should have seen it coming. Gainwell had nine of the 24 RB carries last week and had six of the 19 carries this week, which is not promising for Sanders RB1 truthers. Gainwell also grabbed two of the three targets thrown his way, so I think it's now fair to say that he is going to be a factor in this offense each week. If Sanders were to go down, I think Gainwell may end up being a heck of a fantasy option, since the Eagles think highly of Gainwell's receiving ability and he's been adequate as a rusher thus far.
Wide Receivers/Tight Ends
Quez Watkins: 2 targets, 2 receptions, 117 yards
Dallas Goedert: 2 targets, 2 receptions, 24 yards
Devonta Smith: 7 targets, 2 receptions, 16 yards
Jalen Reagor: 2 targets, 2 receptions, 5 yards
Just like we shouldn't be overreacting to Week 1 results, we shouldn't be overreacting to one good week (Week 1) and one bad week (Week 2). Smith and Goedert should be just fine. The rest of the offense is going to be able to see some targets here and there, like Reagor's near-touchdown.
Watkins' big play was pretty darn good:
Jalen Hurts is dropping DIMES. 91 yards to Quez Watkins. pic.twitter.com/I9h9rSudB7

— Ari Meirov (@MySportsUpdate) September 19, 2021
That was a 91-yard completion, and it's one of the reasons I think Hurts will be just fine heading into next week. Watkins left his defender in the dust!
Last week, Goedert was used as a safety blanket for Hurts. This week, that obviously was not the case, as Hurts only looked towards Goedert a few times, although Goedert was able to use those targets to muscle for some key first downs:
How the hell did Dallas Goedert catch that?!#Eagles #FlyEaglesFly pic.twitter.com/8dwxF5bSri

— Brodes Media (@BrodesMedia) September 19, 2021
— Adam Sloate (@MrAdster99 on Twitter)