Bengals @ Bears
Final Score: Bears 20 – Bengals 17
Writer: Sami Alsado (@samialsado on Twitter) and Mike Miklius (@SIRL0INofBEEF on Twitter)
In Week 1, we saw the Bengals put up big numbers against the Vikings on their way to an overtime victory and a 1-0 start. Meanwhile, the Bears struggled to get the passing game going–and to stop a deep pass–against a strong Rams team on their way to 0-1. Cincinnati's offense was looking good while the Bears' defense was cold; as such, I expected some ready scoring in this one. Well, we know what that means: it was 7-0 Chicago at halftime thanks to an Andy Dalton TD pass to Allen Robinson. In the third quarter, the Bengals made it 7-3. Things eventually heated up in the fourth, as long as you like defense. Joe Burrow lost his no-interceptions streak. Justin Fields fumbled and threw a pick. The final result was Chicago escaping with a 20-17 win as they ran out the clock. It certainly wasn't pretty, but it was fun. Let's dive in and see what happened.
Cincinnati Bengals
Writer: Sami Alsado (@samialsado on Twitter)
Quarterback
Joe Burrow: 19/30, 207 yards, 2 TD, 3 INT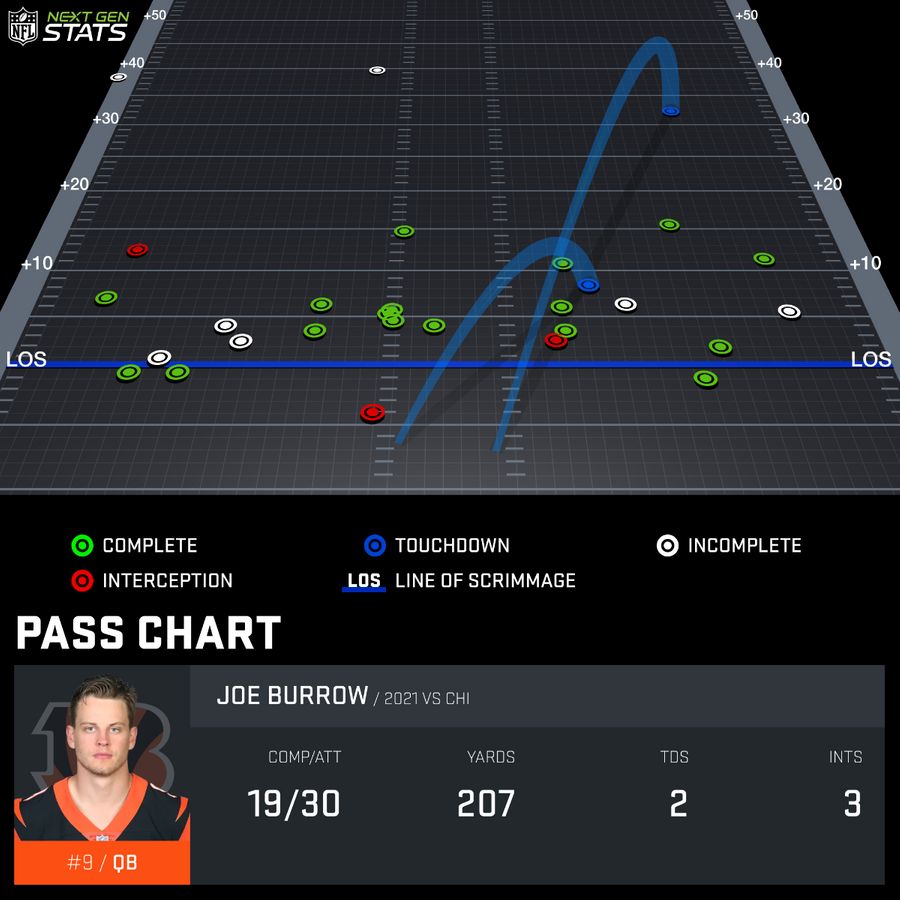 Joe Burrow was once again held back by an extremely conservative game plan. Zach Taylor remains hellbent on feeding Joe Mixon despite inefficient results today. Burrow was mostly limited to short throws and play-action passes early in the game as the Bengals refused to adapt to a Bears defense that was winning the line of scrimmage.
The play calling became so predictable that the Bears started jumping Burrow's short routes. First, Roquan Smith disguised in a short zone snuck underneath a pass intended for Tyler Boyd, taking it and returning it for a Bears TD. Burrow clearly didn't see Smith. Then on the next two plays:
Back to back INTs. They're using this run fake to get Mixon helping in pass pro. It went two different ways… pic.twitter.com/U793wbND91

— Goodberry (@JoeGoodberry) September 19, 2021
Burrow forces a stick route to Higgins that Bears DB Jaylen Johnson was sitting on. The 3rd INT is more of a pass protection issue than anything to blame Burrow for. Regardless, this was clearly the worst stretch in Burrow's young career.
Burrow was able to offer some redemption when he hit Ja'Marr Chase on a 42 yard TD. But, even this play was more of a great adjustment by Chase than it was Burrow throwing a dime. Burrow missed Chase on a ball earlier in the same drive that would have been a walk-in TD. He then was gifted a short field and hit his favorite red zone target Tee Higgins for his second TD.
Burrow seems less mobile than he did last season, which makes sense given the nature of his knee injury last season. On top of this, he is being held back by a conservative game plan that sees this team as a run-first, play-action-pass type of offense that clearly did not work against this team. Given all that Burrow has shown in his young career and the fight he showed bringing the Bengals back in this one late, he is deserving of a mulligan for the 2 INTs that were poor reads by him. But, given the conservative nature of the Bengals' first two game plans and his reduced mobility Burrow may be more of a streamer than a fantasy starter in 1QB leagues this season.
Running Backs
Joe Mixon: 20 carries, 69 yards | 2 targets, 1 reception, 2 yards
Chris Evans: 1 target, 1 reception, 14 yards
Samaje Perine: 1 target
Joe Mixon is a bellcow. This is an objective fact and one of the rare conclusions you can write in sharpie after two weeks. Mixon got all of the carries for the Bengals and got two looks in the passing game as well. Unfortunately, in this game, the Bears came prepared for this, and Mixon was bottled up all day. This is not due to a lack of burst by Mixon but due to predictable play-calling and an O-Line that couldn't get any push against a stalwart Bears front. Mixon was consistently stunted after 3-yard gains and struggled to find any space on the outside with a long carry of only 10 yards.
After one week, Mixon led the NFL in rushing. After Week 2, I'm sure some fantasy owners are questioning what they have in Mixon. Do not worry, this is a talented back with the ideal role you want for an RB1. Keep riding him.
Chris Evans showed spry on one 3rd down target which set up a Bengals FG. Perine got little work in this game and is an afterthought. I wouldn't roster either of these guys as handcuffs as they would likely split if Mixon were to go down.
Wide Receivers/Tight Ends
Tyler Boyd: 9 targets, 7 receptions, 73 yards
Tee Higgins: 10 targets, 6 receptions, 60 yards, TD
Ja'marr Chase: 6 targets, 4 receptions, 54 yards, TD
C.J. Uzomah: 2 targets, 2 receptions, 4 yards
As with Burrow, these receivers were held back by a conservative game plan that emphasized the running game and short routes only out of necessity. Naturally, this was the game Tyler Boyd would be prioritized as the Bengals' shifty slot receiver with great hands. After last week's 4-24 stat line, Boyd looked like an afterthought to the two Bengals young WRs, but this is more of what fantasy owners hoped for in drafting the previously consistent Boyd. Between two weeks we have a good representation of what Boyd can be for this team — a reliable slot receiver who is best as a WR3/flex depth option in fantasy leagues. He will have volume-heavy consistent output like today but also may be phased out relatively when Chase gets to eat more. 
Tee Higgins' stat line should start to look familiar as the season goes on. This is a young top target, large body, strong-handed WR who is a significant threat to score a TD or more on any given week. This is the second week in a row Burrow has stared Higgins down in the red zone trying to take advantage of his large frame and ability to box out smaller DBs:
Tee Higgins joins the TD party pic.twitter.com/cyxT91A2qd

— PFF Fantasy Football (@PFF_Fantasy) September 19, 2021
As a 6'4 WR who is clearly a favorite red zone target of Burrow's — Higgins should remain a solid WR2 range option all season.
Ja'Marr Chase had a bit of a rocky day relative to his 100+ yard debut last week. This says a lot given his final stat line was right in line with his projections. Chase dropped his first target of the day on a quick slant which must have had Bengals fans assuming the worst. From there he had a quiet day until he got two deep ball targets on one drive. The first one Burrow missed on a pass where Chase had enough separation that he should have cruised to a 60 yard TD. Just two plays later, Burrow underthrew Chase a bit but he was able to adjust, secure the catch, and cut inside to finish off a 42 yard TD, leaving both defenders to pinball into each other. After two weeks, we can clearly see the game-breaking ability Chase has:
Ja'Marr Chase has 4 deep targets through two games. Here they are. pic.twitter.com/nYTSXDiJXj

— Goodberry (@JoeGoodberry) September 19, 2021
Although he now has two good weeks to start the season, Chase will likely have weeks where he doesn't catch a 40+ yard TD as he has in both games, which could leave him with a low floor. Fantasy owners will want to see Chase solidify more of a role in short-yardage situations and avoid the drops that plagued his preseason. This makes Chase an upside WR2/WR3 for now with a chance to carve out a greater role as the season progresses.
Fantasy owners, as well as the Bengals front office, would be smart to realize that C.J. Uzomah is not a starting TE. Stay away, obviously.
Chicago Bears
Writer: Mike Miklius (@SIRL0INofBEEF on Twitter)
Quarterback
Andy Dalton: 9/11, 56 yards, TD, sack | 2 carries, 25 yards
Justin Fields: 6/13, 60 yards, INT | 10 carries, 31 yards
Andy Dalton started this one, and I was impressed with what I saw from the journeyman quarterback. The Bears' offense mostly played it safe (sound familiar?), but it was working early on. Dalton had to throw away his first attempt but went 9/10 the rest of the way. He hit Darnell Mooney twice early, almost seeing the second one broken free. He threw to Marquise Goodwin deep, drawing a pass interference call and a 30+ yard gain. He ended that drive with a nifty throw to Allen Robinson over the middle for the first touchdown of the game.
.@AllenRobinson's TD celebration 🔥 #DaBears

📺: #CINvsCHI on FOX
📱: NFL app pic.twitter.com/neVx1zOJZk

— NFL (@NFL) September 19, 2021
Dalton also flashed his ability to run, making two nice scrambles for first downs. Unfortunately, that second run ended with Dalton coming up limping.
Andy Dalton has left the game due to injury. pic.twitter.com/ITduuKx3vC

— Justin Groc (@justgroc) September 19, 2021
After a few series switching off between Fields and Dalton, Chicago decided to sit Dalton for the rest of the contest. I was honestly a little disappointed because I thought Dalton was doing well and deserved to finish this one out. I wasn't too upset though–it was time for the rookie!
Justin Fields came in during the second quarter and looked good early. He made an accurate throw to Darnell Mooney across the field for a first down, and another nice sideline pass to Marquise Goodwin that just stayed inbound(although to be honest I thought it wasn't a catch). The Bears didn't manage to score again before the half, but the offense was still running well.
In the third, Fields ran for a first–spinning away from a defender to keep the run alive. He threw a deep shot to Marquise Goodwin that the receiver just couldn't pull down, but the throw was a nice change from all the short dinking and dunking. Fields did make some mistakes as well. He fumbled in the third, fortunately recovering it himself. He also drew two offsides penalties as he jumped before the snap on each.
In the fourth, there was more good and bad. Fields made a pair of nice throws to Robinson (one broken up by coverage, the other dropped) and another to Kmet (offensive pass interference), but he also threw a back-breaking interception at the worst possible time.
Justin Fields throws an INT to #Bengals Logan Wilson.pic.twitter.com/0aPryysr0U

— Dov Kleiman (@NFL_DovKleiman) September 19, 2021
It ended well as Fields led the final game-clinching drive to run out the clock. There will be growing pains here, but this offense looks like it could completely open up with Fields behind center. Given the presence of speedsters Darnell Mooney and Marquise Goodwin on the roster, things could get fun here.
Running Back
David Montgomery: 20 carries, 61 yards | 4 targets, 3 receptions, 18 yards
Damien Williams: 2 carries, 6 yards | 3 targets, 2 receptions, -3 yards
The story for David Montgomery is similar to that for Joe Mixon: I like what I saw on the field more than I liked the final stats. Montgomery was running hard today, frequently hitting contact hard and blasting through it with authority. Like Mixon, Montgomery ran well when he was given a little bit of space to work behind. Also like Mixon, Montgomery was too frequently getting hit right away with no time to react. He could have had an even bigger day if not for a big catch that was called back. Montgomery caught the ball short and shook the first defender who tried to bring him down. He took it upfield for 36 yards, but it was called back for holding. Montgomery should be the workhorse each week as he is the only reliable weapon I've seen in this backfield. Speaking on unreliable weapons:
Please stop giving Damien Williams carries! Damien Williams is not talented, and he does nothing with the opportunities he gets. Williams saw four touches, and he netted three yards on them. I will say that he had an excellent block in pass protection, so it wasn't all bad. He just shouldn't be carrying the ball anymore.
Wide Receiver/Tight End
Darnell Mooney: 8 targets, 6 receptions, 66 yards
Allen Robinson: 4 targets, 2 receptions, 24 yards, TD
Marquise Goodwin: 3 targets, 1 reception, 10 yards
Cole Kmet: 1 target, 1 reception
If Darnell Mooney had just kept his balance a little better, he would have had a 100-yard, 1-TD game today. Right after Mooney made his first grab, he was targeted again on the next play. He caught the ball and his defender made glancing contact and fell down. Had Mooney maintained his footing, there was daylight ahead of him. Mooney was hit most frequently early but had a chance for another nice gain late. Fields was late on the throw and the connection was missed. Mooney now has 15 targets and 11 receptions through two weeks, and I think his stock takes a huge leap if Fields takes over. Mooney has done all of this without much of a deep game (his greatest strength) to speak of. Imagine if he was getting looks 20 yards downfield instead of in the 5-10 range.
Allen Robinson made his day with the early touchdown, and it looked like the game plan leaned away because of the coverage on him. Robinson caught his touchdown running across the end zone, catching a tight pass from Andy Dalton. All of Robinson's targets looked on target to me, but the defense was good enough to prevent two of them from being pulled in. I am still full speed ahead with Robinson for next week, but I would like to see better numbers. This one would have helped.
I don't know if Allen Robinson just isn't used to balls thrown this perfectly but he's gotta catch this.pic.twitter.com/HxlGRH4JLO

— Dave (@runbackdave) September 19, 2021
Marquise Goodwin barely registered here, but he made a huge play early on. Goodwin was open deep, and he maintained that position as the ball came his way. He drew a 32-yards pass interference call that set up the Bears' first touchdown. Goodwin will see a spike in value if Fields takes over full time and the offensive game plan calls for more shots downfield.
— Sami Alsado (@samialsado on Twitter) and Mike Miklius (@SIRL0INofBEEF on Twitter)