Philadelphia Eagles @ Washington Football Team
Coming into this game we as a fantasy community were very curious how rookies such as Antonio Gibson and Jalen Reagor would fare in their NFL debuts. With all the injuries for this Philadelphia offense, including to their starting running back Miles Sanders, how would this offense fare and how would Washington's new-look backfield shake out. Let's take a look at what we saw in this game.
Philadelphia Eagles
Quarterback
Carson Wentz: 24/42, 270 yards, 2 TD's, 2 INT's, 8 Sacks | 1 carry, 2 yards
It was clear from the start of the game that the injuries to the offensive line of Philadelphia would make a huge impact on how the offense was run. We saw Carson Wentz dealing with an immense amount of pressure throughout as evidenced by being sacked 8 times and hit many more times with that. The pressure also was evident as he lost the football, on two of those sacks. When he had the time in the pocket it was very evident, as he placed great passes for his two touchdowns to Zach Ertz and Dallas Goedert, as well as a perfectly placed deep ball to Jalen Reagor.
The two interceptions were not great, as defenders jumped the route both times in order to get those interceptions. With all the injuries around him on offense, it was clear that there was a negative effect on Wentz, and does make me concerned depending on how long these injuries affect the roster.
Running Backs
Boston Scott: 9 carries, 35 yards | 2 targets, 2 receptions, 19 yards
Corey Clement: 6 carries, 19 yards | 2 targets, 2 receptions, 2 yards
When it was announced that Miles Sanders would miss this game, everyone got excited about what Boston Scott would be able to do in this matchup. While he ultimately lead the team in snaps played, the gap between him and Corey Clement was smaller than people seemed to expect. That may have had something to do with Scott suffering an injury in the 3rd quarter, however Scott did return soon after suffering said injury. No matter who was in the backfield, however, the Eagles maintained a pass-first offensive gameplan, evident from a split of 42 passing plays to 17 rushes, with the score not requiring the Eagles to throw from behind until later in the 4th quarter.
Eagles final HB snap count
Boston Scott 38
Corey Clement 25
Jason Huntley 1

— Nathan Jahnke (@PFF_NateJahnke) September 13, 2020
Wide Receivers/Tight Ends
Dallas Goedert: 9 targets, 8 receptions, 101 yards, 1 TD
Zach Ertz: 7 targets, 3 receptions, 18 yards, 1 TD
DeSean Jackson: 7 targets, 2 receptions, 46 yards
Greg Ward: 7 targets, 5 receptions, 31 yards
Jalen Reagor: 4 targets, 1 reception, 55 yards
With the injuries to the Eagles' offensive line, Carson Wentz leaned on his safety blankets in his tight ends Zach Ertz and Dallas Goedert. While Ertz was not as effective with his three receptions, a game like today makes me wonder if we were overlooking the potential for two viable tight ends in this offense. Leading the team in targets, Goedert was a big part of the offense on Sunday, including a deep ball for a 34-yard touchdown reception.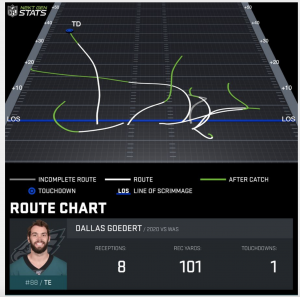 DeSean Jackson had himself a very typical game, being targeted more on the deeper routes with only two of those targets leading to receptions. We were expecting a bit more because of the injury to Jalen Reagor, but you know how these Jackson games go, you never know when they will come. Speaking of Reagor, you could tell that the Eagles were trying to ease him into the offense, but they did let him loose on a beautiful 55-yard dime right into his hands for his lone reception of the game. Being banged up coming into the game, it was hard to expect much from him this week, but take it as a good sign that he could emerge as Wentz's primary receiver as the two continue to gain chemistry.
Washington Football Team
Quarterback
Dwayne Haskins: 17/31, 178 yards, 1 TD, 0 INT, 3 Sacks | 7 carries, 17 yards
In his second season, the first full season as a starter, Dwayne Haskins was very safe in his throws, with no attempt over 25 yards downfield. It was impressive that Haskins had the shortest amount of time from snap to pass attempt, going into the Sunday night game, according to Next Gen Stats.
The touchdown pass was to a wide-open receiver, so there is not much to take away there, but if he stays efficient and quick to release as they were today, Haskins should be fine and be able to keep fantasy viable for the few fantasy options currently in Washington.
Running Backs
Peyton Barber: 17 carries, 29 yards, 2 TD | 0 targets, 0 receptions
Antonio Gibson: 9 carries, 36 yards | 2 targets, 2 receptions, 8 yards
J.D. McKissic: 3 carries, -2 yards | 5 targets, 1 reception, 1 yard
The big question going into this game was how the Washington backfield will be handled and we did not learn too much how it would be handled. The snaps between these backs were pretty much split, with McKissic and Barber trying for the most snaps on the team. It seems as if Peyton Barber may be more involved than we hoped as he handled the majority of work on 1st or 2nd down as well as the goal to go back, with both touchdowns being for less than five yards. On the other hand, Antonio Gibson did find his way into some of that work, which is a positive sign, though J.D. McKissic was involved in third downs and passing opportunities with five targets. This backfield should continue to be messy for fantasy football, though next week might clear things up a bit more.
Football Team final HB snap count
J.D. McKissic 29
Peyton Barber 29
Antonio Gibson 20

— Nathan Jahnke (@PFF_NateJahnke) September 13, 2020
Wide Receivers/Tight Ends
Terry McLaurin: 7 targets, 5 receptions, 61 yards
Steven Sims Jr.: 3 targets, 3 receptions, 50 yards
Dontrelle Inman: 5 targets, 2 receptions, 21 yards
Logan Thomas: 8 targets, 4 receptions, 37 yards, 1 TD
As for the wide receivers, this game kind of went as scripted for Washington as Terry McClaurin was the most targeted wide receiver as the two continued to show the chemistry which they established last season. McLaurin was the receiver that Haskins was most willing to throw the ball downfield to, which bodes well at the start of the season for McLaurin owners. As for the #2 receiver in this offense, no one really established themselves there. Steve Sims Jr. was a trusted receiver who Haskins looked to at times, as they completed all their attempts to each other, and the Redskins did try and get newcomer Dontrelle Inman involved with his five targets.
The most exciting development, especially for some writers here at QB List, may have been the looks which Haskins was giving towards tight end Logan Thomas, the most targeted player on Sunday. While the touchdown reception itself is not as noteworthy since he found himself wide open in the corner of the endzone for a six-yard pass, approaching halftime, the total looks given to Thomas, especially on third down (4 targets), bode well for the excitement some had for him. This performance continues to add him to my radar as a tight end worth keeping an eye on as the season goes on.
-Callen Elslager (@callen_elslager on Twitter)