Los Angeles Rams @ Philadelphia Eagles
With the return of Miles Sanders, it was expected that the Eagles' offense would look different and start to click a bit m0re. That was not the case on Sunday. It was more of the same as the Eagles struggled to get anything going on offense and Carson Wentz had his second straight poor game. On the other side, the Rams offense continues to get going, even with their continuing to evolve running back situation.
Los Angeles Rams
Quarterback
Jared Goff: 20/27, 267 yards, 3 TD's, 0 INT's, 1 Sack | 7 carries, 13 yards
Jared Goff did a very good job this week of making the simple throws and not trying to do too much, only making one throw longer than 30 yards.  Clearly the connection that he had down the stretch last season with Tyler Higbee is still a thing as they connected for three touchdowns, including the 32-yard pass, coming off play action, with Higbee beating his man in coverage out towards the endzone. The other two touchdowns were shorter out routes connecting for these receptions down by the goal line. If he continues to play like this, though the running game will continue to be more involved, Goff will find his way back to being an option for your fantasy team this season.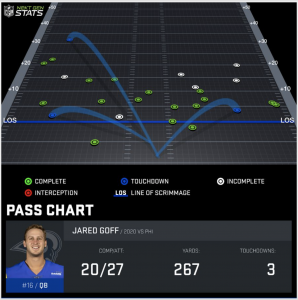 Running Backs
Darrell Henderson Jr.: 12 carries, 81 yards, 1 TD | 3 targets, 2 receptions, 40 yards
Malcolm Brown: 11 carries, 47 yards
Cam Akers: 3 carries, 13 yards
This backfield was one of the more confusing ones to try and predict coming into this week and Sunday did not do anything to help make it any easier to do so. Early on, Cam Akers was getting some work and running pretty effectively, before leaving the game with a rib injury. This paved the way for waiver-wire pickup Malcolm Brown to take back over as the main back, taking the majority of the work before giving way to Darrell Henderson later in the game. At first, it was curious as to why he was removed before reports came out that Brown suffered a thumb injury. Henderson was pretty effective in his time playing, even getting involved in the passing game, the majority of his stats came from a 40-yard touchdown run he broke off. Depending on the extent of these injuries, Henderson has earned more of a role in this offense.
Wide Receivers/Tight Ends
Cooper Kupp: 6 targets, 5 receptions, 81 yards | 2 carries, 19 yards
Tyler Higbee: 5 targets, 5 receptions, 54 yards, 3 TD's
Robert Woods: 5 targets, 2 receptions, 14 yards | 3 carries, 19 yards, 1 TD
Van Jefferson: 5 targets, 4 receptions, 45 yards
Josh Reynolds: 2 targets, 2 receptions, 33 yards
Any concern which you may have had about Cooper Kupp should have gone away after this game, as Kupp lead the team with targets, including the majority of those targets coming on third down, key situations on their drives, as well as taking two carries while their running game dealt with a few blows. Because of the success of Cooper Kupp, Robert Woods had himself a bit of a quiet day though still right there with targets, and like Kupp, getting himself involved on the ground taking a five-yard rush to the outside and in for a touchdown. It was very encouraging to see the Rams get Van Jefferson more involved in the offense as he showed his skill being another guy Goff worked to get the ball to on third down conversions including a 21-yard dime.
While Tyler Higbee picked up three touchdowns and will still be a major piece of this Rams offense, the majority of his yards came from one nice connection of 32 yards beating his man to the endzone on a play-action pass. The other four receptions were thrown a few yards beyond the line of scrimmage, with him turning and moving it a bit more. He showed his talent and importance to this offense, but the majority of the receptions will be a few yards past the line of scrimmage, possibly making some action after the play.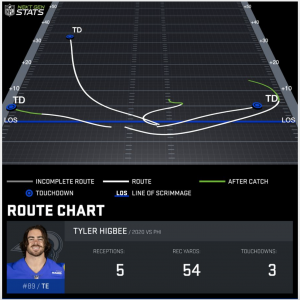 Philadelphia Eagles
Quarterback
Carson Wentz: 26/43, 242 yards, 0 TD's, 2 INT's, 0 Sacks | 2 carries, 7 yards, 1 TD
Another week, and another struggling performance from Carson Wentz. While the offensive line kept him from being sacked this week, Wentz was very conservative being much more comfortable this week in throwing the ball shorter, only opening it up downfield as the game got a bit more out of hand. The first of Wentz's two interceptions came as Wentz tried to throw the ball deep downfield for a touchdown into double coverage, while the second came late in the game trying to throw sidearm to his receiver and overthrowing it right into the hands of the defender. A positive savior for his fantasy day was using his tall frame to dive into the endzone from the 1-yard line for a rushing touchdown.
Running Backs
Miles Sanders: 20 carries, 95 yards, 1 TD | 7 targets, 3 receptions, 36 yards
Boston Scott: 4 carries, 19 yards | 3 targets, 3 receptions, 24 yards
We were all very curious how much work Miles Sanders would get in his first game back from a hamstring injury. The answer was that Sanders took the vast majority of work even after a lost fumble early in the game. While Sanders did not exactly look 100%, he looked very much the part of the early draft pick he was in fantasy taking back the bell-cow role and with Wentz making much shorter passes, being very involved in the passing game with seven targets. With Boston Scott coming in once in a while to spell him and still gaining action in the passing game, all signs are positive for Miles Sanders coming back from his injury and living up to his draft price.
Eagles final HB snap count
Miles Sanders 56
Boston Scott 13
Corey Clement 3

— Nathan Jahnke (@PFF_NateJahnke) September 20, 2020
Wide Receivers/Tight Ends
DeSean Jackson: 9 targets, 6 receptions, 64 yards
Zach Ertz: 7 targets, 5 receptions, 42 yards
Dallas Goedert: 8 targets, 4 receptions, 30 yards
Jalen Reagor: 4 targets, 4 receptions, 41 yards
This week was a much better connection between Wentz and DeSean Jackson as he was the receiver Wentz was most looking to in key situations allowing him to use his speed to move the ball downfield. For the second straight week, Dallas Goedert out targetted Zach Ertz, proving that even as this offense gets healthier Carson Wentz can support two fantasy viable tight ends in this offense, both used in key moments as well. Jalen Reagor looked pretty good as well connecting with Wentz on all his targets, another receiver which Wentz used and relied on his speed to move the ball more downfield.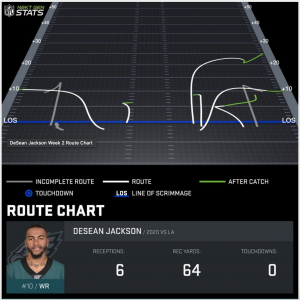 -Callen Elslager (@callen_elslager on Twitter)