Minnesota Vikings @ Indianapolis Colts
Sunday was the official start of Jonathan Taylor season and I know we have been waiting for it to begin since he was drafted. He did not disappoint giving us a performance to be excited about for weeks to come. On the other hand, everyone else in this game, with the exception of Mo-Alie Cox, was very disappointing from a fantasy perspective with the Vikings being unable to move the ball on offense and the Colts just focusing on the run game with the large lead that they built.
Minnesota Vikings
Quarterback
Kirk Cousins: 11/26, 113 yards, 0 TD's, 3 INT's, 3 Sacks 
There is only one word that can be used to describe the performance by Kirk Cousins on Sunday and that word is yikes. With the Colts getting out to an early lead it forced the Vikings to be more pass-happy than they like to be and forced Cousins to try and force plays downfield, all leading to his disastrous performance and three interceptions. The first of these interceptions, trying to find Adam Thielen deep into double coverage, and the second on a late Hail Mary in the first half.  The final interception was on a tipped slant off the hands of Olabisi Johnson. The offensive line did not do a great job protecting Cousins, leading him to play more under pressure, take three sacks, including one in the endzone for a safety. It's beginning to look like this offense is sorely missing Stefon Diggs, as Cousins only has one wide receiver that he can count on in a volume role.
Running Backs
Dalvin Cook: 14 carries, 63 yards, 1 TD | 2 targets, 2 receptions, 8 yards
Alexander Mattison: 3 carries, 13 yards
There really is not much to take away from Dalvin Cook on Sunday. He was running like his usual self and put up a good performance. The only reason that his carries were less than usual was because of the game script and the Vikings needing to throw in order to try and catch up. Dalvin Cook was still kept in for the vast majority of plays, with Alexander Mattison coming in to spell him once in a while, breaking off a nice 11 yard run for his lone highlight. Cook found the endzone, salvaging his day when the rest of the offense struggled mightily.
Wide Receivers/Tight Ends
Adam Thielen: 8 targets, 3 receptions, 31 yards
Justin Jefferson: 3 targets, 3 receptions, 44 yards
Olabisi Johnson: 3 targets, 1 reception, 24 yards
Irv Smith Jr.: 4 targets, 1 reception, 3 yards
Kyle Rudolph: 1 target, 0 receptions
The main cog in this Viking receiving game continues to be Adam Thielen, and that does not seem like it will be changing anytime soon. Thielen was the receiver Cousins was most looking for, including the vast majority of key situations throughout the game. It is just tough to make the most of those targets when your quarterback is under a lot of pressure and throwing a lot to try and keep up with the opposition. It was encouraging to see Justin Jefferson continue to be used in the offense and be targeted a bit downfield, the longest being a 22-yard reception. Other than that there is not much to take away as Irv Smith Jr, continues to be used more often than Kyle Rudolph in the passing game, out-targeting him 4-1.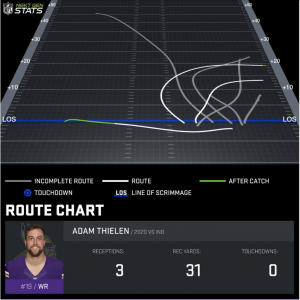 Indianapolis Colts
Quarterback
Philip Rivers: 19/25, 214 yards, 1 TD, 1 INT, 2 Sacks | 4 carries, 3 yards
This was a matchup with the Minnesota Vikings young secondary that I thought Philip Rivers might have been able to take advantage of. However, most of the receptions were shorter passes to guys like Jonathan Taylor and forming a connection with his replacement tight end Mo-Alie Cox. Though he tried to get the ball downfield to his receivers, the deep ball was not working as much on Sunday, with the game script limiting the Colts to run the ball more often. The willingness to throw the ball downfield though was on display and a good sign for Indianapolis pass catchers on your rosters.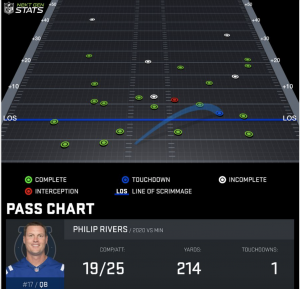 Running Backs
Jonathan Taylor: 26 carries, 101 yards, 1 TD | 2 targets, 2 receptions, 9 yards
Nyheim Hines: 1 target, 1 reception, 4 yards
Jordan Wilkins: 9 carries, 40 yards
With Marlon Mack out for the season with a torn Achilles, the question remained as to how much the backs in Indianapolis would split the workload. If this game is any indication, there will not be any sort of split, and Jonathan Taylor will be the workhorse back. With the offensive line of Indianapolis and the talent of Taylor, he fully lived up to the hype showing off his bursts of speed and power, taking advantage of the large lead game script he got. In fact, it was Jordan Wilkins who came in to spell Taylor when he needed a break in carries and not Nyehim Hines, carrying the ball 9 times. I am curious if the Colts were down in this game would Nyheim Hines have seen more than 1 target and appeared in more than 9 snaps, but whatever the case may be Taylor was the clear lead back on Sunday and the most impressive player on the field, great signs for those who roster him.
Colts final HB snap count
Jonathan Taylor 49
Jordan Wilkins 17
Nyheim Hines 9

— Nathan Jahnke (@PFF_NateJahnke) September 20, 2020
Wide Receivers/Tight Ends
Mo Alie-Cox: 6 targets, 5 receptions, 111 yards
T.Y. Hilton: 5 targets, 3 receptions, 28 yards
Michael Pitman Jr.: 6 targets, 4 receptions, 47 yards
Zach Pascal: 4 targets, 3 receptions, 19 yards, 1 TD
It is clear from this game that Rivers has a connection with the tight end position, targetting Mo-Alie Cox, with Jack Doyle out this game, just as many times as his leading wide receiver. Cox took advantage of those targets, many of which were downfield targets, making him intriguing in fantasy come next week if Doyle is still out. The same can be said about T.Y. Hilton, who though he only had three receptions was targetted deep downfield on the two incompletions, with the two just needing a bit more time to get in sync. It was disappointing when waiver-wire darling Paris Campbell needed to be carted off with a knee injury, but Michael Pitman Jr. took over as the number two receiver pretty effectively with Rivers targetting him more than any other receiver and making a clear effort to get the rookie involved in the offense.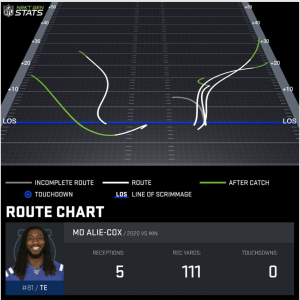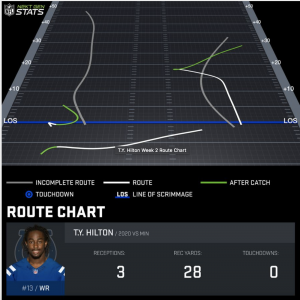 -Callen Elslager (@callen_elslager on Twitter)