Cardinals @ Jets
The Week 5 matchup between the Cardinals and the Jets went almost exactly as you would have expected, with the players you started in your fantasy lineups contributing the production you needed. The big question marks for the Jets were what their offense would look like with Joe Flacco under center, and with the return of Le'Veon Bell. The answer? Pretty much the same as with Sam Darnold under center, where Jamison Crowder was the only fantasy relevant pass catcher for New York and nobody else really mattered. For the Cardinals, the backfield split between Kenyan Drake and Chase Edmonds remains confusing as Edmonds has increased his role in this offense. The Cardinals won the game 30-10.
Arizona Cardinals
Quarterback
Kyler Murray: 27/37, 380 yards, 1 TD, 1 INT, 1 Sack | 9 carries, 31 yards, 1 TD
Kyler Murray took advantage of this great matchup against the Jets, throwing for the most yards he has thrown for all season, while still being active on the ground. He scored on a two-yard touchdown rush, a read-option, where he ran right between two defenders. Murray did a great job taking the shorter passes but also taking shots downfield, reminding us of the quarterback that we thought he was in draft season and putting those struggles from the past two weeks behind him.
Kyler Murray leads all QBs with 5 rushing touchdowns.#FantasyFootball | #Cardinals pic.twitter.com/cR6z5ufQrd

— QB List (@TheQBlist) October 11, 2020
Running Backs
Kenyan Drake: 18 carries, 60 yards, 1 TD | 1 target, 1 reception, 2 yards
Chase Edmonds: 3 carries, 36 yards, 1 TD | 6 targets, 5 receptions, 56 yards
Look away Kenyan Drake owners…

Chase Edmonds with the early TD.#FantasyFootball | #Cardinals pic.twitter.com/ghhDVyOSQn

— QB List (@TheQBlist) October 11, 2020
The big question for the Cardinals backfield entering this game was whether Chase Edmonds was coming in to take touches away from Kenyan Drake and become the lead back. This game did not do much to help answer that question. Both backs found their way to the endzone, with Edmonds looking like the better runner breaking off a long touchdown run and increasing his role in the passing game. On the other hand, Kenyan Drake was still the lead back. He lead the Cardinals both in carries and in snaps (50 for Drake, 34 for Edmonds), though he really wasn't able to break free into the open field much, with his longest rush being for 10 yards.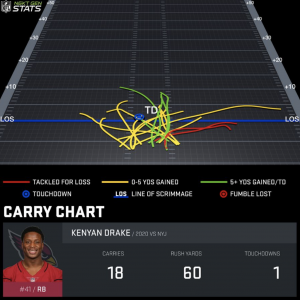 Wide Receivers/Tight Ends
DeAndre Hopkins.: 7 targets, 6 receptions, 131 yards, 1 TD 
Christian Kirk: 7 targets, 5 receptions, 78 yards
Larry Fitzgerald: 7 targets, 4 reception, 35 yards
Andy Isabella.: 3 targets, 2 receptions, 30 yards
What more is there to say about DeAndre Hopkins than hasn't already been said. Hopkins was the clear target downfield, as he was hit for many deep balls and beating anyone who tried to cover him, proving once again why he is one of the best receivers in the NFL. This game was also a really positive step for Christian Kirk, as he was targeted seven times on the day including one that Kyler Murray was picked on. While it is not clear whether the increase in work was based on the fact it was against the Jets, the work he received bodes well for a potential turning point for his slow start this year. With Larry Fitzgerald, you know what you are getting. Murray looked his way a decent amount but those were shorter passes to help keep the drives going. Andy Isabella flashed some speed with his two receptions, with one of those receptions a nice 24-yard connection to convert on third down.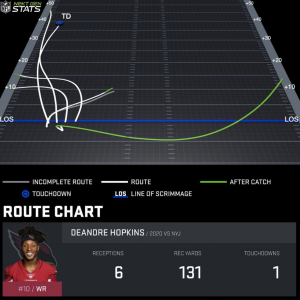 New York Jets
Quarterback
Joe Flacco: 18/33, 195 yards, 1 TD, 0 INTs, 2 Sacks | 4 carries, 20 yards
With Joe Flacco taking over under center, the Jets offense looked exactly as you might have expected it to look. He clearly displayed some rust, with a few overthrows and a bad delay of game penalty that he later admitted he lost track of time on. It certainly wasn't the best start of his career, but it also wasn't the worst. Whether or not he's the starter after this week is still up in the air, but he should not be on your fantasy radar anyway.
Running Backs
Le'Veon Bell: 13 carries, 60 yards | 1 target, 1 reception, 7 yards, 
Frank Gore: 9 carries, 30 yards
In his first game back, the injury did not seem to bother Le'Veon Bell as he was moving around and making his cuts pretty smoothly. With a game under his belt that he was able to escape from unscathed, he should be healthy heading into next week which bodes well for his fantasy value. Sunday's game script did, however, quickly move away from Bell as Flacco was forced to throw the ball more often in the second half and all of the targets went to anyone not named Bell. Further hurting his fantasy upside is the use of Frank Gore to spell carries; It could just be to ease back Bell post IR stint, but with Adam Gase at the helm, anything is possible. Bell saw 46 snaps to Gore's 23 and hopefully we see an increase for Bell next week.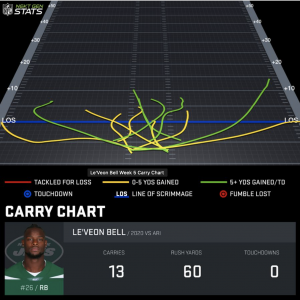 Wide Receivers/Tight Ends
Jamison Crowder: 10 targets, 8 receptions, 116 yards, 1 TD
Chris Herndon: 3 targets, 2 receptions, 24 yards
Jeff Smith: 11 targets, 3 receptions, 23 yards
Chris Hogan: 3 targets, 3 receptions, 20 yard
Jamison Crowder breaks the plane.#FantasyFootball | #TakeFlight pic.twitter.com/CIY9TwWeSx

— QB List (@TheQBlist) October 11, 2020
The only receiver that Flacco seemed to have any sort of connection with was Jamison Crowder. Flacco looked his way in many situations, including a few deep balls and some shorter dump-offs, and he fought off the Arizona defense to stretch the ball past the goal line for a well-earned touchdown reception While the fantasy community keeps hoping for Chris Herndon to be a thing, he was out-snapped by Ryan Griffin, 42 to 29, and had a crucial drop down the stretch. Jeff Smith was targeted 11 times but he could not take advantage of them.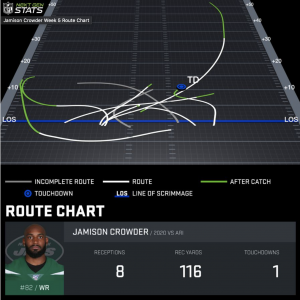 -Callen Elslager (@callen_elslager on Twitter and Reddit)