Eagles @ Panthers
Final Score: Eagles 21, Panthers 18
Writer: Drew DeLuca (@DrewDeLaware on Twitter)
The Philadelphia Eagles shook off an abysmal first half to rally past the Carolina Panthers yesterday. The Eagles, who came into the game leading the NFL in penalties, committed five more in the first half. However, they were only flagged once more after the start of the third quarter.
With only two minutes remaining in the first half, the Eagles had managed fewer than 40 yards of total offense. After a few chunk plays, a Jake Elliott field goal with no time remaining in the half sent both teams to their locker rooms with the Panthers ahead by a score of 15-6. Up to that point, the entire Eagles offense was flat: unimaginative play-calling was compounded by poor execution, and Jalen Hurts posted arguably his worst two consecutive quarters of professional football.
The halftime score looked a lot closer than it felt. During the opening quarter, the first of Darius Slay's two interceptions yielded the Eagles' first points of the game in the form of a 30-yard field goal by Jake Elliott. Outside of Slay's play, the Panthers ran the ball relatively well with Chuba Hubbard, and quarterback Sam Darnold moved the chains rather efficiently. Meanwhile, throughout the first half, the Panthers' defense dominated an Eagles offense that didn't punt once against the Kansas City Chiefs a week before.
In the second half, the fortunes of both teams flip-flopped. The Eagles outscored the Panthers by a score of 15-3 over the final two quarters, taking the lead for the first time with 2:38 remaining in the game. After a successful two-point conversion, the Eagles defense held their 21-18 lead, forcing Darnold's third and final interception of the game into the waiting hands of Steven Nelson with 1:25 remaining. Despite dominating time of possession (35:03 – 24:57) and recording a safety, the Panthers inexplicably snatched defeat from the jaws of victory.
Philadelphia Eagles
Quarterback
Jalen Hurts: 22/37, 198 yards, 1 INT | 9 carries, 30 yards, 2 TD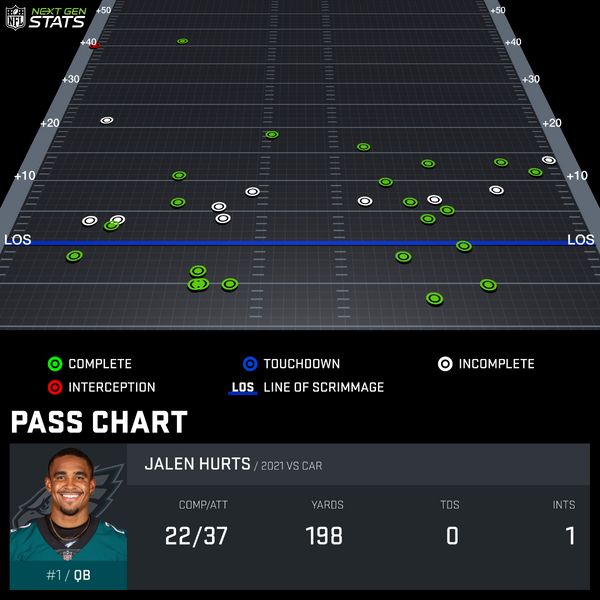 Jalen Hurts went 15-for-24 for 74 yards over the first two quarters, a pathetic 3.1 yards per attempt, gaining zero rushing yards on one attempt. Luckily, a botched snap that went over his head eventually found its way out of the end zone instead of into the hands of a defender. Other than that, nothing went right for the former Alabama and Oklahoma quarterback in the first half of his ninth career start.
Hurts threw one interception, a second-half pass that was launched well downfield past a well-covered receiver before being hauled in by defensive back Donte Jackson, who cut across the field to make a play on the ball just before going out of bounds. On the whole, however, Hurts seemed to settle in as the third quarter progressed, using his legs to create on the run, and connecting with Quez Watkins in stride for a huge 53-yard reception that turned the tide for the Eagles offense.
Hurts' confidence visibly grew as the game wore on, and he met adversity head-on. Last week against the Chiefs, Hurts had three touchdown passes called back due to penalties, and two others dropped in the end zone. Week 5 presented the young signal-caller with another of each scenario, but he responded well: Hurts scored two rushing touchdowns on the day, much to the delight of his fantasy football managers. His game-winning second score put the Eagles on top for good.
Running Backs
Miles Sanders: 11 carries, 45 yards | 5 targets, 5 receptions, 6 yards
Kenny Gainwell: 2 carries, 16 yards | 3 targets, 1 reception, 8 yards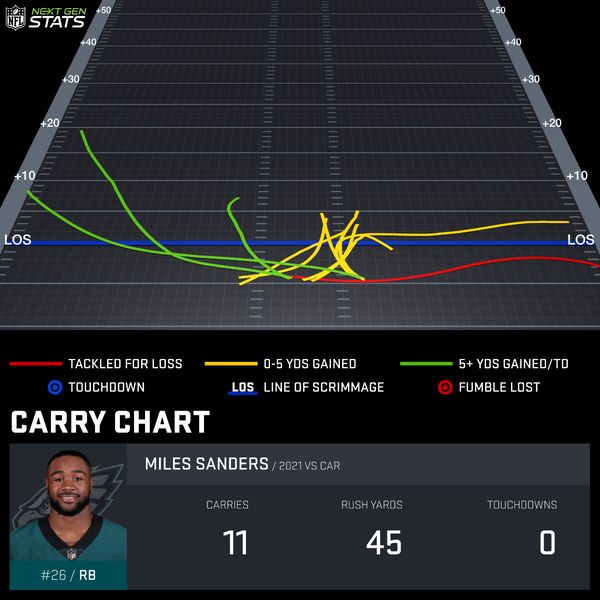 After carrying the ball just 10 times over the last two weeks, Miles Sanders logged 11 rushing attempts in Week 5. His 51 total yards were a disappointment, as were the many poorly executed screen plays and RPOs in which he was deployed as a receiver.
Refreshingly for Sanders' fantasy football managers, he finally became a part of the game plan. Unfortunately, we're left wondering how long this will last. Kenny Gainwell has been a revelation for the Eagles so far this season but garnered only three touches in Carolina. Surprisingly, it was Sanders, not the first-year Memphis product, who made the rookie mistakes while Gainwell looked like the slippery, seasoned pro.
Sanders' two bone-headed decisions to go out of bounds instead of dropping to the ground while in bounds in the final two minutes was a real head-scratcher. Such moves won't endear him to a coaching staff that has used him sparingly so far this season. This has to be concerning for his fantasy football managers, who have grown impatient as they wait for him to produce numbers to justify his fourth or fifth-round ADP.
Wide Receivers/Tight Ends
DeVonta Smith: 8 targets, 7 receptions, 77 yards
Quez Watkins: 3 targets, 3 receptions, 48 yards
Jalen Reagor: 5 targets, 3 receptions, 24 yards
Dallas Goedert: 3 targets, 2 receptions, 28 yards
Zach Ertz: 6 targets, 1 reception, 7 yards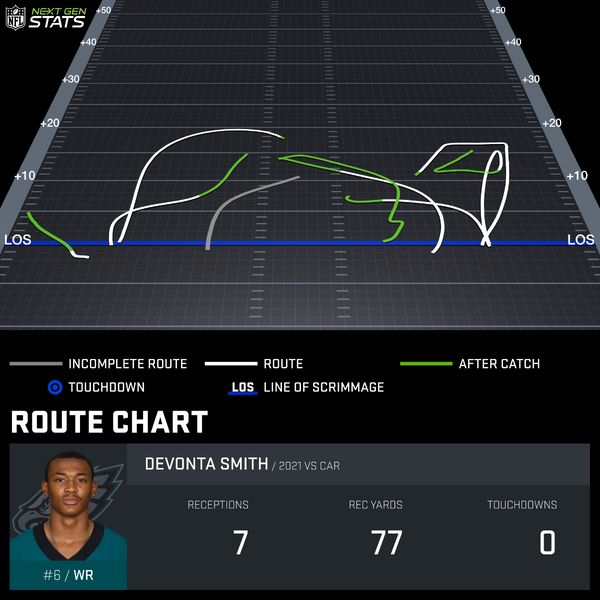 DeVonta Smith paced all Eagles receivers in targets, receptions, and yards for the second straight week, accounting for 50 percent of the Eagles' wide receiver targets during that span. He lost a fumble near midfield, forced by Donte Jackson, the same player who intercepted Hurts. Thankfully for the Eagles, the Panthers eked out only 2 yards on the ensuing possession and punted the football right back to the Eagles.
Hurts targeted Quez Watkins seven times last week, but only threw three in his direction this week. Watkins reeled in all three, including the longest reception made by any player on either sideline. The speedy second-year player out of Southern Miss saw two fewer targets than Jalen Reagor, but was once again more impressive than his former first-round teammate. Once again, former second-round pick J.J. Arcega-Whiteside was not targeted.
Both tight ends were heavily involved in last week's game plan with great success. Efforts to do the same this week against the Panthers fell far short. Zach Ertz, who hauled in six of eight targets for 60 yards last week, corralled only one of six this time around. Meanwhile, Dallas Goedert was only targeted three times, and the duo combined for a mere 35 yards on 9 targets. Gross.
Carolina Panthers
Quarterback
Sam Darnold: 21/37, 177 yards, TD, 3 INT | 5 carries, 26 yards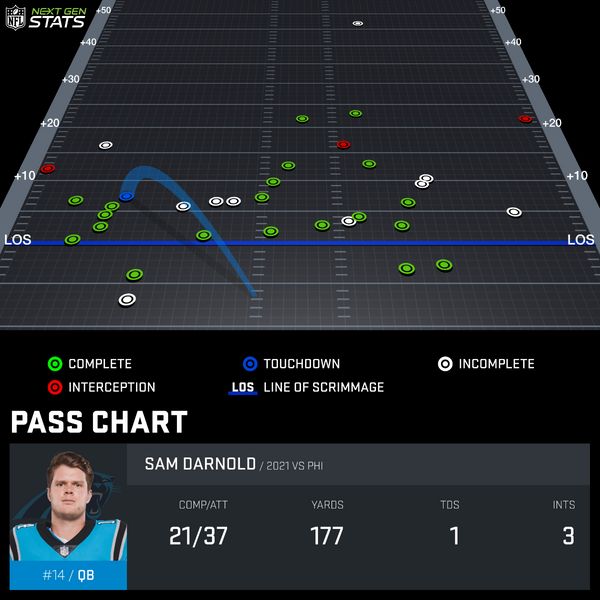 Unlike Hurts, Sam Darnold's day took a turn for the worse after heading into the tunnel for halftime. Darnold threw two momentum-killing second-half interceptions, the latter of which sealed the Panthers' fate. After a red-hot start, Darnold has thrown five interceptions in his last two games; his 60-minute effort against the Eagles was almost a microcosm of that regression.
Darnold, who was sacked three times, made a few critical errors in judgment with the football. Among them: holding onto the football too long. He also struggled with read progression as the pocket began collapsing, and missed a few open receivers.
Partial credit for Darnold's struggles on Sunday goes to the Eagles' defensive line, led by the impressive defensive tackle duo of Fletcher Cox and Javon Hargrave. Both worked in tandem to collapse the pocket, and each notched a sack; the latter leads all NFL defensive tackles in that category (6).
Running Backs
Chuba Hubbard: 24 carries, 101 yards | 6 targets, 5 receptions, 33 yards
Royce Freeman: 3 carries, 2 yards | 2 targets, 1 reception, 6 yards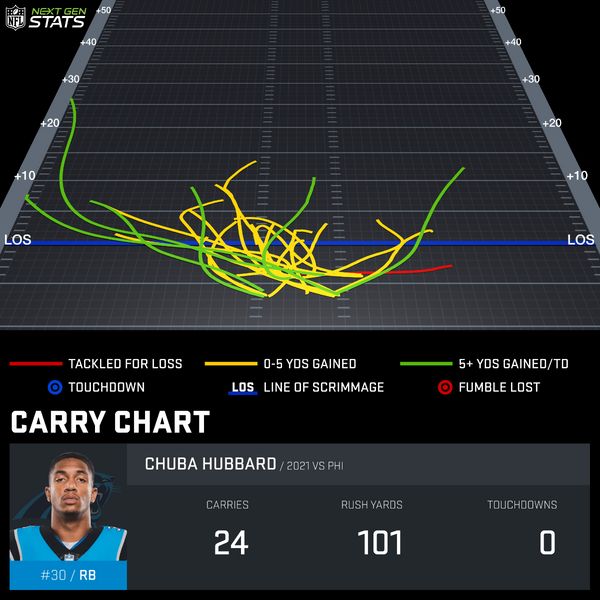 With Christian McCaffrey on the shelf, the Panthers turned to Chuba Hubbard, a rookie out of Oklahoma State who posted his first 100-yard game. Hubbard led all college football running backs in yards after contact (1,300) according to Jarad Evans of Pro Football Focus, and continued that trend against the Eagles, shedding tacklers with regularity. Hubbard also collected 33 yards through the air and was a bright spot for the Panthers on an otherwise forgettable day.
Royce Freeman barely saw action at all; he was a complete non-factor, averaging a paltry 2.0 yards per touch. Rodney Smith, who saw six targets last week and caught them all, was also an afterthought this week. He was given no carries and wasn't targeted.
Wide Receivers/Tight Ends
D. J. Moore: 7 targets, 5 receptions, 42 yards | 1 carry, -4 yards
Ian Thomas: 5 targets, 4 receptions, 40 yards
Robby Anderson: 7 targets, 2 receptions, 30 yards
Terrace Marshall, Jr.: 3 targets, 2 receptions, 14 yards
Tommy Tremble: 4 targets, 2 receptions, 12 yards, TD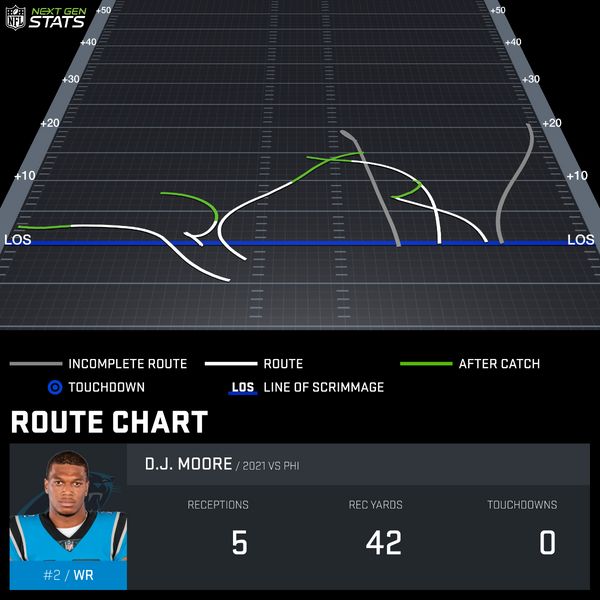 Only three Panthers caught more passes than Eagles cornerback Darius Slay on Sunday: Hubbard, D. J. Moore, and Ian Thomas. Not a single Panthers wide receiver tallied more than 50 yards on the day. Moore and Robby Anderson tied for the team lead in targets with seven apiece, though they averaged just 5.14 yards per target.
Terrace Marshall, Jr., a rookie out of LSU, was barely featured despite apparent mismatch opportunities. Instead, the Panthers made it a point to go after the Eagles' subpar linebacking corps by attacking through the tight end position. Ian Thomas saw five passes thrown his way while tight end Tommy Tremble, a rookie out of Notre Dame, was targeted four times. Thomas was one of the Panthers' leading receivers on the day, while Tremble caught his second career touchdown in just his fourth game as a pro.
— Drew DeLuca (@DrewDeLaware on Twitter)