Cincinnati Bengals

 @ 

Detroit Lions
This was a true shellacking by the Bengals, who proved they have climbed out of the league's cellar by dominating the Lions in every phase of the game except punting (Jack Fox is a stud). Though the game was close at halftime, with the Bengals only up 10-0, they hit a jet stream in the 3rd quarter by dominating the line of scrimmage on both sides of the ball. The game was effectively over in the 3rd quarter when the Bengals came out of the half, storming out to a 27-0 lead. From there, garbage time took over and some stats were accumulated that are more signal than noise. Let's dig in.
Cincinnati Bengals
Quarterback
Joe Burrow: 19/29, 271 yards, 3 TD, 1 INT | 5 carries, 20 yards
Brendan Allen: 1/1, 7 yards, 1 TD | 3 carries, -3 yards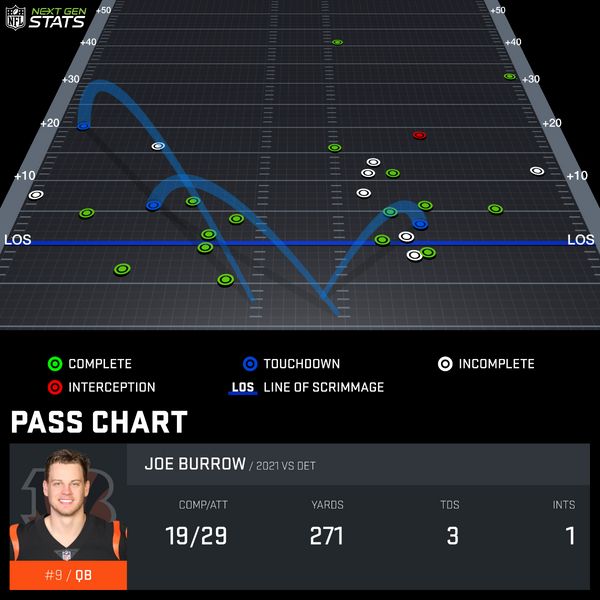 Joe Burrow is growing more comfortable on his reconstructed knee each week and it showed in this game, as he displayed mobility we haven't seen since last season. Though his numbers didn't take off until the second half, Burrow was in control of this game from the start and spread the ball out quite evenly amongst his running backs/receivers and tight ends. Burrow was able to find Ja'Marr Chase on two deep balls, as he seems to do every week now. He shows consistent trust to lob the ball up to Chase in 1-on-1 matchups downfield, assuming the separation that inevitably results. The lack of hesitation and timing of these simple fly routes to Chase really speaks to the chemistry that mirrors their longevity together. This is arguably the best young QB-WR combo in the game and you'll swear it was deja vu when you see this again next week:
Joe Burrow ➡️ Ja'Marr Chase can't be stopped 🚀
pic.twitter.com/HYGxZazMv8

— PFF (@PFF) October 17, 2021
Burrow's one blemish came on a throw that will likely be on loop in Bengals film study as Chase's inability to get more than a fingertip on a decently thrown ball that fell right to Lions DB Amani Oruwariye:
Joe Burrow throws a pick to Amani Oruwariye

Walker was flagged for taunting after INTpic.twitter.com/2wBRodlWGt

— Dov Kleiman (@NFL_DovKleiman) October 17, 2021
Accordingly, it is hard to give Burrow much blame for this one INT.
Brandon Allen came in for mop-up duty and showed why he still has a job rolling out to hit Auden Tate on a play-action that looked like a walk in the park for the veteran.
Running Backs
Joe Mixon: 18 carries, 94 yards | 6 targets, 5 receptions, 59 yards, 1 TD
Chris Evans: 4 carries, 18 yards |3 targets, 3 receptions, 49 yards, 1 TD
Trayveon Williams: 6 carries, 13 yards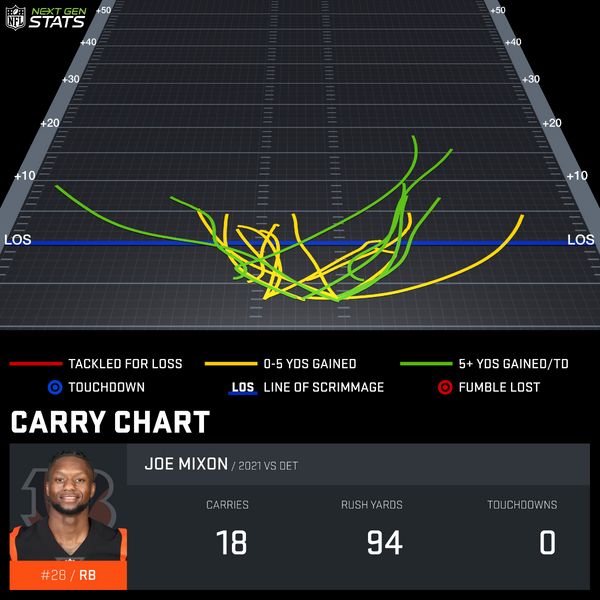 Joe Mixon had the best game of his season today, running behind a line that was able to get a push on a weak Lions front. Mixon also slipped tacklers in the hole with a consistency that echoes his elite talent. As is clear above, Mixon found success running about every which way he wanted against this weak Lions D.
Most impressively, Mixon had unquestionably his best game as a pass-catcher, finding mismatches on linebackers which he left in his wake. This was most on display when Mixon broke free on a 4th-and-1 fake jet sweep play and took it to the house behind a surprisingly strong block by rookie stalwart Ja'Marr Chase:
Joe to Joe for 6️⃣

Watch on FOX pic.twitter.com/syaDf5x18m

— Cincinnati Bengals (@Bengals) October 17, 2021
Chris Evans is emerging as a true weapon for this offense and may have taken the RB2 role from Samaje Perine with his efforts on the ground, as well as through the air. On the Bengals' first TD of the game, Evans was split outside and simply torched his defender on a fly route, reeling in the 24-yard TD with an ease that belies his RB position.
Joe Burrow to Chris Evans for the @Bengals score! #RuleTheJungle

📺: #CINvsDET on FOX
📱: NFL app pic.twitter.com/uH7MNIRWV5

— NFL (@NFL) October 17, 2021
Wide Receivers/Tight Ends
Ja'Marr Chase: 6 targets, 4 receptions, 97 yards 
Tee Higgins: 6 targets, 3 receptions, 44 yards
C.J. Uzomah: 3 targets, 3 receptions, 15 yards, 1 TD
Auden Tate: 1 target, 1 reception, 7 yards, 1 TD
Tyler Boyd: 3 targets, 1 reception, 7 yards
Ja'Marr Chase will get behind a defense as sure as the sun will rise. Each week, Chase somehow creates separation from DBs, which has really opened up the Bengals' offense. This game, that opening up came in the form of a 34-yard fly down the sidelines just before the half, and then a 53-yard bomb that Chase almost broke for a gigantic 78-yard TD pass:
Joe Burrow ➡️ Ja'Marr Chase for 53 yards 🔥🎯 #RuleTheJungle

— Sportskeeda Pro Football (@SKProFootball) October 17, 2021
The separation Chase gets on this pass is truly remarkable. Though we don't have the full All-22 footage to confirm it, when this ball is thrown, Chase is a staggering 6 yards behind the defense. He runs with such an ease that it is hard to imagine how he keeps doing this, but at this point, you should be expecting it – as sure as the sun will rise.
This wasn't even the most impressive play of Chase's day. The block he made on Joe Mixon's 40 yard TD reception is a rare sight from a rookie WR and might be better than any block his forever counterpart Penei Sewell made today.
Tee Higgins had a relatively uneventful day and seems to have taken a clear backseat to Chase in Burrow's pecking order. It has to be said that in a game that is more competitive and requires more of the passing offense, Higgins will certainly have bigger days. His 6'4″ frame offers Burrow a red zone target that he will surely utilize in time but given the lack of high-end production of Higgins since he was out with injury, it is fair to downgrade future expectation on Higgins a bit.
Tyler Boyd has been a clear 3rd in the Bengals' receiver rotation when Higgins is healthy and wasn't called on today except for one signature chain-moving slot reception against zone coverage. This is his specialty. Boyd is good at what he does but is a limited asset when the game script doesn't call for passing volume.
CJ Uzomah again found his way into the end zone on a play-action drag route where he made a well-contested catch. Uzomah seems to be continuing to wedge his way into being a contributor to this offense and a security blanket for Burrow. Regardless, he is not a primary target and should be considered a bye-week fill-in/streamer at best.
Auden Tate made a cameo here catching his garbage time TD; he is no more than a rotational receiver for this team.
Detroit Lions
Quarterbacks
Jared Goff: 28/42, 202 yards, 1 INT | 1 carry, 1 yard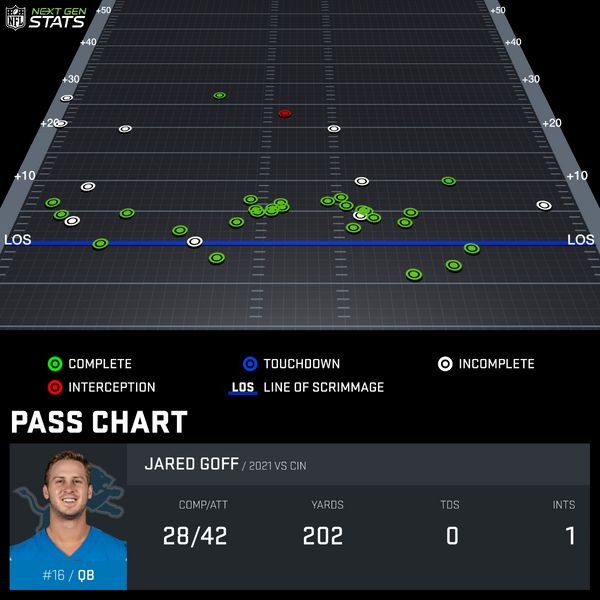 It is hard to find inspiration in the game Jared Goff played today but he was also under constant duress from a superior Bengals defensive line. Furthermore, there were no receivers creating separation downfield, making it difficult for Goff to move the chains. As you can see in the above chart, Goff was either forced to check down throughout the game or he was risk-averse in refusing to push the ball downfield. Goff even threw the ball away on one 4th-down play that exemplified his aversion.
Goff threw one interception that really was more of a stripped ball than an interception by Logan Wilson. Goff missed T.J. Hockenson on one pass that could have gone for a significant gain in the first half when the game was close; that miss proved much more detrimental than originally thought, as the Lions were unable to find any momentum as the Bengals built on their lead:
There are middle school QBs who can make this throw. Jesus. pic.twitter.com/1dJ6ItHzRb

— Isaac (@WorldofIsaac) October 17, 2021
Unfortunately for Goff, the big takeaway from today was this admission from coach Dan Campbell which saw him carefully curate the calling out of his starting QB:
"I feel like he needs to step up more than he has."

Lions coach Dan Campbell on Jared Goff. pic.twitter.com/hkbG3RkqQj

— The Sporting News (@sportingnews) October 17, 2021
Running Backs
D'Andre Swift: 13 carries, 24 yards, 1 TD | 7 targets, 5 receptions, 43 yards
Jamaal Williams: 4 carries, 11 yards | 2 targets, 1 reception, -2 yards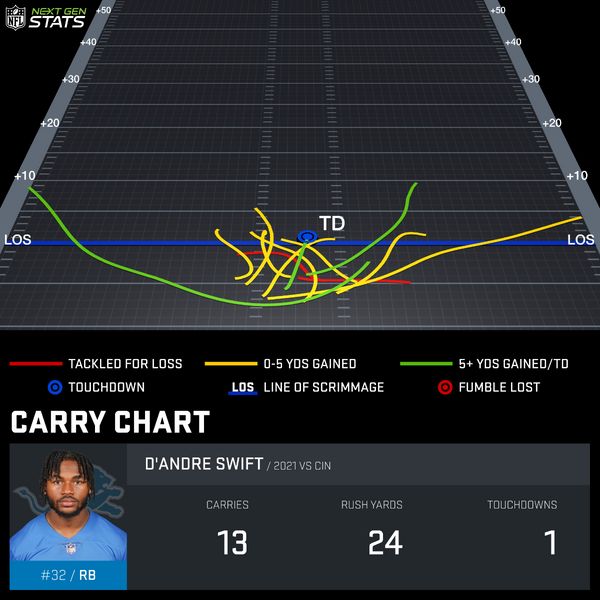 D'Andre Swift was stunted by a Bengals defense that provided him little space to create anything. The longest run of his day only went for 9 yards. He was able to salvage his day with one garbage-time drive amassing 3 catches for 37 yards and one goal-line TD. The TD was so insignificant I couldn't even find a GIF of it on Twitter. This was a day to forget for the talented RB, who was limited by his supporting cast.
Jamaal Williams played second fiddle to Swift today and found similarly little room to maneuver.
Wide Receivers/Tight Ends
T.J. Hockensen: 11 targets, 8 receptions, 74 yards| 
Kalif Raymond: 7 targets, 5 receptions, 37 yards
Amon-Ra St. Brown: 7 targets, 5 receptions, 26 yards
Tom Kennedy: 1 target, 1 reception, 15 yards
Khadarel Hodge: 4 targets, 2 receptions, 9 yards
T.J. Hockenson seems to be the clear top receiving option on this offense and was able to break out of his recent slump by creating space throughout the day. Hockenson could have had a bigger day than he did if Goff didn't miss him on the swing pass shown above. He secured one contested 33-yard catch down the middle of the field that ended up as the longest catch of the game for the Lions. Hock padded his stat line, finding space underneath on Goff's checkdowns. Hock is a rare force at TE and one of the only players at his position who may be his team's top overall receiver. Hock was the lone bright spot in a sorry day for the Lions' offense.
Kalif Raymond and Amon-Ra St. Brown ended up with similar stat lines catching a solid volume of garbage time pass all that went for no longer than 10 yards. It is hard to tell if the lack of downfield action is due to Goff's hesitancy or the receiver's inability to create separation downfield. Time will tell, but for today, none of these players stood out.