As some of you may have remembered from last year, we ran our inaugural QB List Guillotine League, and boy was that a wild ride. There's nothing quite like the fear of not even knowing if you will be in the league come Tuesday morning. It amplifies your anxieties, did I start the right flex guy, am I streaming the right defense, should I trust in my stud QB in this difficult matchup? Then Sunday finally arrives, and you spend the whole day tracking your team. Not just your team though, but also every other team left in the league, as you check over and over and over again to make sure your team isn't on the bottom. If you should be so unlucky, you'll then have to stress out for another 24 hours, as you lie in wait for Monday Night Football, to hopefully bring you out of this purgatory. Then finally, the huge sigh of relief once you've finally secured your spot into another week of this madness. Or, your sigh of relief comes with a frustrated disappointment, of seeing your season come to an end, but knowing you don't have to play this sick game any longer.
That is the joy of being in a Guillotine League, and I had so much fun playing last year (even though I was eliminated in Week 11) that we're absolutely doing it again this year. In fact, I feel pretty strongly that I'll be in a Guillotine League every year for the rest of my fantasy sports playing career (we're even doing two of these over at Pitcher List for this baseball season). It's that fun. I thought perhaps some of you out there would want to do a Guillotine League of your own, so I figured I'd make a little guide on how to start and manage your very own Guillotine League.
Starting a Guillotine League
The only two real rules for a Guillotine League is that it is a points-only league, not H2H, and the team with the lowest score each week is eliminated, and their players are sent to the waiver wire. Everything else is negotiable, such as how many teams you want in your league, if you want to do FAAB or standard waivers, and if you want to go with a last man standing format vs. a final four format. Let's talk about each of these options:
# of Teams: The recommended number of teams to go with is 18, as that means one team is eliminated after each week of fantasy-relevant football (we all know week 18 is a sham when it comes to fantasy football). However, you can go with however many teams you want. If you can only get 9 teams, perhaps you do two weeks of scoring between eliminations. We had 16 teams last year, so our season ended on week 15. You can pretty much go with however many teams you want and get as creative as you want with the eliminations, but the ideal number is 18 teams. (Updated after the NFL season expanded to 18 weeks)
FAAB vs. Waivers: Once a team is eliminated, all their players are sent to the waiver wire. So how do you want them to be acquired? Do you do standard waivers, allow teams to all make their claims, and have the players distributed somewhat evenly? Or do you give teams FAAB, so that they have the ability to decide what strategy to employ throughout the season? Personally, I think you have to go with FAAB (and go with $1000 at least), because it lends so much variety and intrigue to each week. Which players do you blow your FAAB budget on? Do you go big early, or save some for later in the season where you may not even be able to use it? Do you go week by week just picking up some of the smaller options at lower price points, or do you even spend any money at all? Go with FAAB, and for good measure, go with the weekly rolling standings tiebreaker. That way, the teams that did the poorest in the previous week will win their first tie, but then it will go into a rolling waiver system if there are more ties to break.
Last Person Standing vs. Final Four: Last person standing is exactly what it sounds like. Every week the lowest-performing team is eliminated until you only have one team left. That was how we played last year, and it's how we will play this year. Final four provides a bit more of legitimacy to the ending, as instead of the season coming down to how you perform in each individual week, the final four format rewards the team that does the best over a three week period. Once you have four teams left in your league, you'll move away from eliminating a team every week, and will instead just play a regular points league for the final three weeks. Whichever team scores the highest during the final period wins. We chose the last person standing format because it's truer to the Guillotine format. The whole point of the league is that every week a team meets their doom, that shouldn't change at the end. But to each their own.
Running Your Guillotine League
Now that you've got your league started, the hard part comes. Before I get into how to manage your league, there are websites out there such as the site recently created by Guillotine League inventor Paul Charchian that will manage your league for you. All the sites that I've found that do this are not free, so that's where this guide comes in. This guide is for Yahoo leagues specifically, but I'm sure it can be adapted just fine to ESPN and CBS, as well as whatever other sites you might use.
As commissioner, your work begins on Tuesday morning, once the final results are in and you know precisely which team is the losing team. The first thing you want to do is adjust every team's point totals. On the Commissioner tab, you want to find the "Manage Other Teams" tab, and in there you will find "Edit Team Points."

Then, you want to revert every team's points back to 0, except for the eliminated team. I liked putting the team's final placement in negative points for their total, so that throughout the season you can see what place everyone finished in. For example, if you have a 17-team league, then the first team eliminated would have their point total changed to -17, then the next team to be eliminated would have -16, and so on.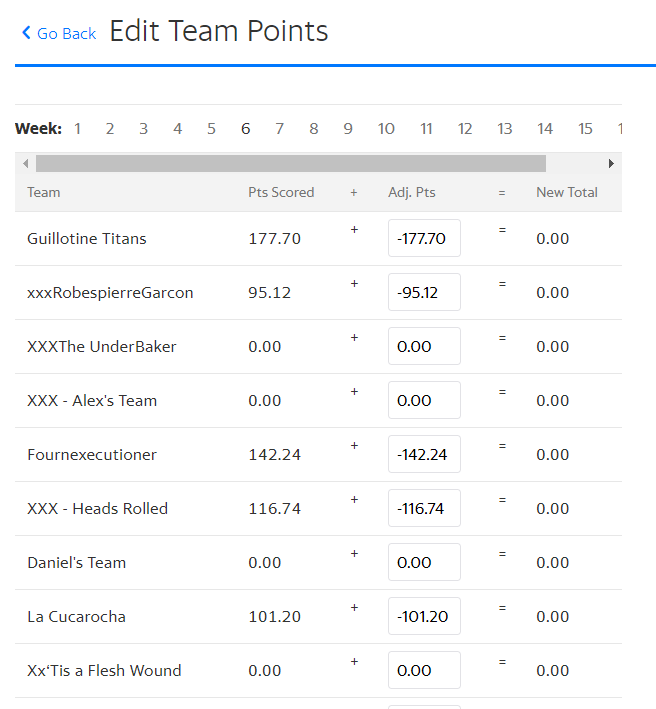 Next, it's time to drop the player's on the eliminated team's roster. Back on that "Manage Other Teams" tab that we see above, there's a section titled "Edit Rosters." When you click on that, you'll be able to select the eliminated team, select the upcoming week (so if Week 1 just finished, you'll select Week 2), select "Drop Players," and then go ahead and drop all the players on their roster. Be aware, this does not allow you to drop players on that team's IR, if they have anyone on there. You'll have to edit their lineup to get the player off the IR, and then go back and drop him.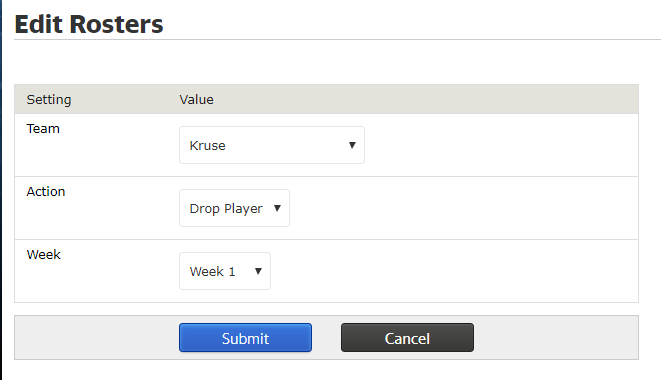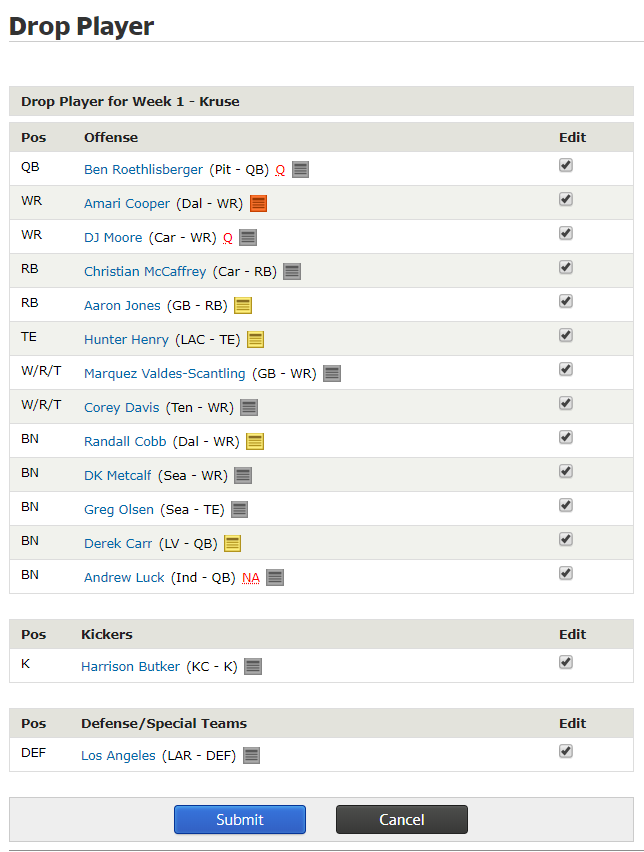 You are almost done! Lastly, you want to lock all eliminated teams. Presumably, those eliminated managers won't cause any trouble for you, but you can make sure that they don't by locking their team. That way they can't mess with things by putting in FAAB bids, or adding players throughout the week.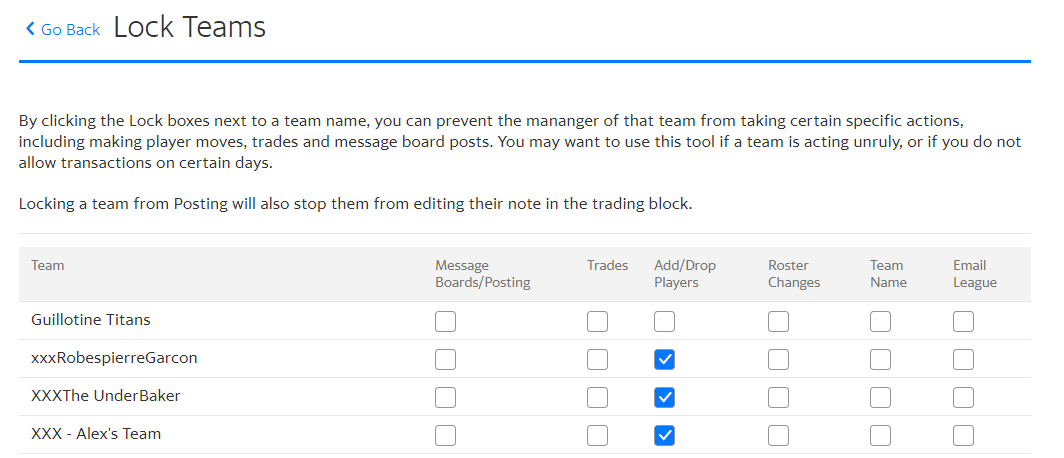 And that's all there is to it! It's about a 10-minute commitment every Tuesday morning, very easy and manageable.
So What Now?
Get out there and start a Guillotine League! Find people crazy enough to take the plunge and play in this wildly intense and exciting league, and then all lament together as you realize that regular fantasy football has been ruined for you forever. Or get eliminated in week one and call the whole thing stupid. Either one works. Also, keep following along with us as this year we'll have some draft tips for how to win your Guillotine draft, as well as regular league updates again. Am I going to do better than last year's 6th place finish? Only one way to find out!
Featured Graphic by Justin Paradis (@FreshMeatComm on Twitter)