Welcome to The Ultimate Fantasy Football Draft Guide for 2022, my personal draft outline for who to draft and when for your fantasy football leagues.
I'll give you a look into how I draft, who I am drafting and when, and which positions I am prioritizing. If you follow this guide, your team will look very much like one of my teams. All of my favorite players are here, and I've included a round-by-round cheat sheet at the end.
My full rankings will be released on August 2nd and August 3rd, but if you can't wait I've been building out my draft boards with friend of QB List Jeff Berckes for 2nd City Gridiron. Here are my quarterback,  tight end, and top 30 running back rankings so far, with wide receiver up next.
Also, consider subscribing to PL+ if you would like to join our incredible Discord and have access to ask questions of the QB List staff.
Draft Strategies 
First, let's set some strategy guidelines for using this draft guide. Contrary to popular belief, rankings are not the same as projections! Let's dive further into this idea, and why it shapes the way I rank players for fantasy football.
Draft Rankings And Projections Are NOT The Same
This idea is often most clearly demonstrated at the quarterback position but also applies to the types of running backs I draft and my late-round strategy overall. When I show my quarterback rankings to someone not familiar with this idea, I often am met with the following pushback:
"Derek Carr was the QB13 overall last year, yet you have him ranked QB16 despite the addition of Davante Adams. You have players like Trey Lance and Justin Fields ranked ahead of him, two players who we don't know if they are even NFL-caliber QBs! Why the Carr hate?"
This is a valid question, and the answer explains why these players aren't ranked solely based on their projected finish. Carr has produced between 15 and 17 fantasy points per game over the past three seasons, steady solid production. There's a good chance that Carr ends up outproducing this ranking and finishing in the QB10 range. But we need to be shooting higher than the QB10 in our drafts. And a big reason for this is the availability of quarterbacks on the waiver wire in your typical fantasy football league.
A fairly standard league has 16 roster spots. Multiply that by 12 teams and we have 192 players drafted in your typical redraft league. According to FantasyPros ADP, 25 quarterbacks were drafted in your typical league. We will ignore for a moment that that number is way too high and we don't all need to be drafting two quarterbacks in a one-quarterback league.
Here's a look at the quarterbacks available on waivers after the draft last season, and their eventual finish at the end of the season:
Last Year's undrafted QBs
If you literally did not draft a quarterback in your fantasy drafts last season, you could have grabbed Carson Wentz, who went on to be the QB14 overall. Or Jimmy Garoppolo, who had slightly more points per game than Carr last season. Even Taylor Heinicke was comparable to Carr on a points-per-game basis. And this isn't even factoring in the quarterbacks that were drafted and went on to be released after the draft. Carr himself was rostered in under half of Yahoo leagues heading into Week 3 of last year, Mac Jones was available on waivers in most leagues leading into Week 11, and so on.
Wow, that turned into a quarterback-heavy tangent, but my goal is not to talk you into drafting a late-round quarterback here. This is just to show that while a player like Derek Carr may finish higher than his ranking may indicate, the reason for that is the availability of similar replacements on the waiver wire.
You generally want to be drafting for upside, so when you see Trey Lance as my QB9, it's not nearly as risky as it sounds. Sure he may flame out and get benched, or get injured, or whatever it is that you are concerned about. But if you whiff on Lance, we can see that there will be near Carr-like options available for free.
This applies to all positions in fantasy football, the upside swings are generally worth it in most positions and in most league types as long as you aren't reaching on ADP and losing value. And I apply my rankings to this strategy.
I'm not going to encourage you to draft a player like J.D. MicKissic for his "safe" weekly scoring ahead of a player with real difference-making upside. McKissic scored 11.6 PPR points per game last year, the RB32 on a per-game basis. He was drafted as the RB45, so you profited if you drafted him! But I'd rather try to find the next Elijah Mitchell or Cordarelle Patterson with that pick and shoot for a player with a higher upside than just RB32. So while many of the players ranked ahead of McKissic are likely to fail, the upside is worth the risk, and players like McKissic will be waiting for you on waivers when you need them.
 Who I'm Drafting Round By Round
Important Guidelines
Here are some key points to remember as you read through my draft guide:
This guide is not meant for a best ball draft. Many of the takeaways can still be applied, but the inability to manage your roster changes how you should approach some of these positions.
I'm generally assuming a redraft, 12-team single QB league, PPR scoring, and something like 2 RBs/3WRs/1 Flex in your starting lineup. Half PPR is close enough, but standard leagues should shift their draft targets towards touchdown scorers.
When in doubt, draft RBs or WRs. You only need one startable player at a time at the other positions, while at running back and wide receiver you will need to be starting multiple players per week. Injuries will ruin your plans at some point in the year, likely before you expect it. While you may not think you will ever need that WR7 sitting at the top of your board, they are another dice roll on a breakout and will likely be needed when injuries and bye weeks hit your team mid-season. You can generally avoid disaster at QB or TE with smart waiver wire management.
This draft outline is based around ADP, and there are some players that I don't like simply because of where they are being drafted (hello early second-round Deebo Samuel). So while I won't be recommending that you draft Samuel, you should certainly draft him if he slips a round past ADP and is waiting for you again in the third round. In other words, stay flexible and grab values as they fall.
ADP is based on Fantasy Pros PPR data, which combines ESPN, Sleeper, FFC, Fantrax, RTSports, and MFL drafts. Yahoo is half PPR by default, so keep in mind any potential ADP differences if drafting on Yahoo. But these guidelines will still work on any platform.
Know your league's tendencies! Look at past drafts to see how RB-heavy your league drafts, or how many QBs are taken and when, or how teams approach the TE position. You shouldn't reach too much based on this, but if you know RBs will fly off the board even more than a typical league, you may want to think about grabbing Austin Ekeler with the third overall pick as opposed to using it on Cooper Kupp.
Lessons Learned From My 2022 Drafts
Running backs, like always, will go early and often. There are some interesting RB1 candidates available after the first two rounds, but they have their flaws. If you want your locked-in RB1, expect to draft him in the first or second round. And if you want two early RBs, you almost have to take one in the first round to avoid over-drafting your second.
The top of wide receiver rankings is thinner than ever. Davante Adams, Tyreek Hill, and A.J. Brown all changing teams have put a ton of uncertainty into the position early on. Adams and Hill were once great fallback options in the first round, now they are much more volatile.
If you don't grab one of the top 9 TEs, you might as well wait until the end to draft one. If you don't like grabbing a late tight end, plan on taking one of the top 9 within the first eight rounds. After the top 9, things really flatten out at the position.
The quarterback position is loaded, you probably can't go wrong wherever you draft one. I prefer to wait until at least the sixth-round, and draft for upside.
I find myself liking the late-round RB dart-throws more than the WR dart-throws. Draft an RB (or two) early, hammer the WR position, and grab an RB2 if a value presents itself. But generally, there are way more RBs after the tenth round that I'm interested in than WRs.
Running Backs
Let me start by saying that Zero-RB is a strategy capable of winning in most league types, so that is always an option. I lean towards the "Hero-RB" strategy, which means you get your one locked in bell-cow running back in the first round or two and then hammer the other positions for several rounds. This gives you a shot at a league-winning running back, while also allowing yourself to load up at WR.
With that in mind, here are the tiers of running backs that can fit a Hero-RB strategy:
Hero-RBs – Jonathan Taylor, Christian McCaffrey, Austin Ekeler, Najee Harris, Derrick Henry, Dalvin Cook, and D'Andre Swift – We are given seven running backs at the top of drafts that have previously shown elite production while maintaining a similar path to fantasy points in 2022. Taylor is likely the safest pick in the draft, though he will need more targets in the passing game to hit all-time great status for fantasy purposes. McCaffrey is coming off of two straight injury-filled years, but is still just 26 and has the highest ceiling in the league. Ekeler sneakily matched Taylor from a PPG standpoint last year and plays in one of the league's top offenses in the Chargers. Harris displayed an elite target share his rookie year, and as we know, running backs earn their targets, so he should be able to survive the QB change in Pittsburgh. Henry was ripping off a 24 ppg season last year before going down with an injury, and while his age and wear and tear is a concern, it's hard to deny his upside. Cook provides an elite combination of rushing and receiving volume. And Swift has the elite pass-catching volume and youth that we look for in our RB1. As you can see, even though this group is full of question marks, they have at least flashed dominant upside in the recent past.
Discount Hero-RBs – Joe Mixon, Javonte Williams, Leonard Fournette, Aaron Jones, Saquon Barkley, and Nick Chubb – I'm leaving out Alvin Kamara for now. I don't know how his legal situation will play out, so I don't like recommending that you draft him. There are enough other ways to draft a successful team where I don't think that missing on Kamara will sink your team. The rest of this group has shown enough past production, flashed enough talent, or play in a good enough offense where they are worth the shot at a hero-RB if you missed one in the first. While each player certainly has their flaws, I still like this tier enough to pass on a running back and grab a Justin Jefferson in the first round when the value presents itself. This more or less wraps up the first two rounds of ADP; if you miss on this tier for your RB1 I would encourage you to lean into receivers early and piece together your running back group later.
Mid-Round Home Run Swings – Breece Hall, James Conner, Travis Etienne Jr. – Generally the mid-rounds of drafts are an area to avoid when selecting running backs. Older veterans on their last legs tend to get pushed into this range, as well as mediocre talents that we think will see volume (*cough* Mike Davis). But we can pick off a few values here. I find myself drafting a good bit of Breece Hall in the fourth or fifth round. I'm very skeptical of the Jets' offense, but Hall has the pass-catching profile and NFL Draft capital that could pay off. James Conner scored an unsustainable amount of TDs last year but his role looks even better this year. I don't draft him a ton, but I do understand the appeal. I have been staying away from Travis Etienne Jr. but some really smart people are on him. He'll need to show he can hold up to the NFL workload coming off a rookie year lost to injury. That basically takes us through the third through seventh rounds, a section of RBs that I am avoiding.
Undervalued RB2s – Tony Pollard, Chase Edmonds, James Cook, Darrell Henderson Jr. – On most rosters, I'll have a hero RB and then begin drafting for my RB2 in this range. Remember, if you load up at WR you won't need an RB for flex, so along with our hero-RB, we really just need one of these guys to break out. And we want to go for upside. Tony Pollard may be playable even in his committee this year as his efficiency is beginning to stand out compared to Ezekiel Elliott's volume role. And an injury to Elliott is a smash spot. I don't know why Chase Edmonds goes so late, but he's a steal in the 8th or 9th round. James Cook has some real upside as a pass-catching rookie on an elite passing offense in Buffalo. Think poor man's rookie season Kamara as a comp. Darrell Henderson Jr. gave us the production of an RB1 at times last year and will spell Cam Akers in a high-powered offense. He may have some value on his own unless some competition emerges on the depth chart, and it looks really thin at this point. And an injury to Akers in his first full season back from his Achilles would make Henderson a surefire RB2 at least. You can get him in the 11th-13th round almost every time.
Upside Plays and Discount Handcuffs – Rachaad White, Kenneth Gainwell, Tyrion Davis-Price, Khalil Herbert – Rachaad White is a rookie with pass-catching skills that is a Fournette injury away from having a shot to be the RB1 in a Tom Brady offense. Tyrion Davis-Price deserves a spot on your roster, just to grab the newest rookie in Kyle Shanahan's mad running back roulette. Khalil Herbert could earn some work from David Montgomery anyway, and looks capable of filling his role in the event of injury. Overall, I really love the end-of-draft dart throws at running back, much more than similar options at wide receiver. Get a running back or two early that you can trust, and then hammer this group late.
Running Back Targets and Rounds
Wide Receivers
For such an important position in fantasy football, this wide receiver section is going to be relatively brief. By mostly waiting at tight end and quarterback, and by limiting ourselves to an early running back and then focusing on the position late, it opens us up to just draft the heck out of receivers from rounds 1-10. By drafting this way, we can lock ourselves into the high floor, high ceiling veterans early (Ja'Marr Chase, Stefon Diggs, CeeDee Lamb, etc) while also taking shots on breakout stars. This risk you took on Chase last year may have felt scary if you drafted him as a WR1 or WR2. When you hit the position hard and were able to draft Chase as your WR3? That's where championships are won. If you missed that pick, no big deal! You've got several more waiting behind him. But if you hit that pick? All of a sudden you have two WR1s. Make sure to check out Ryan Heath's work on this year's sophomore wide receivers as well.
WIDE RECEIVER TARGETS AND ROUNDS
Quarterbacks
I'd really like to get one of my top 6 quarterbacks this year, but there's an opportunity cost anytime you draft one. You'll feel the effects on your RBs and WRs after missing out on an elite early option, and taking an early tight end starts to become a really tough fit. Jalen Hurts is at the end of my first tier and has the lowest ADP of the group, and you'll likely need to spend a sixth-round pick to grab him. I'm unlikely to use a pick in the first four rounds on a quarterback, as my personal preference is a 3WR/1RB start most of the time. So that leaves me with the back end of my first tier potentially in play.
If I miss on the top tier, I have a strong tier 2 I can choose from that runs from QB7-14. I tend to favor the high upside, low floor, run-heavy young QBs with huge rushing potential. We've seen players like Jalen Hurts, Lamar Jackson, and Josh Allen come into the league and have immediate fantasy relevance, regardless of the quality of their on-field play. That means I'm looking at Trey Lance and Justin Fields as boom/bust options.
Lance and Fields are going to see their ADP vary wildly depending on the league. Underdog best ball sees Lance go at QB9, ADP 80 overall, and Fields at QB16, ADP 126. On FantasyPros, however, which is more likely to resemble your home league's drafting tendencies, Lance is QB14, ADP 102 and Fields is QB17, ADP 123. I'm buying both of them at a discount but not reaching, but if a higher tier 2 QB falls past ADP they are in play as well.
Quarterback Targets and Rounds
Tight Ends
The tight end position can be divided into two clear groups for me; early-round tight ends and then the rest. Travis Kelce and Mark Andrews will cost you a second-round pick in most leagues, Kyle Pitts is sneaking into the third round of drafts, and George Kittle and Darren Waller are available in the fourth. After that, there's a full 20-pick separation between this group and the rest of the position, which is where the early round tight end tier forms. So the primary question to ask yourself is this; am I willing to spend one of my first four picks at tight end? The answer to that will shape your strategy at the position.
If you do choose to wait at the tight end position, be careful with the players that you target. Tight end is a notoriously difficult position for young NFL players to pick up, and the fantasy community tends to hype these young players a year (or more) early. Targeting a pre-breakout tight end is likely to end in heartbreak, as well as a season of streaming the position off of waivers. This is a fine strategy, as the low bar of tight end scoring makes it possible to fill the position on a week-to-week basis with smart waiver management. Just remember, when shooting for the unknown upside of an Irv Smith Jr., you may be eyeing players like Austin Hooper and Tyler Conklin on the waiver wire before you know it.
My general strategy at the position is this; I only draft an early-round tight end when they fall past ADP, as I would rather prioritize the league-winning upside at running back and wide receiver. I then refocus on the next group of T.J. Hockenson, Dalton Schultz, Dallas Goedert, and Zach Ertz in rounds six through nine. I'm still not over-drafting this group, but generally one will fall to a nice value in any one draft.
If I miss on this group, however, I have officially transitioned to late-round tight end. I don't see all that much difference between TE10 and TE25 this year, so if you miss out on the top nine relax, load up on the rest of your roster, and grab a target or two from the list below at the end of your draft.
Tight End Targets and Rounds
Kickers
While a lot of leagues have moved away from kickers, there are plenty of you out there still starting them, so I can't leave you hanging here. I actually almost always draft my kicker in the second to the last round, before my defense, because I will stream my defense 9 times out of 10, while my kicker might stay on my team all year. Taking a kicker before your defense generally allows you to get a top 5 option as well, an added bonus. There are not a lot of strategies here; check out our kicker rankings on the site and draft the best one available!
Defense
For defense, I always wait for the last round, which means the top options are picked over. But my plan is to stream defenses throughout the year, so I'm happy to have a lower-value defense that I feel happy moving on from after an easy start to the season. And that's what we are drafting here, defenses with an early easy schedule. You can look at our rankings for the overall, season-long overview, but here are the defenses outside of the top 5 that I am targeting in the last round based on their early-season matchups.
Defenses With Good Early Season Matchups
All Targets Round By Round Cheat Sheet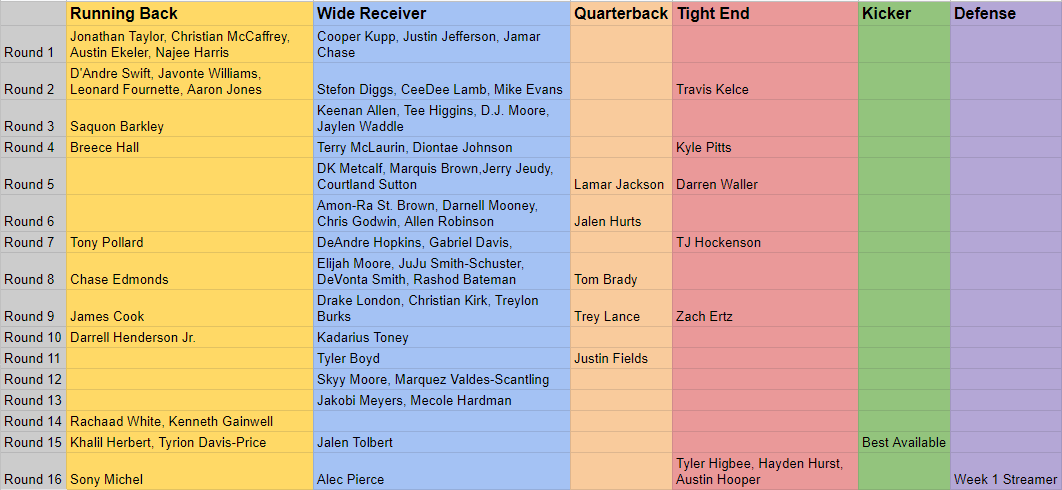 Images by Icon Sportswire | Adapted by Justin Paradis (@justparadesigns on Twitter)