Browns @ Cowboys
What was expected to be a major shootout very much lived up to the excitement, with only the result not going as most people had projected it to be. We had fantasy-relevant days from the vast majority of players, including an absolute breakout game by Odell Beckham Jr., reminding us all of the fantasy superstardom we have been waiting for him to return to these past two seasons. Though it was not all good news in this game, as Nick Chubb left the game in the first quarter with a knee injury after being rolled up on by an offensive lineman. He did not return.
Cleveland Browns
Quarterback
Baker Mayfield: 19/30, 165 yards, 2 TDs, 0 INTs, 2 Sacks | 3 carries, 6 yards
Today's games served as a reminder of how the Browns offense is going to be run, focusing on the run first and keeping the pressure off Baker Mayfield in the passing game. But in this really great matchup against the Cowboys defense, Mayfield was very efficient, taking shots downfield when needed but making smart throws including a few off play-action to his main targets. Among those completions were two touchdown passes, one off of play-action on a post route to Odell Beckham Jr., and the other a one-yard strike to Austin Hooper. The offensive gameplan throughout was to run first, even with the loss of Nick Chubb, which severely hurts his upside for fantasy, but when he plays like this and is smart with the football it is awfully fun to watch.
Running Backs
Nick Chubb: 6 carries, 43 yards
Kareem Hunt: 11 carries, 71 yards, 2 TDs  
D'Ernest Johnson: 13 carries, 95 yards
Kareem and company pouring it on in Dallas.#FantasyFootball | #Browns pic.twitter.com/XonE7IJpj6

— QB List (@TheQBlist) October 4, 2020
The Browns offensive line allowed for many opportunities as the Browns' rushing attack was able to stick to their game plan and run all over the Dallas Cowboys defense. It was not all great for the Browns on Sunday as Nick Chubb got injured on his sixth carry after being rolled up on by an offensive lineman. With Chubb out of the picture, Kareem Hunt got the carries in the backfield, rushing for two touchdowns, though losing one carry for a fumble. With this opportunity, he surprisingly did not get any targets in the passing game, a trend which is interesting to watch going forward, as the new lead back. With Hunt now as the lead back, D'Ernest Johnson also got 13 carries, which he took advantage of as well, getting many yards on those rushes.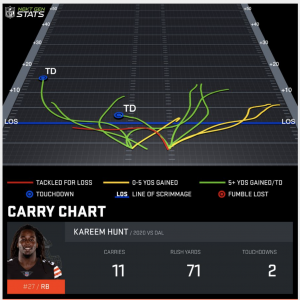 Wide Receivers/Tight Ends
Odell Beckham Jr.: 8 targets, 5 receptions, 81 yards, 2 TDs | 2 carries, 73 yards, 1 TD
Jarvis Landry: 6 targets, 5 receptions, 48 yards | 1/1 37 yards, 1 TD
Harrison Bryant: 4 targets, 4 reception, 37 yards
Austin Hooper.: 7 targets, 5 receptions, 34 yards, 1 TD
Jarvis Landry on a rope to OBJ.#FantasyFootball | #Browns pic.twitter.com/h2B9poAsK5

— QB List (@TheQBlist) October 4, 2020
The big story of this game was Odell Beckham Jr. and his three touchdowns. Kevin Stefanski reminded the media that he wanted to get Beckham more involved early in games, while Beckham reminded fans and foes alike that he is still the playmaker in this offense. The first of these three touchdowns was on a trick play that started with a handoff to Jarvis Landry on an end-around, who then the ball 37 yards downfield to find Beckham on a deep route for the score. Beckham was also trusted to help keep the ball moving and convert third downs. The second of his touchdowns was a 10-yard post route on a nice throw by Baker Mayfield as Beckham was able to quickly beat the defender. Finally, the third touchdown of the game was a 50-yard end-around, catching the Cowboys off guard and showing off the burst of speed Beckham is remembered for (and his second long run of the game).
OBJ making it look easy. 2 TDs on the day.#FantasyFootball | #Browns pic.twitter.com/yhBWIez3Ln

— QB List (@TheQBlist) October 4, 2020
Speed kills.

3 TDs for OBJ.#FantasyFootball | #Browns pic.twitter.com/JlHfYQGY0q

— QB List (@TheQBlist) October 4, 2020
With no receptions coming out of the backfield, the Browns made sure to get their tight ends involved, including Austin Hooper who finally got into the endzone and earned some third-down work. With Stefanski's two tight end system, Harrison Bryant also had a nice game, helping the Browns continue to move the ball.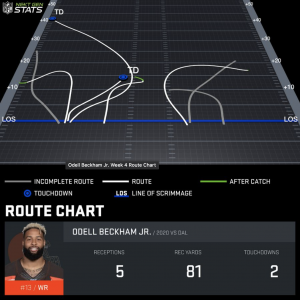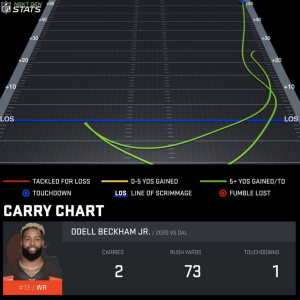 Dallas Cowboys
Quarterback
Dak Prescott: 41/58, 502 yards, 4 TDs, 1 INTs, 3 Sacks | 2 carries, 12 yards
What more is there to say about Dak Prescott that hasn't been said already? With the Cowboys defense playing as poorly as it was on Sunday, the game script quickly moved back into the hands of Prescott, forcing him to throw the rock early and often to catch up to the Browns. Though he did make some mistakes, including one poor interception late and a few passes that should have been picked off throughout the game, the game script going in his favor will keep him at the top of your fantasy rosters for weeks to come. He has shown the willingness to throw the ball deep, like on the touchdown pass to CeeDee Lamb. He also had shorter passes from the goal line, such as the touchdown to Dalton Schultz.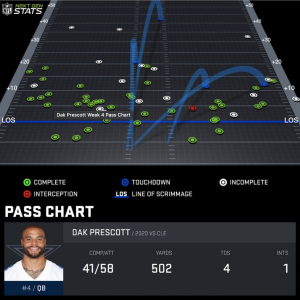 Running Backs
Ezekiel Elliott: 12 carries, 54 yards | 8 targets, 8 receptions, 71 yards, 
Tony Pollard: 3 carries, 16 yards, 1 TD | 2 targets, 1 reception, 16 yards
The game script quickly moved away from Ezekiel Elliott, as the Cowboys were forced to throw in order to keep up with the points the Browns were scoring on Sunday. He was looking good up until that point, even with the fumble on his longest run of the day that gave possession back to Cleveland, and it was very encouraging to see that even when they needed to throw the ball, Elliot was very involved in the passing attack. Tony Pollard came into spell Elliott once in a while and did in fact vulture a touchdown from him on a nice 8-yard run, showing off the skill he possesses should Elliott ever miss time with an injury.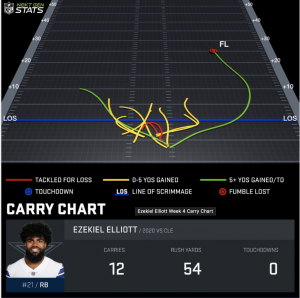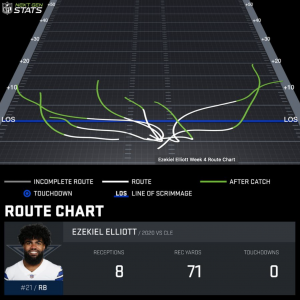 Wide Receivers/Tight Ends
Amari Cooper: 16 targets, 12 receptions, 134 yards, 1 TD
CeeDee Lamb: 7 targets, 5 receptions, 79 yards, 2 TDs
Dalton Schultz: 8 targets, 4 receptions, 72 yards, 1 TD
Cedrick Wilson: 6 targets, 3 receptions, 34 yards
Michael Gallup: 5 targets, 2 receptions, 29 yards
CeeDee Lamb with career TD # 1 in Dallas.#FantasyFootball | #Cowboys pic.twitter.com/PNnzhgw5wS

— QB List (@TheQBlist) October 4, 2020
With the number of passes that the Cowboys needed to throw on Sunday, it made most everyone fantasy-relevant. The only exception is Michael Gallup, who seems to have been clearly surpassed by CeeDee Lamb as the number two option in Dallas. While Gallup only had two receptions on five targets, CeeDee Lamb, had five receptions on seven targets, including a perfectly placed touchdown reception downfield from Prescott.
Dak with a frozen rope to Amari. 🥶 #FantasyFootball | #Cowboys pic.twitter.com/xBVUO02Bvx

— QB List (@TheQBlist) October 4, 2020
Even with Lamb's breakout, Amari Cooper has remained the number one target and the most trusted option for Dallas, with Prescott looking to him in all situations. There has also been quite the emergence for Dalton Schultz, who remains someone Prescott is targeting in important situations, just as Blake Jarwin would have if he was not hurt.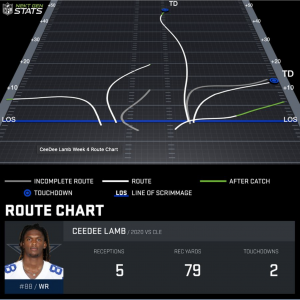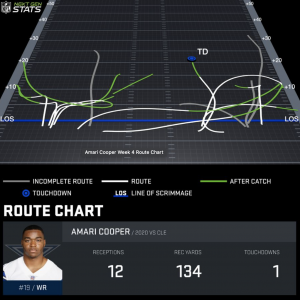 -Callen Elslager (@callen_elslager on Twitter and Reddit)