Vikings @ Texans
This matchup between two 0-3 teams that have endured tough opening schedules was always going to go right down to the wire. In the build-up, many believed the game would come down to the ability of the two quarterbacks – the much-maligned Kirk Cousins and the dynamic Deshaun Watson. However, it was the running game that decided this one, with the Vikings holding out for a 31-23 win on the back of another huge rushing day for Dalvin Cook who went off for 130 yards on 27 carries with 2 TDs. The Vikings defense held stout on the goal line at the end of the game after Kenny Stills had a touchdown reversed due to not completing the catch.
For Minnesota, they will hope this win serves as a turning point in their season. For Houston, however, the heat will be on Bill O'Brien after a dejected Deshaun Watson post-game interview hinted at a fractious relationship ahead.
Minnesota Vikings
Quarterback
Kirk Cousins: 16/22, 260 yards, 1 TD | 4 carries, 5 yards
The game script was perfect for Kirk Cousins (14.90 fantasy points) today, a solid running game that allowed him to trust his receivers more and push the ball downfield when needed. The big-money quarterback looked comfortable in the pocket and relied heavily on his two favorite targets – veteran Adam Thielen and superstar rookie Justin Jefferson. They combined for 217 of Cousins' 260 passing yards, with Thielen hitting paydirt on a nice corner route. We cannot expect huge numbers from Cousins due to Gary Kubiak's zone-run scheme, however, this kind of solid production makes Cousins a streamable fantasy option through the bye weeks. He is due to face the Seahawks, Falcons, Packers, and Lions in what should be a shootout-style run of games.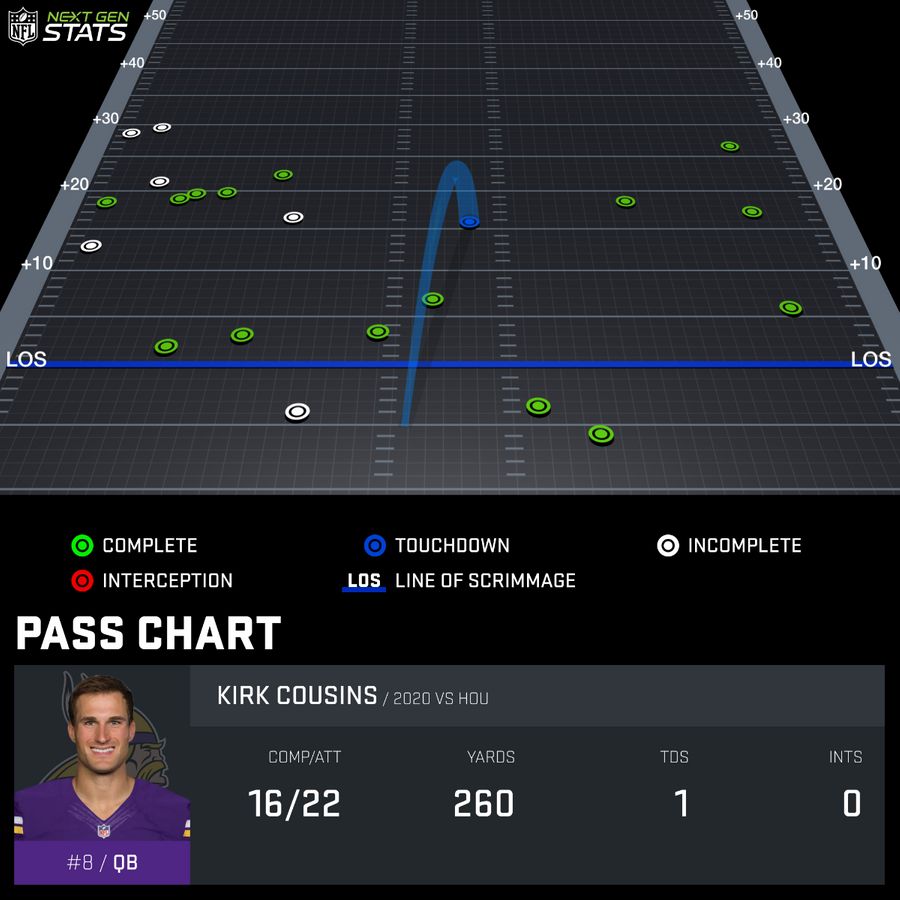 Running Backs
Dalvin Cook: 27 carries, 130 yards, 2 TDs | 2 targets, 2 receptions, 16 yards
Alexander Mattison: 7 carries, 17 yards, 1 TD
CJ Ham: 3 targets, 2 receptions, 11 yards | 1 target
Don't make any mistake, when the running game is firing, this offense is very effective. Both Dalvin Cook (28.60 fantasy points) and Alexander Mattison (7.70 fantasy points) found the endzone as Offensive Coordinator Gary Kubiak attacked and exploited the outside of the Texans defensive line. Cook is justifying his huge 5-year, $62.5M extension signed just before the start of the year, showing explosiveness and a phenomenal ability to break tackles and extend drives.
Dalvin Cook will NOT GO DOWN.#FantasyFootball | #Vikings pic.twitter.com/UaBqFzFUOi

— QB List (@TheQBlist) October 4, 2020
It was nice to see Alexander Mattison score his first touchdown of the season – the former Boise State back has impressed in Minnesota since being drafted in the 3rd round in 2019. He is the perfect complimentary back to Cook, but can not be relied upon for steady production in this offense. Those of you who flexed him into your lineup this week did at least get a decent return.
Alexander Mattison with his second career rushing TD 🏈 Vikings up 31-16! pic.twitter.com/ajhjW77092

— Vikings Nation (@VikingsNationCP) October 4, 2020
Wide Receivers/Tight Ends
Adam Thielen: 10 targets, 8 receptions, 114 yards, 1 TD | 1 carry, 8 yards
Justin Jefferson: 5 targets, 4 receptions, 103 yards
Kyle Rudolph: 2 targets, 2 receptions, 27 yards
Irv Smith Jr: 1 target
Bisi Johnson: 1 target
For the second straight week, first-round rookie Justin Jefferson made all the noise for the Vikings thanks to his superb route-running and big-play ability. Jefferson topped 100 yards receiving again, hauling in four crucial passes that allowed the Vikings to lean on their run game at important times in the game. The developing chemistry and trust he is building with Cousins only bodes well for further production down the line.
So.

Good.@JJettas2

📺: @NFLonFOX pic.twitter.com/iENGSTDwTI

— Minnesota Vikings (@Vikings) October 4, 2020
Steady, healthy production from Adam Thielen (26.20 fantasy points) is something fantasy owners can rely on week-in, week-out in Minnesota. The hometown darling trails Jefferson in receiving yards across the first four games but he is the undoubted primary receiver in this offense, and also the clear red zone target. Thielen actually ran 99.9 yards on a 39-yard rection today, according to NFL's NextGen Stats.
How on earth did the #Texans loose sight of Adam Thielen?! pic.twitter.com/Ab7haj1SVQ

— Lawrence Owen NFL (@Colts_Law) October 4, 2020
Elsewhere, popular breakout choices at the start of the season, Irv Smith Jr. and Bisi Johnson were non-factors once again. If this Minnesota offense is to take a step forward and become more diverse, Kubiak needs to find a way for Cousins to connect more with Smith Jr. There was evidence of the makings of a good understanding last year, but so far this year it has been slim pickings for the second-year tight end out of Alabama.
I've got a Theilen.#FantasyFootball | #Vikings pic.twitter.com/BplaYe9ro1

— QB List (@TheQBlist) October 4, 2020
Houston Texans
Quarterback
Deshaun Watson: 20/33, 300 yards, 2 TDs | 5 carries, 9 yards
Hampered by a moribund running game, it was once again all on Deshaun Watson's shoulders to try and salvage something from the game for the Texans. Watson had been stifled by an aggressive Vikings defense in the first half – he went into the locker room just 6-of-14 for 79 yards. It was a different story after the break, mainly thanks to the ejection of Vikings strong safety Harrison Smith for an illegal hit to the helmet. Watson, often needing to scramble to safety after his offensive line crumbled before him once again, threw two scores to his deep threats, Will Fuller and Kenny Stills, and came desperately close to forcing overtime with the final drive of the game.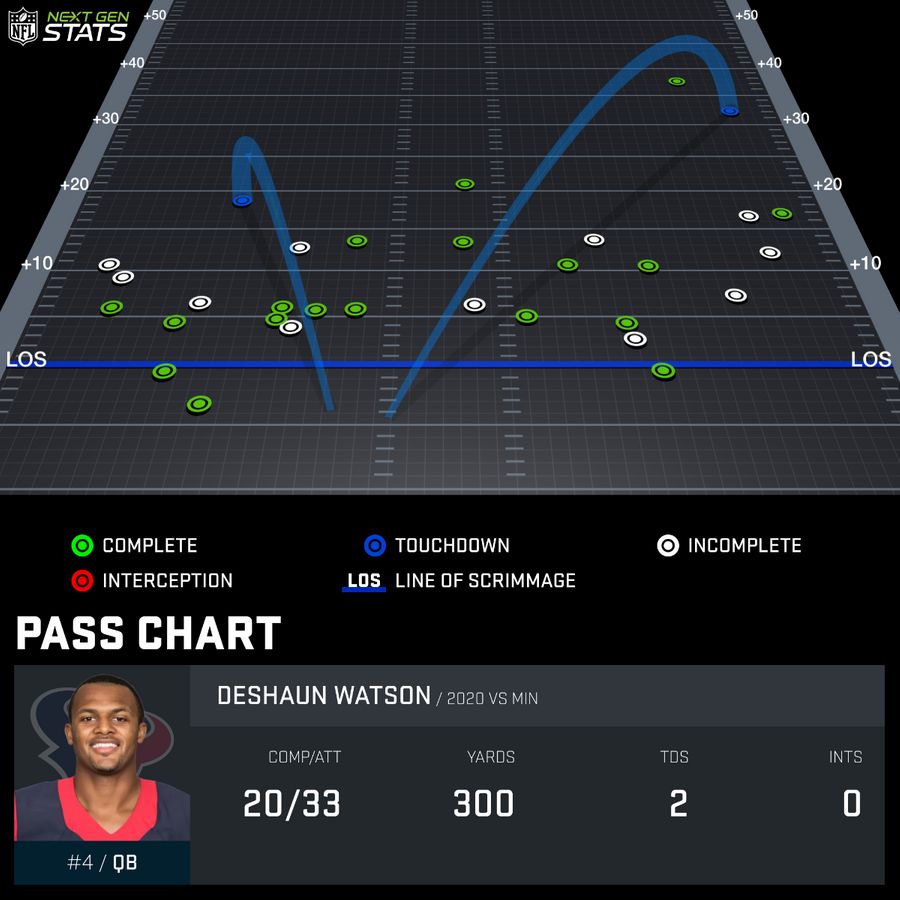 Watson is a nailed-on QB1 and is a must-start in all formats, every week. It is all on him, which is bad for Texans fans but great for fantasy purposes. Even in a "poor week" like this one, Watson tallied a juicy 20.9o fantasy points on Yahoo! If Fuller, in particular, can stay healthy, this offense should stretch the field a bit more when playing from behind, which is a likely scenario given the position they find themselves in most weeks.
.@Will_Fuller7 going DEEP for 43 yards! @deshaunwatson

📺: #MINvsHOU on FOX
📱: NFL app // Yahoo Sports app: https://t.co/wvEEn0SFTV pic.twitter.com/DCmeIZdlCu

— NFL (@NFL) October 4, 2020
Running Backs
David Johnson: 16 carries, 63 yards | 3 targets, 2 receptions, 29 yards
Duke Johnson: 5 carries, 24 yards | 4 targets, 3 receptions, 21 yards
Yikes, this is ugly. Bill O'Brien gave up DeAndre Hopkins to bring David Johnson across from the Arizona Cardinals, and at this moment it looks like one of the worst trades of all time. David was pedestrian once again today, and the Texan running game is offering nothing new from what we have seen over the past few years. If you go by the stats, it is actually worse – the Texans have only 16 rushing first downs this season, compared to their opponents' 44. It doesn't help that the offensive line is poor, either. David hasn't topped the 77 yards on the ground in week 1 and he is averaging just 3.86 yards per carry. It is difficult to classify him as an RB2 at this rate and he is more likely a flex option going forward. For fantasy owners, it is time to trade out to a needy RB team.
After missing a couple of games with a gammy ankle, Duke Johnson returned to the field with little fanfare carrying the rock just 5 times and adding 3 check-downs that went pretty much nowhere. It is hard to see Duke being relevant at all going forward unless David goes down with a serious injury. No highlights in this section, I'm afraid Texans fans.
Wide Receivers/Tight Ends
Will Fuller: 7 targets, 6 receptions, 113 yards, 1 TD
Jordan Akins: 3 targets, 3 receptions, 46 yards
Kenny Stills: 4 targets, 2 receptions, 39 yards, 1 TD
Randall Cobb: 5 targets, 2 receptions, 36 yards
Darren Fells: 2 targets, 2 reception, 21 yards
Brandin Cooks: 3 targets
With the playmaking magic dust Watson possesses', the receiving corps is always going to get opportunities to make a splash especially now Nuk is out of the building. The beneficiary so far has been Will Fuller – today was his second game of the season with over 100 yards, and his second touchdown grab. The connection he has with his quarterback in undeniable, the issues have always been health and game script. Today was a good game, notching Fuller 22.80 fantasy points in Yahoo!
Deshaun plays the guitar after finding Will Fuller for the TD 🎸

(via @NFL)pic.twitter.com/PZggBX2Quz

— B/R Gridiron (@brgridiron) October 4, 2020
Kenny Stills has been the embodiment of boom or bust in his time in Houston. The former Dolphins wideout has mainly been deployed as a deep threat but he also has the skillset to be effective as the X receiver, like he showed today when Watson found him in the end zone on 4th and 10 with 6 minutes remaining in the game.
DW4 with the LASER to Kenny Stills 👀

📺: FOX
📱: https://t.co/Nm64mQkAPf pic.twitter.com/r9D6ffZTGH

— Houston Texans (@HoustonTexans) October 4, 2020
The big disappointments in this offense so far this year have been former Rams and Saints wide receiver Brandin Cooks, and slot receiver Randall Cobb. Neither seems to fit this scheme and it is a guessing game as to when and how they might become relevant in terms of fantasy. Cobb (5.60 fantasy points) snagged just 2-of-5 targets today, Cooks failed to grab any of the 3 passes thrown his way. Worrying times in Houston.
-Benjamin Haller (@benjaminhaller1)